AND Digital
Supplier Directory
AND Digital
18 Henrietta Street, London, WC2E 8QH, United Kingdom
020 7812 6429
Contributor
Employees: 200
Size: Medium
Year founded: 2013
About AND Digital
AND Digital accelerates the development of world-class digital capabilities, and we power the product development of ambitious companies – from British Airways and Conde Nast, to The Telegraph, Gousto and more.
We all know technology is reshaping how we live, and how every organisation on earth operates.
And yet, very few businesses today can deliver the software products at the pace and quality needed to meet their requirements. That's because the right product is only one part of the equation.
Organisations also need the right people – with the right skills, set up in the right environment – in order to thrive over the long term. We work with our clients' people to build impactful products AND high performing teams.
We do that by blending technical craft and product expertise with an award-winning approach to talent growth and development.
A remarkable model
In order to help both our clients and our people to thrive, we designed AND around a very special organisational structure – known as our Club Model – which allows us to organise our people (known as ANDis) in a unique way.
* Each ANDi is part of a small, tight-knit cross-functional team called a Squad. Six to eight Squads, with some specialist roles and a leadership team, make what we call a Club.
* A Club is a unit with no more than 100 ANDis, who together serve between 8-12 different clients. Each Club has its own physical space – a Clubhouse – with its own management team, and the autonomy to make its own decisions when it comes to its people and clients.
* Supporting the work of each Club and the development of each ANDi is our hardworking, multidisciplinary team, Tenzing.
It's a pioneering approach designed to allow us to be nimble and Agile – keeping the pace, close relationships and individuality of our start-up days, while still allowing us to grow rapidly at scale.
Like what you hear? We're looking for individuals who can embrace a fast-paced, rapidly growing environment that lives and breathes tech.
If you're interested, visit our website to get in touch with our award-winning in-house recruitment team.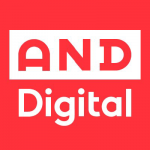 Specialisms
Digital Delivery, Product Development, Product Analysis, Digital Learning, Flexible Resourcing, and Professionalising Digital, Agile training
Recent articles by authors from AND Digital
Service Areas

Agile
Delivery
People & Change
Service Types

Products
TDTP Partner
Training