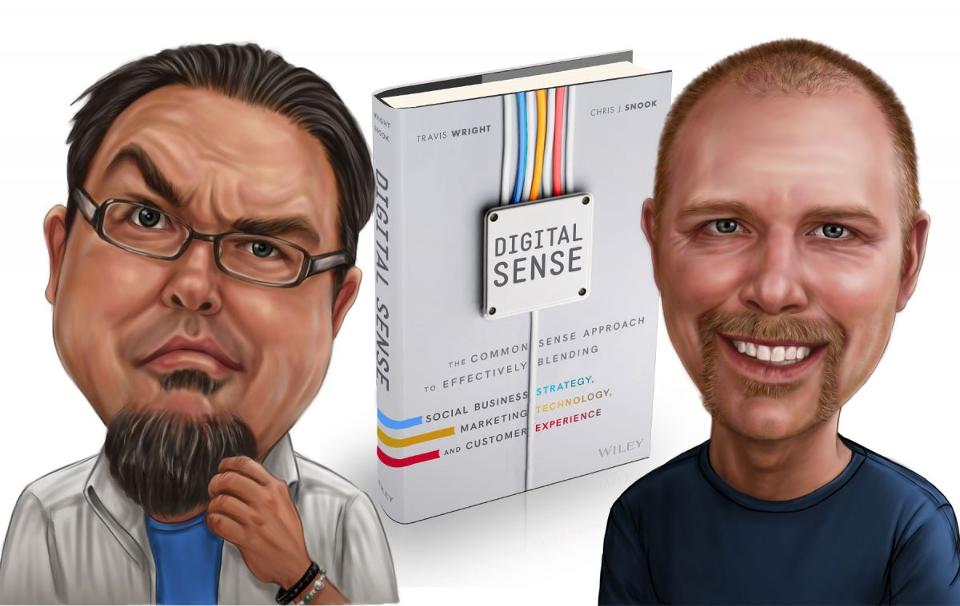 There are no shortage of books to help you become a modern or innovative marketer. At the same time, there is a scarcity of useful, actionable and thought-provoking content to actually help you excel. My good buddies Travis Wright and Chris J. Snook hope to change add value to your marketing ambition with their new book, " Digital Sense: The Common Sense Approach to Effectively Blending Social Business Strategy, Marketing Technology and Customer Experience. "
The duo approached me to write the foreword and I happily agreed under one condition…I get to share the foreword with you online. With that said, I hope that this foreword helps you see and do things a little bit differently starting now.
You are not a digital marketer…at least not yet
I want to use this foreword to officially warn you. You're in for a delightful experience. Normally books that teach you so much aren't supposed to be this fun to read. But that's Travis and Chris for you. They not only share their real world experiences in shaping the future of digital, they do so in an engaging and entertaining way that keeps you laughing and learning.
Now, with that said, let's get to work.
We live in an era of digital Darwinism, a time when technology and society evolve. The question is, how are you, or how are you not, evolving to keep up with change? It's not an easy question to answer.
There's an illusion of which makes us believe that just because we are investing in new technologies and strategies, that we are ahead of the curve…that we're leading the way to the future of digital transformation because we use the same networks or apps as customers. But that doesn't make you a digital marketer. A digital marketer is someone who understands to engage someone digitally, it must be done in a meaningful, personalized and contextually + culturally relevant manner. Digital marketers understand the dynamics of online sites, communities and apps individually not in aggregate and more so, they understand the human on the other side of the screen based on preferences, behaviors, values, intent, lifestyle, aspiration, etc. As such, digital is a means to reach a different breed of customers, one who's connected, informed, empowered, demanding, elusive, a bit narcissistic and definitely in control of their online experiences.
Digital marketers, in the very least, are digitally literate and also empathetic to appreciate the extent of how people have changed and continue to do so. Then and only then, can you design strategies, messages, content, et al., that break the old chains and confines of traditional marketing and abolish the dated checklist and metric system many so-called digital, social and mobile marketers rely upon today.
There's a reason you are reading this. It might be the same reason I wrote this. We're ready to sharpen our digital sense so we learn and more importantly, unlearn, to grow and lead. In its purest form, that's digital "sense." It's our ability to perceive outside inputs and assess new horizons and states that are driving the digital economy better than you we now. But it's also more than that. All of this is designed to help you be more in tune than your peers in grasping the gravity of change and do the things that put you ahead of your competition. And more so, you're learning how to step outside of what you think your role is in marketing to actually lead your organization into a digital-first era. This is a story that's equally about changing the future of marketing as it is a story of personal transformation.
The other reason I believe you're reading this is because you possess something that others in your organization do not…the ability to see what others can't and as such, you're willing to then do what others won't. We can't do any of this alone. And, this is why you are part of a special group of people who share your passion for knowledge, who look for support from one another to blaze new trails, to reassure one another in times of need.
One of the greatest challenges we all face is the difficulty in getting others to recognize the importance of digital when they don't personally live a digital lifestyle. As such, it's impossible to feel the importance of digital in the future of brand and customer experience. Without empathy and belief, you will never have the support you need.
And, that's really the heart of the matter. Most executives don't live the brand the way customers do yet, they're responsible for driving business objectives and managing resources to achieve them. If you're waiting for someone to tell you what to do next, you're on the wrong side of innovation. That's why we are here together right now. We're not waiting…we're leading the way.
Read the book. Make a plan. Let's go…
Observe: See the world differently without your personal filters. See people for their differences and let it all inspire you.
Visualize: Define where it is you need to go vs. where you are and what success looks like now and over time.
Act: Start learning and unlearning the things necessary to achieve your milestones and also help bring others on the path to transformation.
Earn: You are more than a marketer, you are a change maker and as such, you will write the future of marketing as you evolve and earn support and accolades you deserve.
Your partner in change,
Brian Solis, provocateur, futurist, believer in new possibilities
Brian Solis
Brian Solis is principal analyst and futurist at Altimeter, the digital analyst group at Prophet, Brian is world renowned keynote speaker and 7x best-selling author. His latest book, X: Where Business Meets Design, explores the future of brand and customer engagement through experience design. Invite him to speak at your event or bring him in to inspire and change executive mindsets.
Connect with Brian!
Twitter: @briansolis
Facebook: TheBrianSolis
LinkedIn: BrianSolis
Instagram: BrianSolis
Youtube: BrianSolisTV
Snapchat: BrianSolis
Search
Everything you need to know about Digital Transformation
Subscribe
The best articles, news and events direct to your inbox