When your internal experts become a part of the industry conversation, your audience will pay attention. But, in order to gain this marketing advantage, you need the right climate for activation. You need an engaged team.
Once you do successfully motivate your employees to share branded content, create their own, and to build their reputations as thought leaders in your industry, the sky's the limit. People trust other people more than the brand itself – it's the inherent potency of word of mouth marketing.
Which for most organizations, is still mostly untapped potential.
But, brands are waking up to the impact activated employees can have on marketing goals – on top of the productivity and recruitment benefits and even the improvement to workplace culture.
How Employees Can Boost Your Marketing ROI
Today's consumer, from business professionals to everyday buyers, research a company's products or services way before making a purchase decision. That's why being a major player in the conversations going on in your industry is so important.
However, those conversations shouldn't be solely brand-started. Your employees are consumers. They are the human face of your company and so are more trustworthy in the eyes of your audience. 84 percent of people trust recommendations from people they know over all other types of marketing. According to Edelman's 2018 Trust Barometer, 41 percent of people believe employees rank higher in public trust the company's CEO, Founder, or PR department.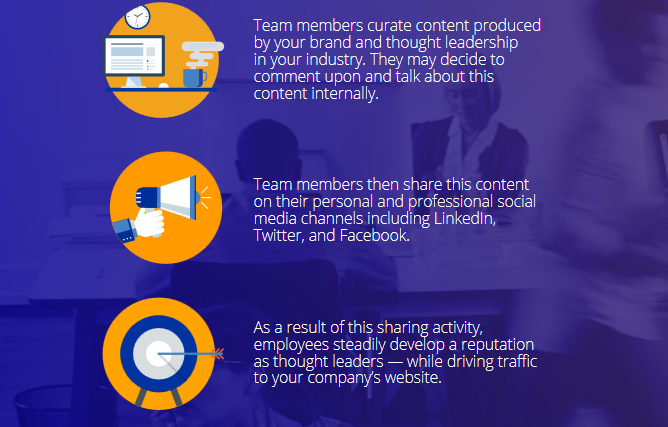 This is why you want your employees to be starting those industry conversations. Your internal experts then establish their place in the conversation, sharing their insights, sparking questions, providing answers, and becoming recognized experts. Ideally, over time, consumers will look to your employees for solutions.
Not only will this help to drive traffic, customer engagement and conversions, it also transforms your campaign into a team of influencers.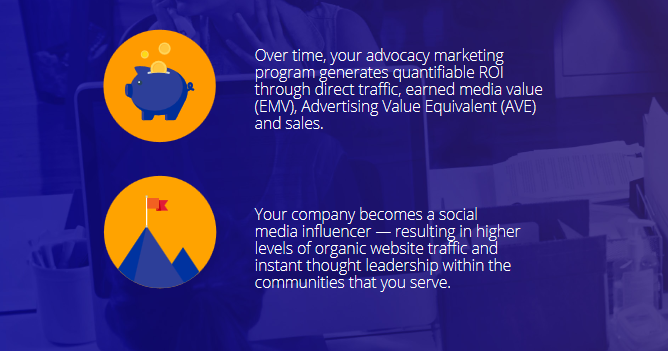 Is Your Company Ready for Employee Activation?
But, you can't just send out a company memo and have this new marketing superpower.
In fact, if your organization is like most, only a fraction of your employees would be interested in becoming employee advocates. Gallup's 2013 State of the Global Workforce Survey revealed that only 13 percent of employees consider themselves to be engaged.
In order to get to a state of employee activation – where your employees are active participants in industry conversations – you've got to inspire engagement first.
Here are three strategies to prime your organization for successful activation:
Become a Socially Engaged Company
People who work at socially engaged companies are more connected to each other, inspired and optimistic about their company's future.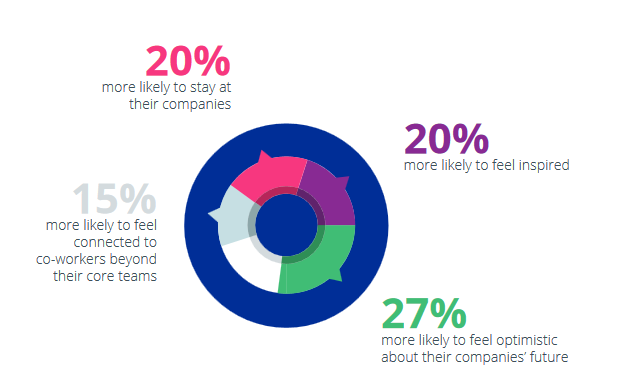 Improve Employee Communications
Create LinkedIn or Facebook groups for internal conversations
Use tools to make social sharing easy and engaging
Provide content that aligns with your employees' interests and values so they are proud to share it with their social networks
Your company uses an internal communication platform like Slack or Cliq, but only half of your employees ever use it
Emails are sent to company email addresses but everyone doesn't have one
Newsletters are created but are rarely read because they don't speak to your employees' interests
Content is there to share but employees have to dig to find it
Often, where engagement falls short or breaks off completely, is in poor communication. You may have a communication network in place but often what happens is the connections aren't, well, connected.
Prioritize Support and Approachability
Identify where communication is falling short or isn't streamlined. In order to successfully activate your employees, everyone has to be on the same page. That may mean dwindling communication channels down to one or two so everyone knows where to look, better onboarding so more people will use team collaboration tools, and ensuring someone is managing communication and can address future shortfalls.
Check-in on a one-to-one basis to see what each individual needs to do their job and advocate.
Offer growth opportunities through training and mentorship.
Make sure managers are accessible and approachable – according to a recent survey conducted by Ultimate Software, 75 percent of employees say approachability is the most important quality their manager should have.
In order to activate employees so they'll want to become a part of your brand's marketing strategy, you need to empower them to optimize their potential.
Give Your Employees a Reason to Be a Part of Your Marketing
To really activate your employees, look at your brand values. The most successful brands have a clear vision that doesn't just guide the brand, it also inspires both your employees and your customers. Apple, Nike, Intel, Burt's Bees – these companies aren't just selling a product or service, they're selling a vision.
Equipping innovators. Empowering athletes. Setting the bar for environmental awareness or corporate social responsibility. What does your brand do to help society, a group of people, or to address today's challenges?
According to a 2016 Gallup poll, only 23 percent of US employees feel they can apply their organization's values to their everyday work and just 27 percent would say they believe in their organization's values.
The more meaning and fulfillment your employees get out of their job, the more inspired they will be to further the reach of your brand through social sharing, content creation and conversation.
Start Activating Your Employees Today
No matter what size your organization or your budget, you should start activating your employees today. In fact, with a team of motivated, activated employees, even a small company can grow because of the organic marketing your employees initiate.
But, to make it really work, start by laying the groundwork for employee activation rather than jumping directly into advocacy. Without a system in place for employees to share and create, and a reason to participate, your employee activation program won't last very long and you won't get that sustainable boost to your marketing KPIs.
That's the secret to successfully bringing your employees into marketing. You have to look beyond advocacy and aim for activation, unlocking the vast potential of your skilled, passionate, visionary internal experts.
Search
Everything you need to know about Digital Transformation
Subscribe
The best articles, news and events direct to your inbox