Slickdeals content may contain references to products from one or more of our affiliate partners. If you make a purchase on their site through a link on Slickdeals, we receive a small commission. This in no way affects our opinions on products or services mentioned in our content.
The Slickdeals office has many TV connoisseurs, and while we may argue about the benefits of 4K or OLED, one thing that we can all agree on is this: buy the largest screen you can afford.
With most television models topping out around 65-inches, going even bigger means ditching the physical frame for a projected image. Historically, this meant buying an expensive and bulky projector that was good for movies, but not gaming. That's all changed now, though, thanks to the ViewSonic PX706HD Gaming Projector.
Featuring low input latency, a compact form-factor, and a short-throw lens, this new display solution from ViewSonic redefines the "big-screen experience."
Keep reading our hands-on review to see if the ViewSonic PX706HD Gaming Projector is the upgrade your living room needs.
Special thanks to ViewSonic for loaning us a projector for this review!
Search URL: https://slickdeals.net/newsearch.php?firstonly=1&pp=20&sort=newest&rating=popular&forumid%5B%5D=9&hideexpired=1&q=%40title+%22viewsonic+projector%22&r=1
ViewSonic PX706HD Gaming Projector
4.5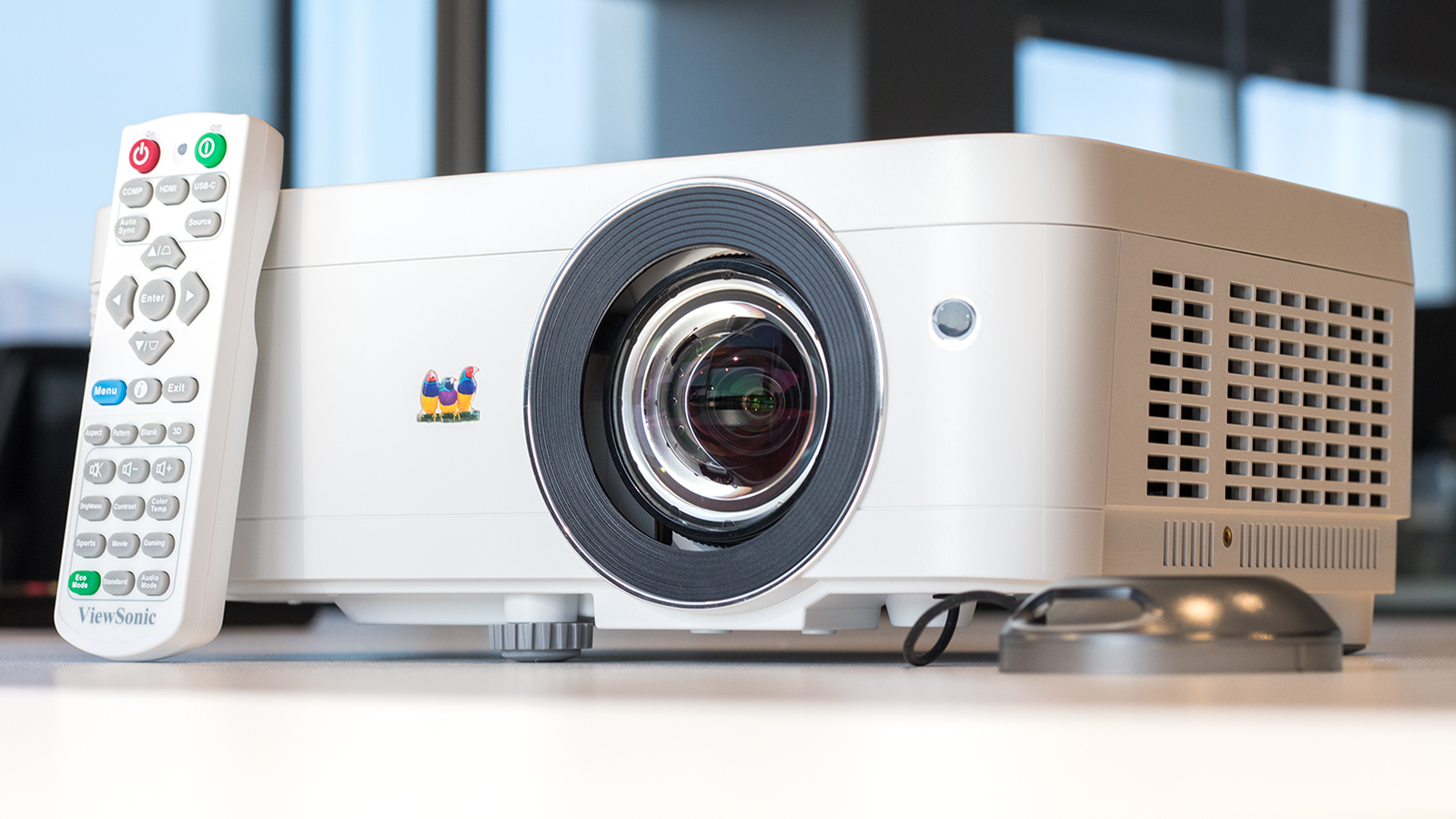 ViewSonic PX706HD Short Throw Gaming Projector Specifications
1920 x 1080 Full HD resolution
Throw distance: 3 – 7.2 ft.
Brightness: 3,000 ANSI (Lumens)
Lens: 1.2x optical zoom
Light source life: 4,000 hours (normal mode)
Dynamic contrast ratio: 22,000:1
Ports: USB 3.1 Type C, 3.5mm audio out + in, 2x HDMI, VGA, RCA, mini USB, Control (RS232)
5W internal speaker
Dimensions: 11.5 x 4.5 x 8.7 (inches)
Perfect for the Living Room
"Wait, this is the projector?" Those were the first words out of my mouth as the delivery person handed me a small package resembling a case of Instant Ramen Noodles. With its longest edge measuring only 11.5-inches, the ViewSonic PX706HD is one of the smallest projectors I've ever seen.
Just the other day, I was at my friend's house, watching a movie on a massive projector which also comically doubled as a space heater. Clearly, ViewSonic went with a more efficient design – the PX706HD is so small, it can be easily hidden under a coffee table or discretely placed on a shelf. Its exterior design feels modern and simple, featuring rounded edges with a few vents for heat management.
Getting a video feed to the projector is simple as the back panel offers a wide range of display connectors including two HDMI, USB Type-C, mini USB, VGA, and an all-but-obsolete video RCA connector.
In terms of angle adjustment, ViewSonic opted for a tripod configuration for the PX706HD, using two fixed legs in the rear and one extendable leg in the front. Theoretically, this is completely adequate, but it assumes that you have a perfectly level floor and table surface. Unfortunately, the floor of the Slickdeals office is wavy like big hair from the '80s, so I had to prop up one of the back legs with a small stack of Post-it Notes.
Aside from having to get creative with image leveling, I had no other qualms with the projector's design. Mainly, we want a device like this to be small and unobtrusive, and the PX706HD answers the call nicely.
Large-Format Movies and Gaming
Designed as a short-throw projector, the ViewSonic PX706HD can be placed a few feet in front of a wall/screen, or cast a large image in just a fraction of the distance required by traditional projectors.
From just 36 inches away, the PX706HD projects a 62-inch (diagonal) image. Back it up to 92 inches (~ 7.6 ft), and the display grows to 150 inches (diagonal, with optical zoom)! Yes, you read that right. This tiny box can display the equivalent of a 150-inch TV from the comfort of an average-sized living room.
And the best part about a flat projection surface and beams of light is that there are no pixels involved. Although this ViewSonic projector is rated at only 1080p (full HD) resolution, we weren't able to see any jagged edges from normal viewing distances, even when the display size was 150 inches. Many co-workers passed by to marvel at the in-home movie theater setting, and not a single person said "you know, this would look better in 4K." In fact, most people were too awestruck to even care about screen resolution. It goes to show that image size is the biggest factor (pun intended) that affects our entertainment experience.
The "gaming" aspect of the PX706HD means ViewSonic has prioritized the delivery of smooth images with ultra-low input latency (16ms, to be exact). When playing video games from a console or PC, fast-paced action scenes came across crisp and clear, and game controller inputs were accurately reflected in real-time. In other words, what I'm seeing from the projector is what's actually happening in the game. This is especially important for online multiplayer games.
Using an Xbox One X, we played Call of Duty: WWII, Forza Motorsport 7, and Madden NFL 18. It's safe to say that we all resurfaced from our gaming sessions with zero complaints. The colors, brightness, and contrast all looked great, especially considering that we were in the lobby of our office space with lots of ambient light. Of course, the darker your environment, the more vibrant the picture will be – that's just the nature of any projection system.
Overall, the experience of playing a game on such a large screen is both incredible and immersive. I even got a bit of motion sickness flying a plane in COD:WWII! See the projector in action below:
For those considering replacing a traditional TV with this projector, it's worth noting that you'll need an external audio solution, like a sound bar. The on-board single speaker produces enough sound, but it doesn't match the epic-ness of the projected image.
Other performance features of the ViewSonic PX706HD include a 3,000 Lumens bulb, 3D Blu-ray compatibility (3D glasses required, sold separately), and automatic vertical Keystone correction (straightens crooked images).
Should You Buy the ViewSonic PX706HD Gaming Projector?
If you're looking for a large-format theatrical experience, the ViewSonic PX706HD Gaming Projector is a great solution. It offers incredible performance and versatility in an affordable package.
With a retail price of $699.99 (at time of publish), the home-friendly PX706HD is on-par, in terms of cost, with entry-level 65-inch TVs from popular manufacturers like Samsung or LG. And as we've demonstrated, the functionality of this projector is anything but entry-level. It even offers the truest of blacks – the bulb simply doesn't project any light for black elements, which makes the horizontal bars of letterbox widescreen movies invisible in a dim room.
Search URL: https://slickdeals.net/newsearch.php?firstonly=1&pp=20&sort=newest&rating=popular&forumid%5B%5D=9&hideexpired=1&q=%40title+%22viewsonic+projector%22&r=1
The ViewSonic PX706HD Gaming Projector is available for purchase today from your favorite retailers, like B&H Photo, Amazon, Best Buy, and more.
Need more time to clear out some wall space? Set a Deal Alert to be automatically notified when the ViewSonic PX706HD Gaming Projector appears on Slickdeals at a lower price.
Related: New Amazon Fire TV Stick 4K Available for Pre-Order
Search
Everything you need to know about Digital Transformation
Subscribe
The best articles, news and events direct to your inbox