Slickdeals content may contain references to products from one or more of our affiliate partners. If you make a purchase on their site through a link on Slickdeals, we receive a small commission. This in no way affects our opinions on products or services mentioned in our content.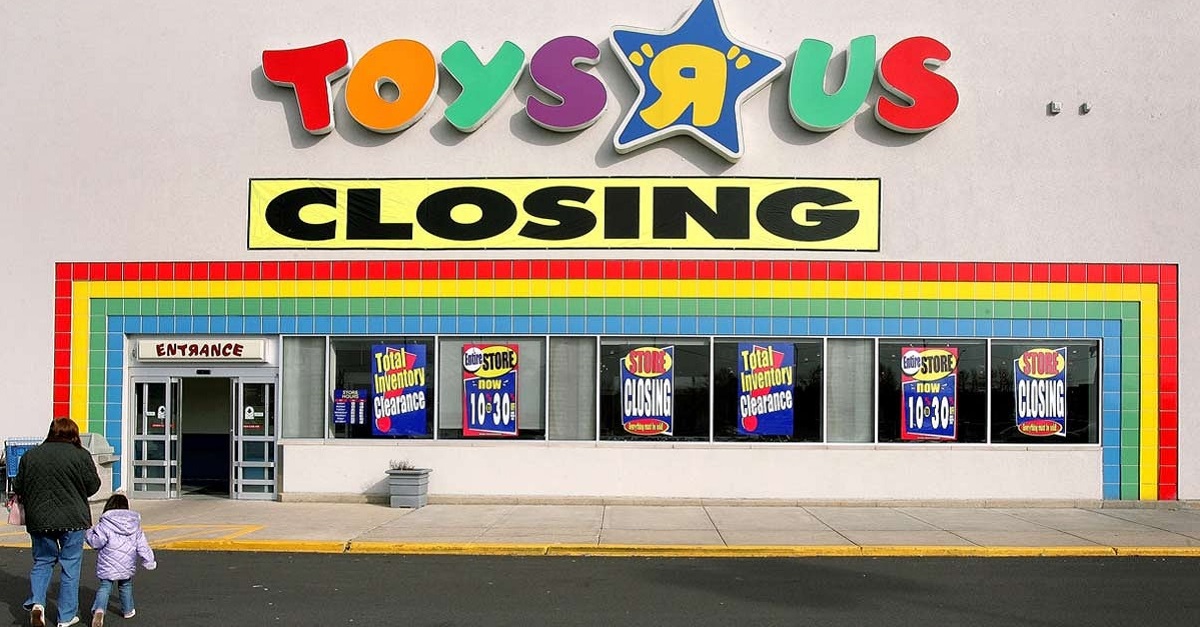 Update March 23, 2018: The TRU liquidation sale has now officially started.
Update March 22, 2018: A Toys R Us spokesperson has told news outlets that today's planned liquidation sale has been "delayed due to unforseen circumstances." We also confirmed that coupons will not be accepted during the liquidation sale.
—————————–
According to multiple news outlets, Toys R Us's everything-must-go sale is scheduled to start on March 22nd, with a projected end date of June 2018.
Some of the approximately 700 U.S. stores have already begun offering small discounts, but this is the first time we've heard an actual date for "the big one." For the next 14 weeks or so, all purchases made during the liquidation sale will be final — choose wisely as the earlier discounts of 20 – 30% may not actually be good deals.
Savvy Slickdeals users are warning about inflated prices during the sale, and also suggesting would-be shoppers to use Slickdeals's site search to verify that products are actually being offered at a historically low price.
Some quotes from our community (anecdotal; not verified by Slickdeals):
mitcham: "One area store employee did confirm that they are in the process of marking up everything in the store prior to the initial 25% discount. So perhaps mid-April there will actually be some discounting worth looking at."
geesevs: "my wife works at one, they aren't adjusting up the prices and also the price match is gone."
kwadguy: "Highly sale-able items are often transferred out of the stores in backend deals before the sale starts, or before larger discounts are applied. Junk merchandise never sold in the stores is often transferred into the stores for the sale. By the time the discounts are good, nothing much of value will be left."
BlackLotus777: "The Lego's still available were on a great sale. I would have bought many had I wished to be poor and not have a viable marriage by bringing in 12 new lego sets. Legos are one of THE top toys – what else would fit your 'backend deals to move out good products'? Electronics maybe? The store by me also had Amiibos, which are toy/electronic hybrids and all were on a good sale (40%). Both of those examples are rarely on such wide sales and we know the actual pricing of most. And they are very sought after toys. And all were on a set % off sale (20-40 was what I saw). I'm in Phoenix, a very large city so not some backwater area that's an exception."
Liquidation sales at the South Elgin, Illinois Toys R Us start this Thursday. Just an FYI.

– ChillyBilly©™® (@Chillybillz) March 18, 2018
It's the end of an era for those of us that didn't "wanna grow up," but maybe someone like Amazon will swoop in and take over a few of the toy store chain's most successful locations, giving Geoffrey a new lease on life.
Don't forget to use your Toys R Us gift cards and rewards credits before they lose their value forever!
*****
Toys R Us Store Closure FAQ
Q: Does the Liquidation Sale and Store Closures Include Babies R Us?
A: Yes, all Babies R Us and Toys R Us stores will be closing, but at present time, there are plans for keeping an online presence for Babies R Us.
Q: Can I Still Use My Gift Cards at Either Store?
A: Yes, you have 30 days (as of 3/15/18; reference) to use your Toys R Us gift cards. However, the retailer has the ability to reduce that time window if they want to. To be safe, use it ASAP.
Q: Can I Use a Babies R Us Gift Card at Toys R Us and Vice Versa?
A: Yes, you can use either at both stores.
Q: If I Made a Purchase Before the Liquidation Sale Started, Can I Still Return the Item?
A: Yes, items purchased before the official start of the liquidation sale can be returned. Any purchases made during the liquidation sale are considered final sales and cannot be returned or exchanged.
Q: Can I Still Use My Toys R Us Credit Card?
A: Yes, you can still use your TRU credit card until the stores are closed down, but you will not be able to use any rewards or discounts attached to the card.
Search
Everything you need to know about Digital Transformation
Subscribe
The best articles, news and events direct to your inbox