There's no getting around it – today's multi-channel marketing landscape is complex. But, instead of getting wrapped up in the 'multi', it can be productive to take a step back and look at what is actually working for high performing brands and focus on it.
Today's consumer wants more value from the brands they engage with. This higher expectation is both the product of and the reason for the success of content marketing. By focusing on and prioritizing those channels that live up to our customer-centric reality, you can put your efforts into boosting the quality of the channels that count the most rather than spreading your marketing out. This also gives your strategy an end goal – the ultimate brand destinations – for the other marketing channels to feed into and support.


The bottom line is, if you want your products or services – as well as the brand story itself – to resonate with your audience, make sure you are connecting with your buyers through the channels they respond the most positively to.
The latest EventTrack report reveals the top two marketing channels for 2018 are the company website and event and experiential marketing. One is online, the other is offline. Both revolve around creating serious value for the consumer. They invite buyers to experience way more than just a product. This is about world-building – content marketing that welcomes the audience into each brand's unique version of 'Disneyland'.
Elevating the Company Website
The brand website has the potential to serve as a lot more than a company's digital face to the world. It's an opportunity to create an experience in itself with a strategic selection of website content, including blog posts, videos, case studies, and more. 44 percent of consumers rate brand websites as the best marketing channel for understanding product benefits.
But, if you want your website to stand out, you really want to make the most of this marketing channel, giving consumers a destination they want to come back to, just for the content.
Those organizations who have more sophisticated content marketing strategies have already mastered the content hub, either on-site or as a separate branded site. This is one step above a basic website with content. It creates a place for all your best content to reside, making it easier for visitors to access what they may be interested in. And, for you to expose them to more of what you have to offer, keeping them engaged and hooking them with a 'what's in it for me' that blows their expectations out of the water.
Here's what Equinox's hub, Furthermore, looks like. This luxury fitness company offers more than information, exploring a way of living that their target aspires to.

Aside from a hub, another method for elevating the company website is to build an ultimate learning resource destination – a sort of Library of Alexandria for your niche. Going beyond the well-organized content of a hub, you can offer courses and educational tracks that give your visitors something to strive for. This also helps to guide them along a particular learning track instead of just bombarding them with a vast library of content. For example, a video series and set of eBooks can be turned into a comprehensive learning module for potential buyers.
HubSpot Academy is a great example of this ultra-useful educational website experience.
You get a sense that there is an endless well of information to tap into – because there is. And, it's all free. That's a remarkably compelling reason for stepping into HubSpot's online brand world.

These methods of leveraging the company website to create extreme value aren't just practical in terms of lead generation and establishing thought leadership. They are also part of creating a brand world buyers want to become a part of. It is a stage beyond usefulness and quality, invoking a lifestyle that B2C consumers aspire to and a level of success and efficiency that B2B buyers strive for.
Connecting to Buyers with Live Experiences
The other marketing channel that has the greatest potential for influencing your consumers is event and experiential marketing. 41 percent of consumers rate live experiences as number one for helping them to understand what a product is all about, making events a must for a marketing strategy that creates real value for consumers. Events are also important if you want to drive substantial revenue and brand-boosting benefits.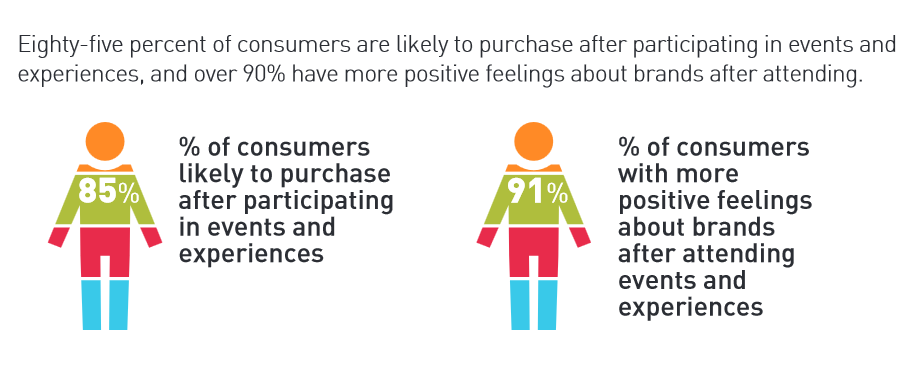 In order to get the greatest impact out of event and experiential marketing, the goal is to integrate the in-person experience with the wider content marketing strategy.
Interview event speakers for your blog posts, podcasts or videos before or post-event
Leverage your social media channels to post live updates of the event for live streaming and to engage participants at the event
Use event tools to help measure the value of your event and to ensure you're maintaining your brand's signature level of customer service
With enough participants, you use surveys to collect data to use for future white papers
And, of course, align the tone, messaging, and goals of your experiential campaigns and live events with the rest of your content marketing strategy
Events and other experiences don't just offer value. They also provide the foil for digital content, putting a human face on your brand and fostering a much deeper perception of authenticity than digital content alone can create. This is true even for people who may not have been direct participants. Those who indirectly engage with the experience through exposure to videos, photos, and other repurposed content still get some of the impact, seeing there are real people, real passions, and real ideas behind a brand.
Marketing the Experience
84 percent of brands use event and experiential marketing to engage consumers. Almost all businesses, from micro startups to enterprise level, have a website or are, at least, planning to have one up over the next year. But, as the best marketing channels for engaging your customers, building trust, and driving revenue, it's not just about having web content and in-person content. The objective is to build, brick by brick, and with each content piece expertly crafted and strategically placed, a world worth visiting.
Search
Everything you need to know about Digital Transformation
Subscribe
The best articles, news and events direct to your inbox