While Snapchat is wildly popular with individual users – it reached the 100 million daily active user mark at the end of 2016 and has ballooned to 161 million since then – businesses are only now catching on to the potential. Until last year, it was still Facebook, Twitter, and LinkedIn which got the most social media marketing attention.
Like its slightly older sibling, Instagram, Snapchat has become a social force to be reckoned with in a few short years. Visual, interactive, and engaging, if you are still in the camp of marketers overlooking Snapchat, you may want to look again.
Snapchat Marketing Examples You Have to See
From the businesses that market directly to the millennials and younger, Snapchat's biggest fans thus far, to multinational B2B organizations, some brands are already gaining traction and engaging leads with this somewhat mesmerizing social platform.
Goldman Sachs has been leveraging Snapchat for years.
They got a lot of attention for their campus recruiting campaign directed at recent grads. The Campus Story platform was even nominated for a Shorty Award.
image source
More recently, Goldman Sachs purchased ad space on Snapchat for International Women's Day, showcasing their 10,000 Women initiative with three video ads.
Amanda Rubin, co-head of brand and content strategy explains their decision, "Snapchat allows us to reach an important audience in real time and join a conversation about how best to empower women in emerging economies."
Gatorade used a Snapchat Sponsored Lens to promote their brand during the Super Bowl.
Combined with a classic influencer marketing technique, using tennis star Serena Williams in the animated GIF, this one by Gatorade was a winner.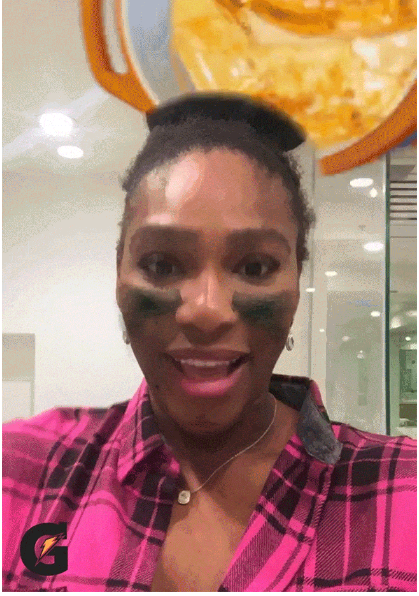 image source
Hubspot is setting the standard for B2B companies.
They use Snapchat to showcase what's going on within their company culture.
The software provider, which specializes in inbound marketing, also offers plenty of useful tips and advice for getting started on Snapchat.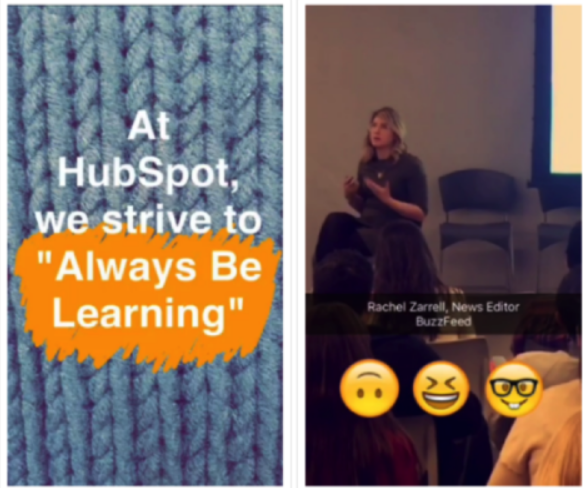 image source
How Does Snapchat Work for Marketing?
Part of Snapchat's attraction is the finite duration of the messaging. Snaps are shared between users and disappear after viewing. A story lasts longer. Create a photo or short video and every one of your brand's Snapchat friends can view the content for 24 hours.
This makes Snapchat ideal for running campaigns around specific events, brand announcements, and also to engage your audience with relevant chats during the holidays.
Snapchat is also useful as a marketing tool to support other facets of your overall content strategy. For example, if you want to let more of your audience know about a new vlog series, seminar, or your latest blog posts, sharing a photo or video can help to create more interest and drive more people to your site to view, sign up, or read.
The more creative, authentic and relevant, the better.
Feature some of the most important points from your content in an innovative way.
Take the Hubspot route and include your staff – try fun interviews or a clip of your team in action.
Announce any contents, deals or special promotions.
Here's an example of Snapchat marketing ingenuity in action. Grubhub uses the platform to announce coupon codes, elegantly capitalizing on the sense of urgency that's intrinsic to chats.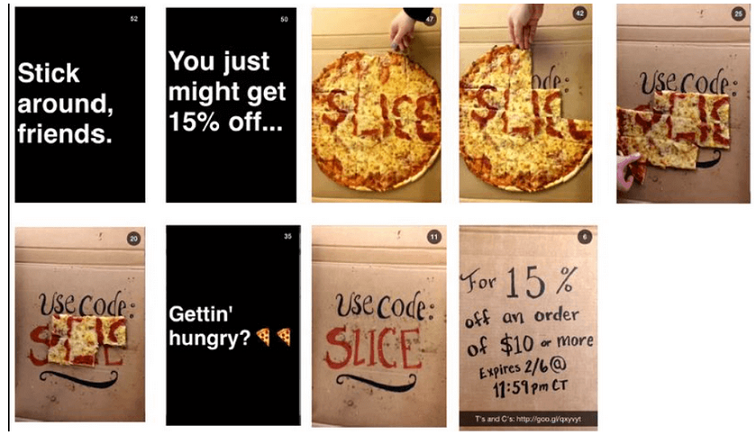 image source
Snapchat Promotional Tools
Snapchat has developed several tools for marketers to use to make their brand more visible and to engage users on the platform.
Snap Ads are mobile video ads with an interactive elements such as a swipe up features. When done well, the interactivity can turn the Snap Ad into a short game.
Geofilters are custom overlays that are only available for users in a particular geographical area. This makes them a little more exclusive and ideal for regional or local events.
Sponsored Lenses are intended for big brands with deep pockets, costing $450,000 on slow days. But, they are a truly unique way to promote a brand. Who'd ever have thought ten years ago, one of the most powerful ways to market would be to let your customers turn themselves into a grinning taco head?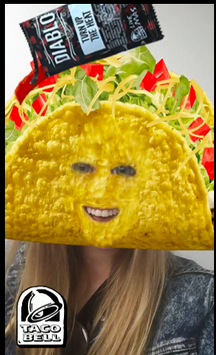 image source
Snapchat is also a well-played medium for influencer marketing. Sour Patch Kids 2014 campaign with Vine star Logan Paul, made huge waves, in the form of 120,000 new followers for the brand.
How to Master Snapchat
You, however, don't need ads to benefit from the popularity of Snapchat. In fact, Snap Ads and Sponsored Lenses could be the platform's downfall in the future.
What makes this social media site stand out, growing from a niche site to one of the top social media networks in existence, is its down-to-earth feel.
What users appreciate is the newness and rawness, as well as the fun. This isn't a platform for glossy promo videos and polished ads, but rather for clever emojis and text captions.
Ads could quickly get old and eventually push users to other platforms that are able to offer the genuine, light-hearted feel that Snapchat offers today.
Want to get the most out of Snapchat? Be creative and strategic. You have to keep your visuals fresh and interesting. This isn't where you can really display your prowess with educational content. It is where you can be the most innovative, coming up with snappy posts that are never the same yet always in tune with your brand messaging.
Snapchat is more about catching your audience's attention, making them smile and helping to move them further down the sales funnel.
How to build your audience? You can use your followers and friends on your other social media channels to build a following on Snapchat.
Using an influencer to garner attention or connecting with an industry event that your audience would be interested in can help you to get more users opening your Snapchats.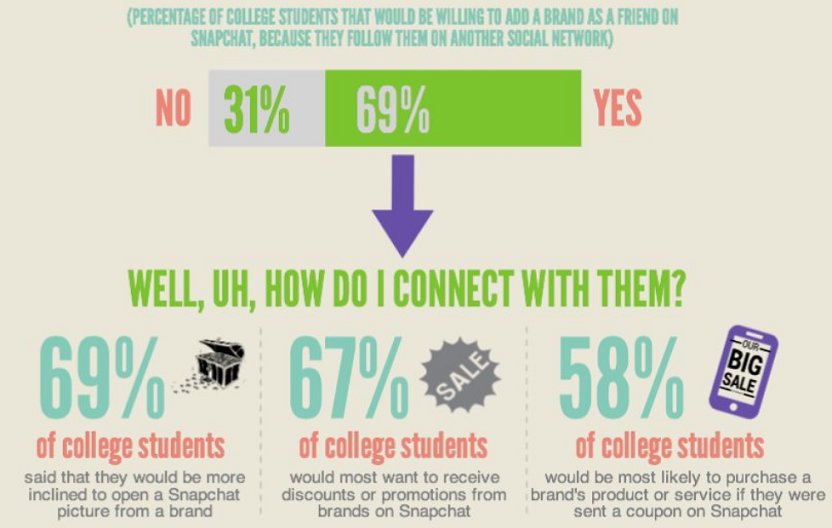 image source
Hubspot suggests making a measurement plan at the beginning when using Snapchat for business marketing. Look at your retention rate for each story to see which ones are being viewed. Track when your audience stops viewing – what percentage make it to the second snap. Also, pay attention to qualitative feedback. What are users saying about your posts?
Snapchat is really still in its infancy. But, there is a lot of potential for businesses. Sure, this fast-to-rise social network has half the modern world vomiting rainbows, but it can also help you better market your brand.
Search
Everything you need to know about Digital Transformation
Subscribe
The best articles, news and events direct to your inbox