Slickdeals content may contain references to products from one or more of our affiliate partners. If you make a purchase on their site through a link on Slickdeals, we receive a small commission. This in no way affects our opinions on products or services mentioned in our content.
Finding the best gaming headset is a lot like shopping for clothes – everyone will have a different opinion about how it looks, fits, and feels. But once you've discovered the perfect match, it's difficult to be convinced that another product is worth trying.
Razer's Kraken headsets have won the loyalty of many users over the years. But can its latest version, the Kraken 7.1 V2, convince people to move on from the familiarity of their favorite headphones? The argument is pretty convincing, with new features that include 7.1 surround sound, 50mm drivers, Chroma lighting effects, and larger ear cups.
Let's take a closer look at the Razer Kraken 7.1 V2 gaming headset and see if it has what it takes to "be your main."
Special thanks to Razer for providing a Kraken 7.1 V2 headset for this review!
Razer Kraken 7.1 V2 Gaming Headset
4.7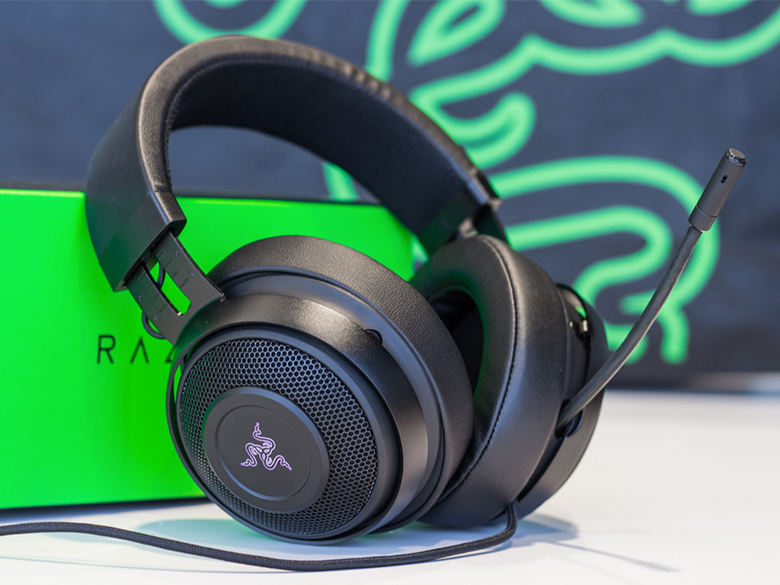 Lack of in-line volume controls
Razer Kraken 7.1 V2 Gaming Headset Specifications
Drivers: 50mm with Neodymium magnets
Frequency response: 12 Hz – 28kHz
Connection: Wired, USB Digital
Kevlar reinforced cable, 6.6 ft
Oval ear cushions
Microphone quick mute toggle with active noise-cancelling
Designed by Gamers, for Gamers
From the moment I put on the Kraken 7.1 V2, I could tell that it was well-made and thoughtfully designed. There's a particular robustness and premium feel to the overall product. For example, the entire frame is constructed of Bauxite aluminum, which was chosen for its lightness, flexibility, and durability. And even the smallest details were considered, like molded channels in the ear cushions to accommodate those who wear glasses.
Our Kraken 7.1 V2 test model came in black but is also available in gunmetal grey and mercury white. And no matter what exterior color you choose, the three-headed serpent on either side of the headset offers enhanced lighting effects courtesy of Razer Chroma. You can customize Razer's signature logo with 16.8 million possible colors as well as a variety of display patterns.
Other design elements include a retractable microphone with quick-mute, an adjustable headband, and a 6.6-ft. Kevlar reinforced cable. Because the cable connector is USB only, the Razer Kraken 7.1 V2 performs best on PC or Mac. Console and mobile gamers will need to look to the Kraken Pro V2 for 3.5mm audio jack compatibility.
Enjoy Distraction-Free Fit and Comfort
As an avid gamer, I can easily get lost in a multiplayer session for a few hours at a time, and the Kraken 7.1 V2 headset is the only one I've used so far that maintains the same level of comfort from start to finish. The Kraken's padded headband, oval ear cushions, and lightweight frame all contribute to making this product feel virtually unnoticeable to the wearer.
While other headsets exert pinpoint pressure at the top of my head or on the sides of my face, the designers at Razer have managed to evenly distribute weight across all contact surfaces. The result is a distraction-free and immersive gaming experience. In my opinion, this is the most important benefit of the Kraken 7.1 V2. The last thing I want during my gaming sessions is to have to constantly adjust a headset due to discomfort.
The perfect fit and lightweight-construction of the Razer Kraken 7.1 V2 are the main reasons I find myself returning to it as my personal gaming headset, even after experiencing other more expensive products.
Hear Details Like Never Before
Out of the box, the Kraken 7.1 V2 offers crisp and clear sounds thanks to a pair of 50mm drivers. The default audio mix is mostly neutral with a bit of emphasis on bass, but this can be fine-tuned via Razer Synapse.
Personally, the extra bass is very welcome, especially considering that I mostly play first-person shooters and action games. The low tones come through with a crispness and richness that I can really feel, which adds to the excitement and intensity of these fast-paced games.
And once you've found your desired audio levels, it's time to set up the best feature of this headset. Yup, you guessed it: 7.1 surround sound.
Experience 7.1 Surround Sound
Using the Razer Synapse application, I was able to quickly go through the process of customizing the seven directional sound zones. It's something I've never thought about but makes total sense to do. Everyone's ears are shaped differently, and this affects perceived sound positioning.
Once the 7.1 sound stage was personalized, I fired up my favorite sneaky-shooter game, "Tom Clancy's Rainbow Six: Siege," and enjoyed a new level of environmental awareness. Thanks to the 360-degree audio, I could take better advantage of the game's sound cues, like foot steps, weapon reloads, clothes rustling, etc. Knowing where the noises were coming from – beyond just left and right – gave me better insight on where to aim when running around a blind corner, or where on the wall I should shoot through to hit the guy in the next room.
Of course, you don't have to play a super-strategic game to enjoy the benefits of a 7.1 sound stage. Games like "Overwatch" and "Fortnite" are also much more intense and satisfying when you can hear the action happening all around you.
A must-have for every gaming headset is a microphone, and Razer has included a retractable one for times when you want to chat or when you want to go YOLO-solo. This flexible mic features active noise cancellation (PC only) and a quick-toggle mute button, plus it's Discord certified for clear two-way communications. In real-world use, the mic transmissions are clear, and being able to retract the boom arm for single-player games (or storage) is very convenient.
Last but not least, the Kraken 7.1 V2 delivers a ton of volume. It's great for those who really like to "feel" their games.
Should You Buy the Razer Kraken 7.1 V2?
For PC and Mac users, the Kraken 7.1 V2 is, in my opinion, the essential gamer's headset. It delivers everything you need for the best gaming experience: high-end performance, long-lasting comfort, and stylish looks.
If I had to be nit-picky, the only thing missing from this headset is in-line volume controls. But don't let this small omission derail you from getting one of the best gaming-audio solutions currently available.
threadID: 11996879
Retail price for the Razer Kraken 7.1 V2 is $99.99, but it's been seen on Slickdeals for as low as $47.99. As always, be sure to set a Deal Alert for any big price drops or discounts.
Buy the Razer Kraken 7.1 V2 Gaming Headset
Bonus XP: Razer Base Station Chroma
With Razer being the premier maker of gaming accessories, it's no surprise that it also offers a cool-looking headphone stand complete with Chroma lighting effects.
Help your Kraken stay in good condition by properly storing it on the Razer Base Station Chroma. It's a sleek and functional accessory with three USB ports, and it beats tossing your premium investment on the table.
Search
Everything you need to know about Digital Transformation
Subscribe
The best articles, news and events direct to your inbox