Slickdeals content may contain references to products from one or more of our affiliate partners. If you make a purchase on their site through a link on Slickdeals, we receive a small commission. This in no way affects our opinions on products or services mentioned in our content.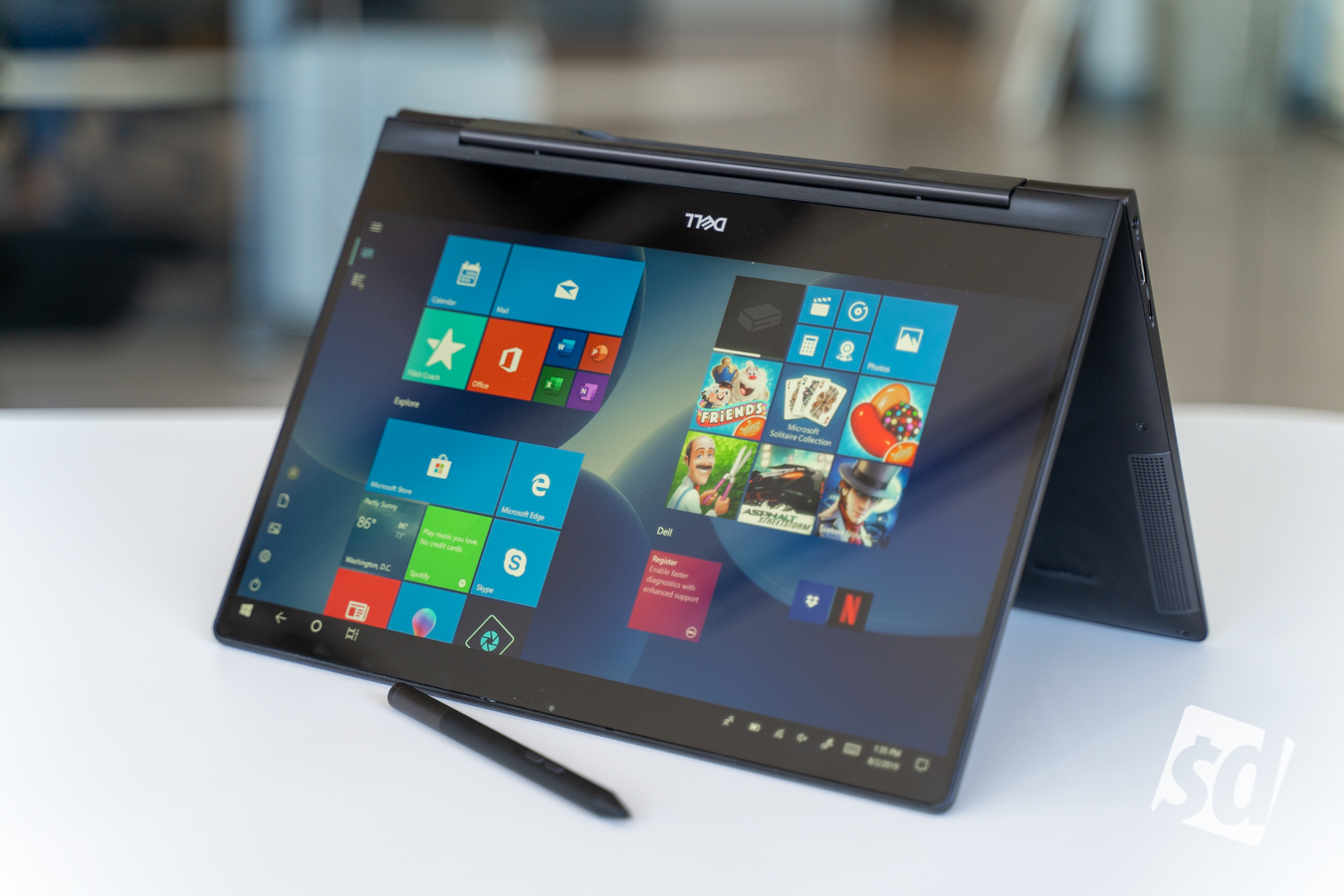 Earlier this year, Dell unveiled the updated Inspiron 13 7000 2-in-1 Black Edition hybrid laptop at CES 2019, touting an innovative new design and premium finish usually associated with higher-end laptops.
Having now put the Inspiron 13 7000 through its paces, it's clear that Dell has crafted one of the most refined products in the 2-in-1 sector. Smart incorporation of the Dell Active Pen, fast processors and an excellent keyboard make this one of the best hybrid laptops you can buy for the price.
Dell Inspiron 13 7000 2-in-1 Black Edition
4.6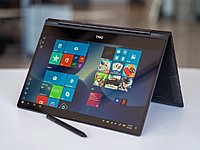 Dell Inspiron 13 7000 2-in-1 Black Edition Technical Specifications
8th Gen Intel Core i7 CPU
Intel UHD Graphics 620
16GB RAM
512 GB M.2 Solid State drive
13.3-inch 4K IPS Display
Touch screen and Smart Pen capable
720p camera
Fingerprint reader
802.11 AC wifi, Bluetooth 5.0
Ports: HDMI, USB-C, USB Type A, 3.5mm headphone jack, Micro SD
15.9mm (at thickest point), approx. 3.08lbs
Ingenious "Pen Garage"
Besides the all-metal exterior and full 360-degree hinge, the most impressive innovation of the Inspiron 13 7000 2-in-1 Black Edition is how Dell incorporated its "pen garage" right into the hinge of the laptop – the pen clings securely to a magnetic indentation carved perfectly into the middle of the laptop. This keeps it firmly in place during transit and makes it easy to grab in any configuration.
It's so much better than other solutions, like having the pen stuck to the side of the screen or tucked into a hole in the main chassis. There's no fumbling around, no fear of the pen coming loose in your bag, and no fuss when you're done using it.
The pen itself is also excellent. It's nicely weighted and has a premium, matte-like surface that's easy and comfortable to grip. The tip provides just the right level of resistance as it glides over the glass screen, and the pressure sensing software is top notch, making for effortless control of stroke thickness. Pen detection is seamless, and I never had to re-sync it to Window – it just worked every time. Additionally, ultra-low latency makes jotting notes or scribbling a sketch a real joy.
The screen and pen's responsiveness is thanks to a powerful set of processors crammed into the Inspiron's 15.90mm thin shell. In our review unit ($1,349.99 as tested), an 8th-gen Intel Core i7 CPU coupled with 16GB of RAM and a super-fast solid state M.2 storage drive (enhanced with Intel Optane memory) kept Windows boot times down to mere seconds. Applications also loaded quickly, while media content displayed smoothly and sharply.
Designed to Adapt to You
Powerful chips packed into a thin metal shell would normally be a recipe for disaster when it comes to heat management, but Dell has come up with a couple of interesting solutions. First of all, the Inspiron 13 7000 features a discrete yet effective cooling system that moves air through holes cleverly hidden inside the hinge.
But even more interesting is a detection system that is able to figure out whether the laptop is on your lap or on a desk. When on your lap, it prioritizes maintaining a cooler operating temperature to avoid cooking your thighs as you work. Then, when placed on a desk, it ramps up performance and puts its cooling fans to work to dissipate the increased heat.
This is done so seamlessly that I never noticed a stark change in performance. I did, however, enjoy how cool the laptop ran when planted on my legs. It's this sort of nuanced design that sets a laptop apart in an industry typically fixated with the unending performance arms race and/or enamored by confusing or misleading specs lists.
And this design also helps battery life – on the go, Dell claims around 11 hours of use. I was able to put in around eight hours of video playback and word processing before reaching for the power cable, which can fast-charge the battery back to 80% life in as little as an hour (after activating ExpressCharge mode in the Dell Power Manager). This is quite impressive for such a slim laptop!
Premium Fit and Finish
The Inspiron's 360-degree hinge offers all the typical benefits of a hybrid laptop, including the usual tent, tablet and stand configurations. But this is one hybrid that doesn't sacrifice on the fundamentals of a traditional laptop. The keyboard, for starters, is excellent. Clicky, well-spaced keys feature a wonderful matte texture (just like the Active Pen), making it a very comfortable keyboard to type on right out of the box. Meanwhile, the Inspiron 13 7000 also incorporates a fingerprint sensor seamlessly into the upper rightmost key, for easy and secure authentication.
The thinly bezeled screen is a ridiculously sharp, 4K IPS panel that offers excellent viewing angles and color delivery. At around 300 nits, it's not particularly bright when compared with more expensive laptops, but is suitably visible in a bright room or when taken outdoors.
Also notable is the broad selection of built-in ports, both new and old. On the left, you'll find a charge port, a USB-C port (which can also be used to charge the laptop) and a full-size HDMI 2.0 port for video output. On the right is a good old USB Type-A port next to a much appreciated headphone port and micro SD card slot. This is all very nice to have in an era when laptops seem to be shedding ports in favor of pesky adapters.
And for the topping on the cake, Dell's standard suite of apps includes the praised Mobile Connect, which lets you sync up your cellphone to manage calls and texts right on your laptop. All bases covered, then.
Should You Buy the Dell Inspiron 13 7000 2-in-1 Black Edition?
Considering all of its class-leading features and premium build quality, you'd be forgiven for assuming the new Inspiron 13 7000 Black Edition is a member of Dell's flagship XPS laptop series – its retail price of $1,349.99 also earns it a spot on the shelf next to some of the high-end XPS 13 models.
But you can feel comfortable knowing that the Inspiron 13 7000's price tag is well earned. From the innovative Smart Pen integration to the razor-sharp 4K screen and the incredibly comfortable keyboard, there's tons of value packed into a sleek and luxurious package.
Ultimately, it's a tried-and-true choice for anyone needing the versatility and portability of a lightweight 2-in-1 laptop.
Get instantly notified about the latest deals on the new Inspiron 13 7000 by setting a Deal Alert.
Or check out today's best laptop deal from our Frontpage:
Search URL: https://slickdeals.net/newsearch.php?firstonly=1&pp=20&sort=newest&rating=frontpage&filter%5B%5D=34&forumid%5B%5D=9&hideexpired=1&r=1
Any product or service prices/offers that appear in this article are accurate at time of publish, and are subject to change without notice. Please verify the actual selling price and offer details on the merchant's site before making a purchase.
Search
Everything you need to know about Digital Transformation
Subscribe
The best articles, news and events direct to your inbox