It is evident in 2018 now more than ever before that a new breed of executive leader has emerged among the digital ranks of the world's leading organizations. To better understand and learn from this emerging type of contemporary leadership, we've analyzed the mindset of this new type of leader, which we've dubbed the New C-Suite, over the last few years.
From this we can see that several fundamental forces at work are evident among this group. We can see they are on the front lines in experiencing the seismic shifts in overall stakeholder expectations (faster, better, cheaper, more connected, and personalized everything.) They have a more intense focus on the human side of technology and have high expectations for the art of the possible, with collaborative and human-centered concepts like design thinking or devops high on their list of new approaches. Perhaps most importantly, they tend to think big and are actively cultivating a fresh set of enterprise priorities that put a premium on fundamental and effective digital improvement at scale.
Collectively, these overarching influences are having a profound effect on personal and professional development of the top thinkers and doers in the digital space today.
However, we find that showing what these leaders look like is more effective than hypothesizing about a theoretical new generation of digital leader, even as the latest Harvard research shows that as a category that "challenge led" leaders, which most of these executives are, will inevitably be more effective in times of great change. As a result, Ray Wang and myself are extremely pleased to introduce what we believe are the exemplars of the current digital revolution that's taking place globally in business, industry, government, and society today.
Exploring the Business Transformation 150 for 2019
Early last month we inaugurated the new 2019 Business Transformation 150 (BT150), each of which in some way stand out as this new type of digital leader.
This year's BT150, like last year's list, come from wide range of experience, backgrounds, accomplishments, and skill sets. A few vignettes of this year's inductees will serve to show the the variety, the big idea thinking, and the effective, real-world business and digital transformation experience that each brings to the table.
For example, they could be like 2019 BT150 inductee Sven Gerjets, the Chief Technology Officer (CTO), of Mattel who is strategically melding the traditional worlds of play with today's fast-emerging digital environments to develop and realize a highly accessible new vision for connected toys to more fully realize young minds. Mattel is doing this by proactively investing in and using digital innovative new platforms such as Tynker while redesigning their product experience in a far more immersive and digital fashion.
Or they could be like Dr. Karen Croxson, Deputy Chief Economist of the UK's Financial Conduct Authority, who has a real passion for using big data and advanced statistics to systematically promote competition, innovation and ethical behavior by businesses in order to enhance the effectiveness and safety of the UK financial system. She's doing this by employing the very latest artificial intelligence and machine learning-based techniques.
Other BT150 inductees are grappling head-on with massive restructuring of both their businesses and their industries at the same time, such as Dow Chemical's CIO Melanie Kalmar, who heads up a diverse team of executives, line of business presidents, and functional vice presidents, collectively called North Star, who are charged with setting Dow's new firm-wide digital strategy by systematically "harnessing the power of our long history of data collection to drive growth and new business opportunities." Another example is Mike Macrie, the CIO of the Land O'Lakes, who has been promoting a more innovation focused form of IT and in particular has been expousing how to much better and more mindfully measure IT outcomes to ensure digital transformation is actually happening broadly across the organization.
These four stories are just a small sampling of what today's digital leaders are faced with, how they are both becoming and fostering digital change agents everywhere to transform their organization. Most importantly, they are building the kind of future for their colleagues, partner, customers, and the world, that they would like to see.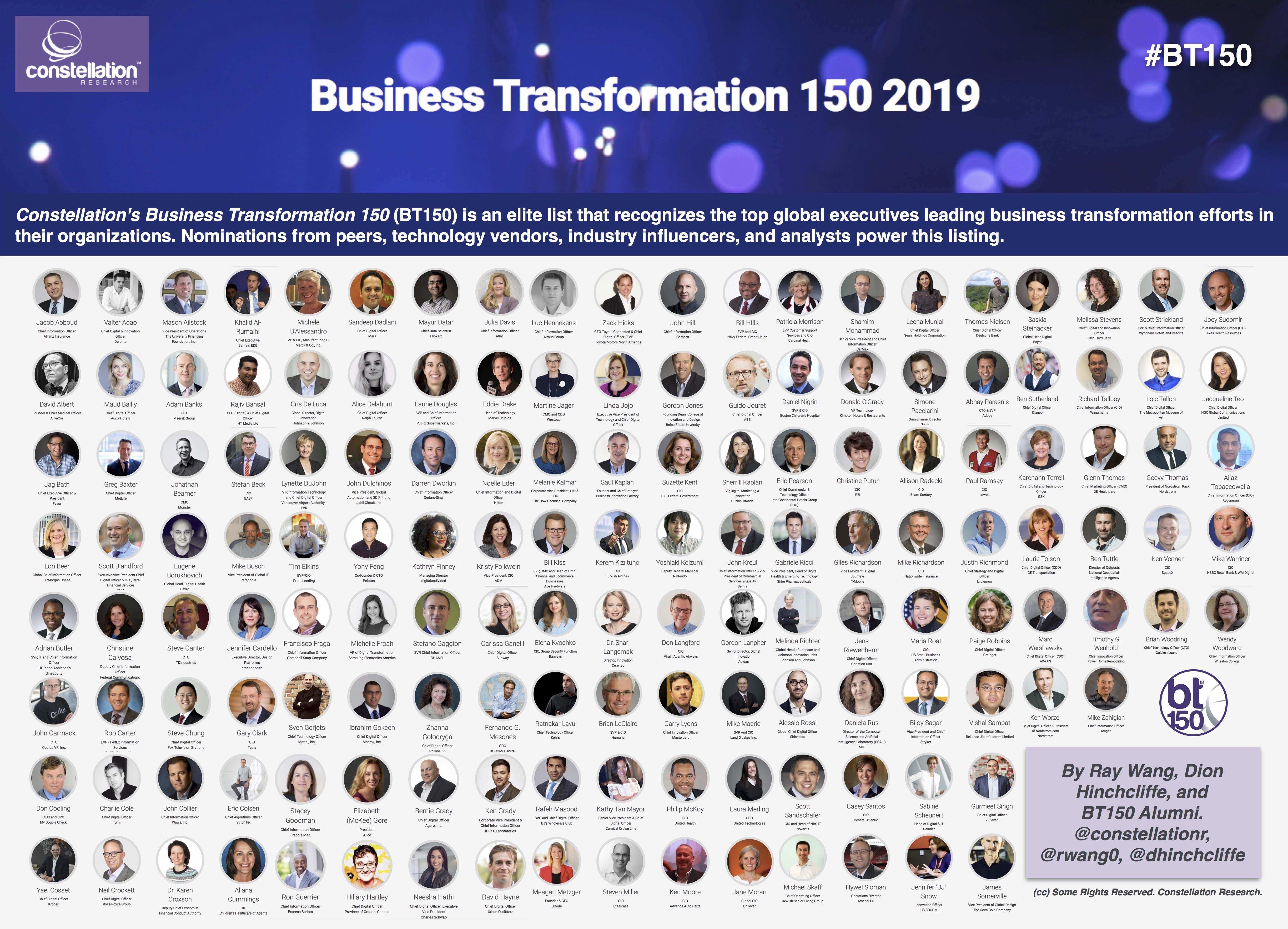 Here is the full list of Business Transformation 150 inductees for 2019:
Nearly a third of last year's inductees had in-person representation at Constellation Connected Enterprise (CCE) to accept their induction on stage into the BT150. We are expecting many of the BT50 for 2019 to attend in person as well. The goal of building the BT150 list each year is to a) help improve industry storytelling in an important sector that badly needs it, b) foster innovation and cross pollination of significant new ideas among leaders, c) identify new and more effectie digital leadership techniques, d) to better foster and encourage positive digital change and transformation, and e) identify major accomplishments and leadership in the world of the digital enterprise.
Ray and I hope that you welcome these leaders to the BT150, follow them on social media (you can find their accounts on the detail pages in the links above for their names), and engage them in industry conversation and storytelling. Hope to see you in Half Moon Bay in October!
Search
Everything you need to know about Digital Transformation
Subscribe
The best articles, news and events direct to your inbox