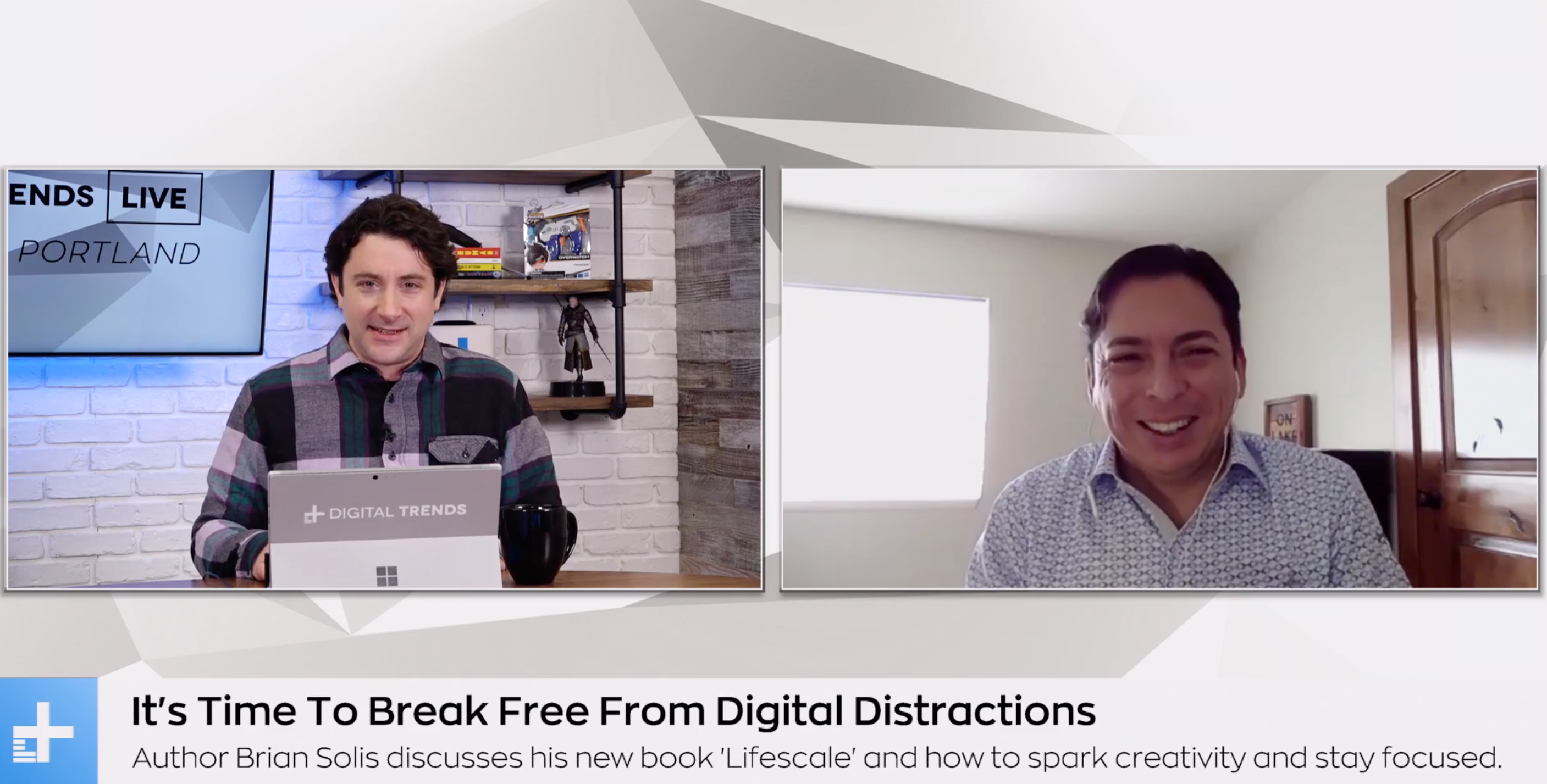 On February 22, I had the privilege of being interviewed by Greg Nibler of the daily video podcast Digital Trends Live about my upcoming book, Lifescale: How to Live a More Creative, Productive and Happy Life. ( Video at the end.)
Digital Trends is a Portland, ORE technology news, lifestyle, and information website that publishes news, reviews, guides, how-to articles, descriptive videos and podcasts about technology and consumer electronic products. They help readers and those who tune into their programming keep tabs on the fast-paced world of tech with all the latest news, fun product reviews, insightful editorials and sneak peaks.
On the show, I talked about my work over the last 20 years studying disruptive technologies and their impact on business and markets. More so, I focused on the irony that somewhere along the way, I fell victim to those very technologies. The truth is that I was supposed to write a completely different book but found myself so distracted that I had a difficult time diving deep the way I had in my previous works. Something was totally off in my life, so when the deal for that work fell through, I decided to write . It's about getting back on the path to focusing, breaking distractions and better routines and behaviors.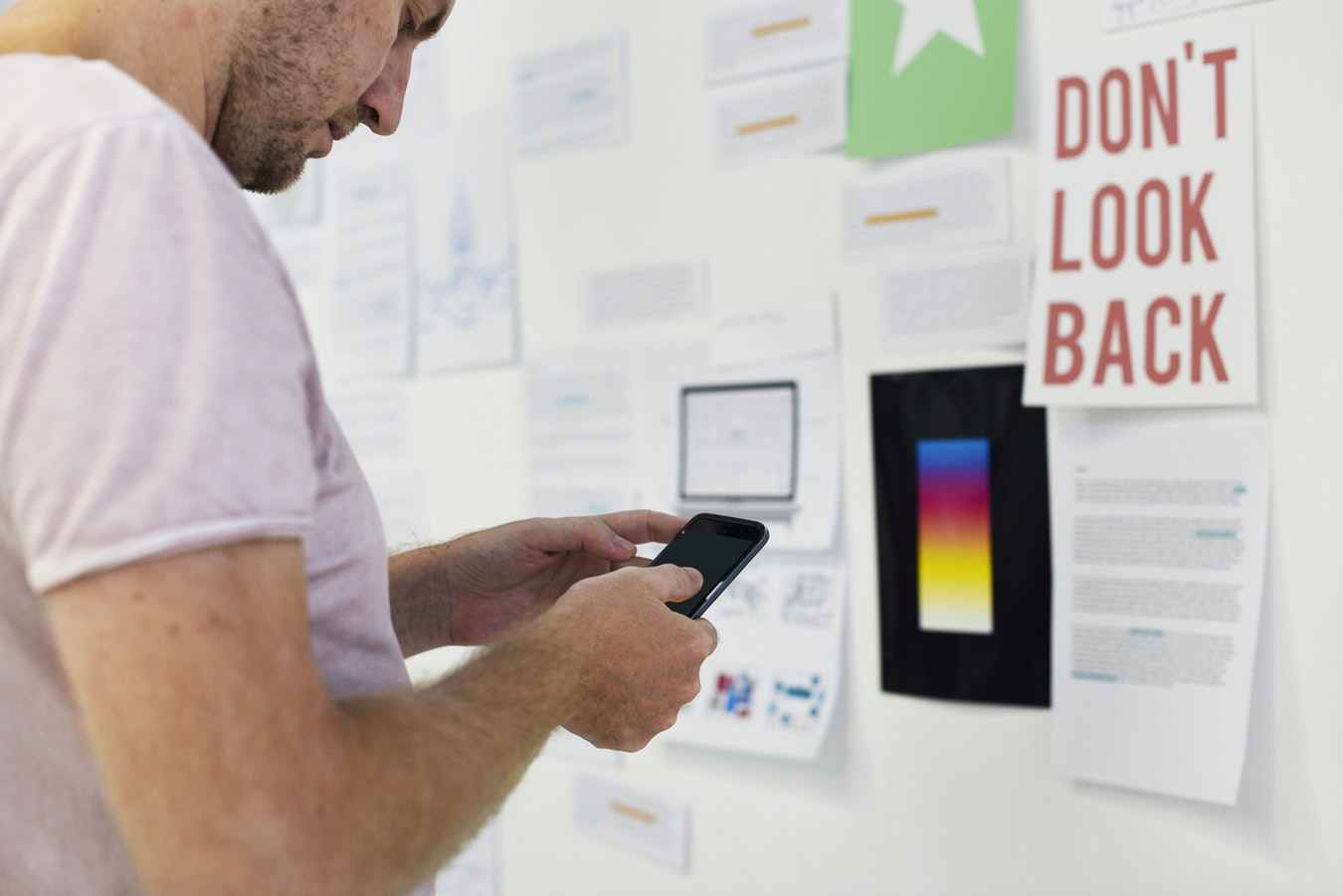 Here's the reality: Every day, we live our lives using new tools, new apps, new services…but each one in their own way starts to change us, rewiring our brains and getting us to think and communicate differently. I only found out I had a problem because I had a problem! Once I realized that, I did what we all do these days: Googled for solutions. I saw all the usual helpful hints like practice meditation and mindfulness, get the Calm and Headspace apps, maybe take a walk, turn off your notifications, shut your device down completely. But those were just treating the symptoms.
Lifescale is a journey of self-discovery and growth. It's about getting back into balance, and mastering our destinies.
Wanting to go deeper, I essentially put together a guidebook for what it means to be alive today for those who can't put their technology down. This means just about everyone. We live on all kinds of devices. Lifescale is really a manual for life, walking you through the process of rediscovering what's important to you and putting that at the center of everything you do.
Let's face it. When you decide what technology you use and how you think about it, as a student, employee or whatever, there's no guidebook out there telling us how to balance this stuff. We're all figuring it out as we go. Lifescale is a journey to get us back into balance and teach us how to be a little more creative, especially in the era of machine learning and AI. One of my biggest issues was trying to go for the "big C creativity," trying to come up with this book and a big idea that will hopefully change the world. But along the way, I realized that what mattered more was the "little c creativity" – fun activities like doodling, drawing, writing poetry, taking pictures – that helps us unlock a creative side we all have. One of the things I talk about is going back to our childhood, when we were all artists before we were told we weren't! Creativity gets us to the core of what innovation is all about.
Greg asked me if there were any good apps and technology that helped me in writing Lifescale. I mentioned an app based on the Pomodoro technique that helps people focus in 25 minute bursts with five minute breaks. I picked up the iPad pro with the "pencil" so I could express myself artistically (though I am not a literal artist in any way). As part of the book launch, I've also created Spotify playlists curated with songs that have specific kinds of beats that get you into a rhythm of thinking that helped me tremendously. I also use Calm and Headspace to get into the zone. The more you build discipline using the tools to be productive, the more productive you will be. The key is finding what works for you. Just being aware of the downside of social media – the lure of likes and followers, the anxiety to be part of things – can help put you on your best path where these tools can help you.
I admit I thought there would be a backlash when Tristan Harris, director and co-founder of the Center for Humane Technology, started to reveal the design secrets that went into social networking, apps and devices. I thought the Facebook, data and privacy hacking scandals would get us to wake up and get control of all this, but they haven't. People say they'll quit and they come back a few weeks later. So I wrote because I'm one of those who can't stop using these things and, like you, have to figure out a way to manage them more successfully. These apps and devices are addictive by design and the steps we take here are like the ones for those trying to deal with destructive habits like smoking, taking drugs or drinking. Awareness of the problem is the place we can all begin
I'm excited to announce that I'm going to be debuting Lifescale at South By Southwest live on stage on the 12th of March.
Pre-orders are important and I'm hoping you may feel that this book is something that may help you and someone important to you.
🙏
_____________
Brian Solis
Brian Solis is principal analyst and futurist at Altimeter, the digital analyst group at Prophet, Brian is world renowned keynote speaker and 7x best-selling author. In his new book, Lifescale: How to live a more creative, productive and happy life, Brian tackles the struggles of living in a world rife with constant digital distractions. His model for "Lifescaling" helps readers overcome the unforeseen consequences of living a digital life to break away from diversions, focus on what's important, spark newfound creativity and unlock new possibilities. His previous book, X: Where Business Meets Design, explores the future of brand and customer engagement through the art and science of experience design.
Please, invite him to speak at your next event or bring him in to inspire colleagues and fellow executives/boards.
Connect with Brian!
Twitter: @briansolis
Facebook: TheBrianSolis
LinkedIn: BrianSolis
Instagram: BrianSolis
Youtube: BrianSolisTV
Newsletter: Please Subscribe
Search
Everything you need to know about Digital Transformation
Subscribe
The best articles, news and events direct to your inbox