There are two huge pitfalls when it comes to establishing how your organization will define and measure the ROI of your content marketing.
One, getting lost in the numbers, focusing on too many key performance indicators and making it hard to get a clear picture of the impact your content is making.
Or, two, focusing on the wrong indicators to measure ROI for your business.
A lot of marketers struggle with ROI tracking. According to a B2B Content Marketing Report published by the Technology Marketing Community on LinkedIn, 38 percent of marketers cite measuring content effectiveness as one of their greatest challenges. Only 8 percent consider themselves very or extremely successful at tracking ROI.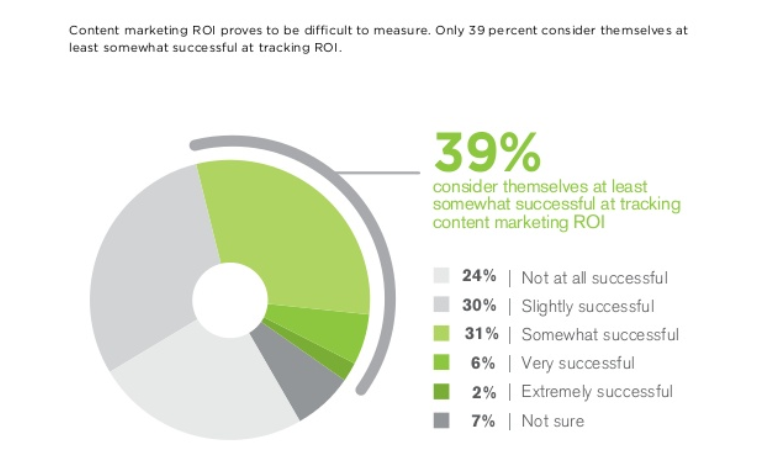 However, being in that 8 percent offers a powerful advantage. When you can successfully define and measure content marketing ROI you are armed with the information you need to keep improving your content marketing strategy so it's always working.
Here's the tricky part – there are a lot of moving pieces involved in a great strategy. A lot of these factors change over time, putting your content marketing in a constant state of evolution. Customer preferences. SEO best practice. New technology. Video trends.
In order to optimize your content marketing strategy and maintain enviable performance levels, you'll need continual feedback and analysis of your content. But more than that, you'll need clarity from your numbers.
Define the Purpose of Your ROI
Before identifying your top priorities and defining your metrics, you need to look at the purpose behind the work.
Why are you measuring content marketing ROI?
The answer to this question is often the root of a misguided tracking strategy. If you are defining your ROI metrics solely to demonstrate results and to justify your organization's content marketing budget, you may get a confusing picture when you try to look at your analysis to determine what's working, what's not, and how you can make your content marketing strategy better.
When there is a lot of pressure on content marketing managers to demonstrate value, there's the risk of honing in on vanity metrics. Take web traffic as an example. In the same survey mentioned earlier, of 600 B2B respondents, 63 percent measure web traffic to gauge content marketing success. Only 26 percent look at subscriber growth and 21 percent look at revenue. Web traffic is a useful number to look at if you are trying to build your audience. It can also be an impressive figure to show off to budget decision makers.
But if you aren't looking at how many of those website visitors are converting into leads or customers, your web traffic numbers create a very blurry picture. You know people are visiting but you don't know if your content is compelling enough to motivate action so you don't know if or how it needs to change.
Yes, there's pressure on content marketers to prove the resources invested in case studies, videos, blog posts, infographics, social posts and other pieces of your content puzzle are well spent. But you don't want to miss out on the opportunity to uncover those hidden gems that will paint a crystal clear picture of what your content marketing is doing.
When you are using your metrics to inform your strategy more than your budget, you're going to get the insights you need to keep making it better.
Simplify the Value of Content Marketing for 'Outsiders'
Instead of measuring content just to justify it, you can use cost tracking to make the value of your content marketing black and white to C-suite with one simple analysis. Then, you can spend more of your ROI bandwidth on metrics that matter.
Keep track of how much each piece of content you product costs. If you're outsourcing, you may have straightforward expenses for some of your content. Don't forget to also include the time spent by your team editing, managing, and promoting the content.
If you don't have the resources for this type of heavy cost analysis, you can audit some of your content. For example, what are your total content costs in a month or what's the average for three months? Then, you can look at your costs and revenue to determine your content marketing ROI.
Once you have this baseline, compare it to your organization's marketing ROI for targeted advertising. This can be a helpful comparison to gain support from executive management so you can go back and focus on measuring content performance.
Be Strategic about Defining Your Metrics
There are dozens of performance indicators you can look at to track your content ROI.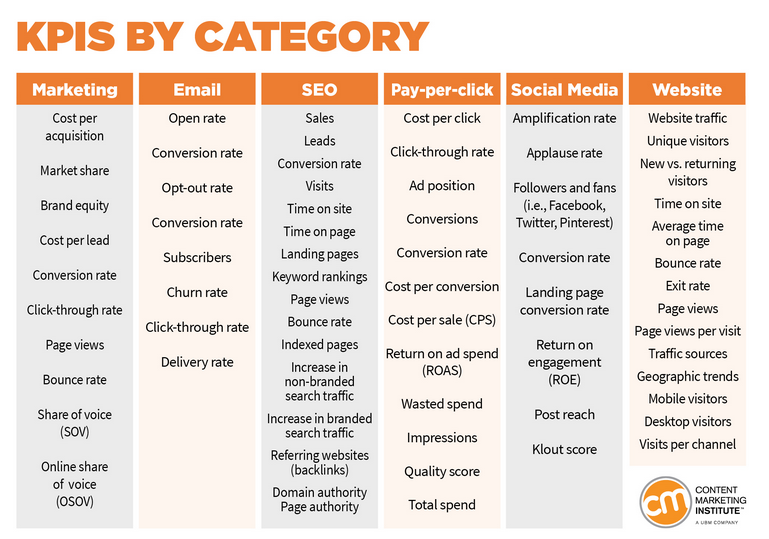 Performance metrics will reveal what you need to know, as long as you tie them to your business goals. Which means you aren't going to focus on the same metrics all the time. As your business goals and, therefore, your content marketing priorities change, so will the numbers you use to gauge performance. The trick is to make sure your defined metrics are always telling your content's story.
For example, if you are trying to build your audience, sure, look at web traffic. You also want to know your brand's share of the conversation and social media sharing, bounce rate and time on site. This will give you a better idea of engagement and how much your content is king in your industry.
If your business needs better-qualified leads and conversions, your content strategy will probably focus on creating case studies, white papers, eBooks, and other content that motivates people to subscribe to your newsletter. This is where you'll look at both your conversion numbers for your content as well as customer retention numbers. How long are the leads you work so hard to nurture with your content staying as customers?
For customer loyalty, the focus will be on retention as well as monitoring customer feedback. How much of a response are you getting and what is the qualitative response to your content? What percentage of people respond favorably to your social posts, blog posts, white papers, videos, events or other types of content?
Set Your Benchmarks
Once you have your current priorities set and you know what metric data to focus on, you can create your performance benchmarks. What does content marketing success look like for your organization? Being able to measure against your benchmarks makes it easier to see if your content is helping to reach goals or if it needs work.
Then, when you calculate the ROI of your content by looking at your costs vs. revenue (or a given value for an action if you can't tie a metric directly to revenue), you can see where things are working and where you need to make changes to either the content or a part of your strategy.
This is why tracking your ROI with the intent of informing your content is so important. When you can see where one content channel is experiencing higher than normal conversion numbers, where another seems to lead to an apparent dead end landing page, what types of your content are making up the bulk of your industry presence, and every other pearl of wisdom you dictate your data to tell you – you have a wealth of information to constantly refine your strategy.
And, never-ending refinement is what brilliant, business-boosting content strategies are made from.
Search
Everything you need to know about Digital Transformation
Subscribe
The best articles, news and events direct to your inbox