Event marketing has always played a key role in any sophisticated content marketing strategy, especially for B2B organizations.
In 2017, 36 percent of B2B marketers named in-person events as one of their most critical tactics for content marketing success. And, about three-quarters of B2B content marketers have cited events as the most effective part of their content marketing strategy.


But, with the way technology has changed, combined with the more experience-driven consumer expectations brands now have to live up to, event and experiential marketing are going to become even more critical in the battle for customer loyalty going forward.
Let's be honest. Brand experiences are drastically changing the nature of the consumer-brand relationship. This is one area of marketing where you definitely want to keep up with the Joneses, or at least know what they are up to. For example, did you know Nike now lets customers in China test out sneakers in store, on a treadmill and hooked up to a special video game? Forward-thinking retailers are creating really incredible in-store experiences like at Rebecca Minkoff, a brand that has put up screens within fitting rooms where shoppers can save the items they tried on to purchase on their smartphones later on.
Ten thousand E On consumers in Sweden used an app to track their real-time energy usage and to compare their usage with other users and the world. This experience not only drew attention to the utility company. It also led to an average energy consumption reduction of 12 percent for all users, placing E On in the ranks of some of the most noteworthy socially conscious brands.
The 2018 State of B2B Event Marketing Report, published by Certain and Heinz Marketing, found that nearly three out of every four B2B marketers feel that the importance of brand hosted events for driving their company's success is growing. Another recent report, EventTrack 2018, revealed that 84 percent of brands are using experiences and events in integrated marketing campaigns.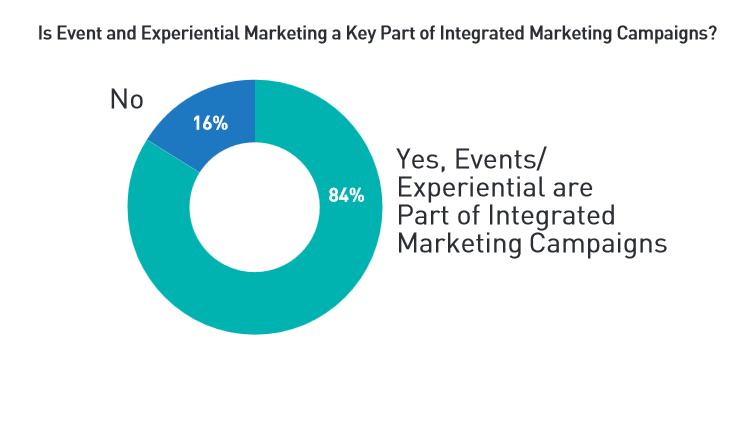 If we keep moving in this direction, live events are going to become essential if you want your brand to stand out, with more brands offering more events – and the level of quality, value, and effectiveness rising as brands veer outside of the box from traditional hosted events to some really unique experiences. Like this one:
And, judging by the pace that technology and consumer expectations keep evolving, marketing professionals could be looking at a very competitive standard in just a few years.
So, just how is it that the evolution in marketing tools and consumer habits is changing the game for marketers today, pushing live events and engaging experiences to the top of the list of content marketing priorities?
Social Media Has Made Events Live for Everyone
Social media has been a game changer for event marketing for several reasons.
Social media can be used during the event to post live, such as live Twitter updates and Facebook Live video streaming
Facebook, LinkedIn, and Twitter are powerful tools for event promotion when integrated with the rest of your event promotion campaign, driving people to register and building up hype around the event
Post-event video, photographs, and even audio recording of the event can be shared on social media. In fact, both participants and brand followers expect this recap content to catch what they may have missed or to learn what the event had to offer indirectly, such as through a YouTube video or Instagram stories
Participants themselves can share content from the event, increasing their own level of participation in the event and encouraging a healthy dose of brand advocacy
Live Events Offer Valuable Performance Metrics
Just a few years ago, the primary goals of hosting branded events were to build brand awareness and to educate consumers about a company's products or services. But, with the tools used today to manage and track events – collecting and analyzing consumers' data, often in real-time, and tracking engagement before, during, and post-event – it is this live content that has become one of the best opportunities to learn more about consumer wants, needs, and goals.
With today's tools, marketers can benefit from:
Sales impact reports
Social media activity
Digital engagement, including lead generation numbers
This means events offer essential performance metrics for senior management. And, with performance metrics that can paint a clear picture of impact, marketing budget decision makers are more interested in supporting innovative experiential ideas and the growth of event marketing.
On average, brands are increasing their budget for event and experiential marketing by 5.6 percent in 2018.
Consumers Are Engaging More with Branded Events
With more events and different kinds of experiences, consumer interest in in-person events is increasing. People are getting more involved and they are responding to this interactive relationship with the brand by moving smoothly along the customer journey.
Today, 85 percent of consumers are likely to make a purchase after attending an event or being a part of an experience. The biggest purchase drivers are product demos or samples. 47 percent say they purchased because they actually used or saw the product at a live event. Another 16 percent make a purchase simply because of a better understanding of the product or service after attending an event.
How the Change in Event Marketing Is Evolving Marketing
Event and experiential marketing invite consumers to become a part of a brand's products by demonstrating not just how something works but also who the brand is. It's a chance for the customer to meet the brand persona, face-to-face. To talk to a company's employees and understand the passion behind a brand. To listen to industry experts and know where the brand is trying to push an industry. And to even step into the story themselves through interactive apps, games, virtual reality, and a chance to try out a product firsthand.
Content marketing is still very much about educating the consumer – but this doesn't just mean telling them why your product or service will solve a problem or make their life or work easier. It also means showing them.
The very welcome byproduct of this type of marketing is it is also where the consumer shows the company more about them – through everything from customer data and social media activity to surveys and old-fashioned in-person feedback. It's where everyone gets to know each other better, creating a more sustainable customer-brand relationship, raising the stakes with expectations, and empowering marketers to better understand what their buyers want.
Search
Everything you need to know about Digital Transformation
Subscribe
The best articles, news and events direct to your inbox