Slickdeals content may contain references to products from one or more of our affiliate partners. If you make a purchase on their site through a link on Slickdeals, we receive a small commission. This in no way affects our opinions on products or services mentioned in our content.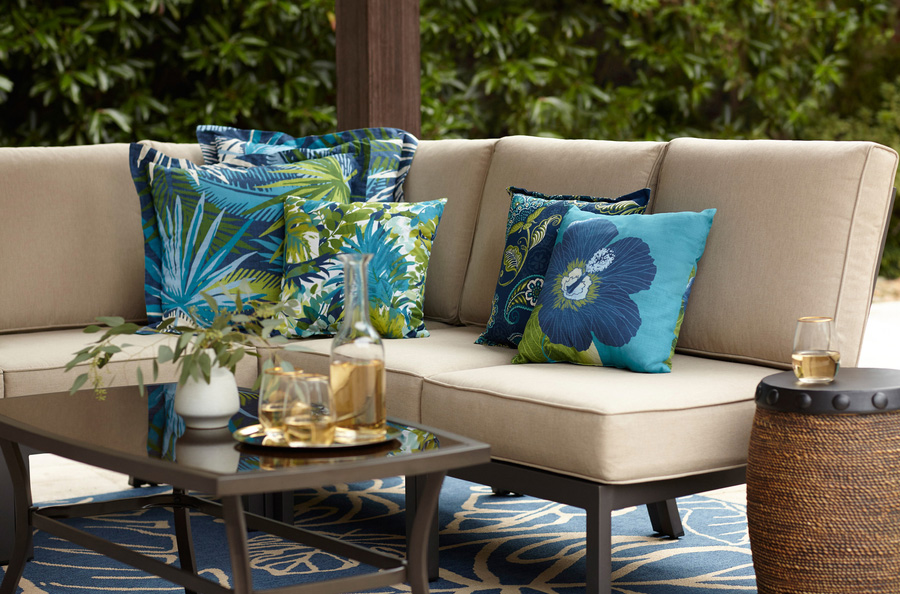 The summer months are looming and there's no better time to deck out your deck with furniture. Lowe's consistently offers an extensive selection of well-rated patio sets, perfect for getting you outside in the comfort and convenience of your own yard.
We put together a list of the top five patio sets from Lowe's for 2019 so you can easily figure out which seating arrangement is your Goldilocks solution for this summer.
Lowe's Patio Sets Buyer's Guide
Patio Sense Faustina 3-Piece Bistro Patio Set
Pros: Modern material with an antique look. Convenient size for small patios.
Cons: Difficult to assemble with the tools provided.
The Faustina 3-Piece Bistro set from Patio Sense includes two chairs and a table. All three pieces are made out of lightweight aluminum and finished with an antique bronze. This set comes in at just $147.07, making it an affordable way to fill a small patio or balcony.
Consumers have expressed satisfaction with the unique look of this set and how easily it fits into smaller spaces. Some users, however, had difficulty putting it together, and some even had to resort to using tools other than the ones provided to do so.
Shop the Patio Sense Faustina at Lowe's
Garden Treasures Arbington 4-Piece Steel Frame Patio Set
Pros: High weight limit. Seats up to five people total.
Cons: Prone to holding water and becoming moldy.
The Garden Treasures Arbington 4-Piece set includes a coffee table, two rocking lounge chairs, and a sofa. Cushions made of a weather-resistant woven resin in a neutral shade are included. It should be noted, however, that some users have said the cushions are prone to collecting water and becoming moldy in rainy months. Because of this, a covered patio is likely the best place for this set.
All four pieces in the Arbington set are made with heavy-duty steel frames that are powder coated and durable. And it's those durable frames that give the rocking chairs their 300 lb. weight capacity and the sofa its 600 lb. weight capacity. This set is priced at $598 with everything included.
Shop the Garden Treasures Arbington at Lowe's
Garden Treasures Elliot Creek 2-Piece Frame Patio Conversation Set
Pros: Cushions are thick and comfortable. Set matches well with other pieces from the same collection.
Cons: Only fits two people. May arrive with stains or scratches.
The Elliot Creek 2-Piece set from Garden Treasures has a price tag of $340. It comes with a two-person sofa and a coffee table, both made with steel frames coated in weather-resistant slate-colored powder. The olefin fabric is UV and stain resistant.
Most consumers found the sofa to have very comfortable cushions. However, some people received damaged goods out of the box, with issues including stains and scratches. Still, lots of users enjoyed this smaller set on its own or in conjunction with other pieces from the Elliot Creek collection.
Shop the Garden Treasures Elliot Creek at Lowe's
La-Z-Boy Outdoor Colton 4-Piece Wicker Frame Patio Conversation Set
Pros: Extremely high quality. Wicks water well.
Cons: Cushions are a slightly different color than advertised. Difficult to put together.
La-Z-Boy's Colton 4-Piece wicker set includes Sunbrella cushions, which is a quick-drying, all weather fabric. Handwoven resin wicker styling is present on the included two chairs and sofa. A slatted coffee table is the fourth piece in the set, and four decorative throw pillows are provided, as well.
This patio set comes in at $1,699.99, making it the most expensive offering on our list. Consumers seem overall to be happy with the quality of the pieces they received, but many were surprised at the colors that came, which were slightly different than what was shown online. Some had trouble putting the set together, as well.
Shop the La-Z-Boy Outdoor Colton at Lowe's
Garden Treasures Greenway 5-Piece Steel Frame Patio Conversation Set
Pros: Designed to be either individual chairs or to slot together for one long couch.
Cons: Chairs prone to rusting at the bottom. Cushions soak up water.
The Greenway 5-Piece set from Garden Treasures may look like it's only one long couch, but it is in fact a set of four chairs and one corner seat. All five seats are cushioned with tan olefin fabric that is fade-resistant. This set is $598, which is the same price as the Arbington 4-Piece above.
While consumers are happy with the interesting design of this set, some have found that it may not be as outdoor-friendly as it claims to be. The chairs have been stated to rust at the bottom after a year of being outside and the cushions may be prone to soaking up rainwater.
Shop the Garden Treasures Greenway at Lowe's
Check out our Patio & Pool Deals page to find the best deals on patio sets and other backyard furniture. Alternatively, set a Deal Alert for your favorite patio set to make sure you get the best price.
Any product or service prices/offers that appear in this article are accurate at time of publish, and are subject to change without notice. Please verify the actual selling price and offer details on the merchant's site before making a purchase.
Search
Everything you need to know about Digital Transformation
Subscribe
The best articles, news and events direct to your inbox