Slickdeals content may contain references to products from one or more of our affiliate partners. If you make a purchase on their site through a link on Slickdeals, we receive a small commission. This in no way affects our opinions on products or services mentioned in our content.
Video game sound design now rivals that of Hollywood blockbuster movies in many cases, but much of that quality is lost when you rely on a TV's built-in speakers.
Echobox, however, is looking to change the way we hear game sounds. They claim that the Nomad, their flagship in-ear monitor, is the "ultimate gaming earphone."
But can a pair of earbuds truly deliver a significantly better audio experience, and live up to their $249 retail price? To find out, I logged close to 40 hours of game time with these premium earphones using a variety of console and PC games.
Keep reading for my full hands-on review of the Echobox Nomad.
Special thanks to Echobox for providing the Nomad so I could produce this long-term review.
Echobox Nomad
4.1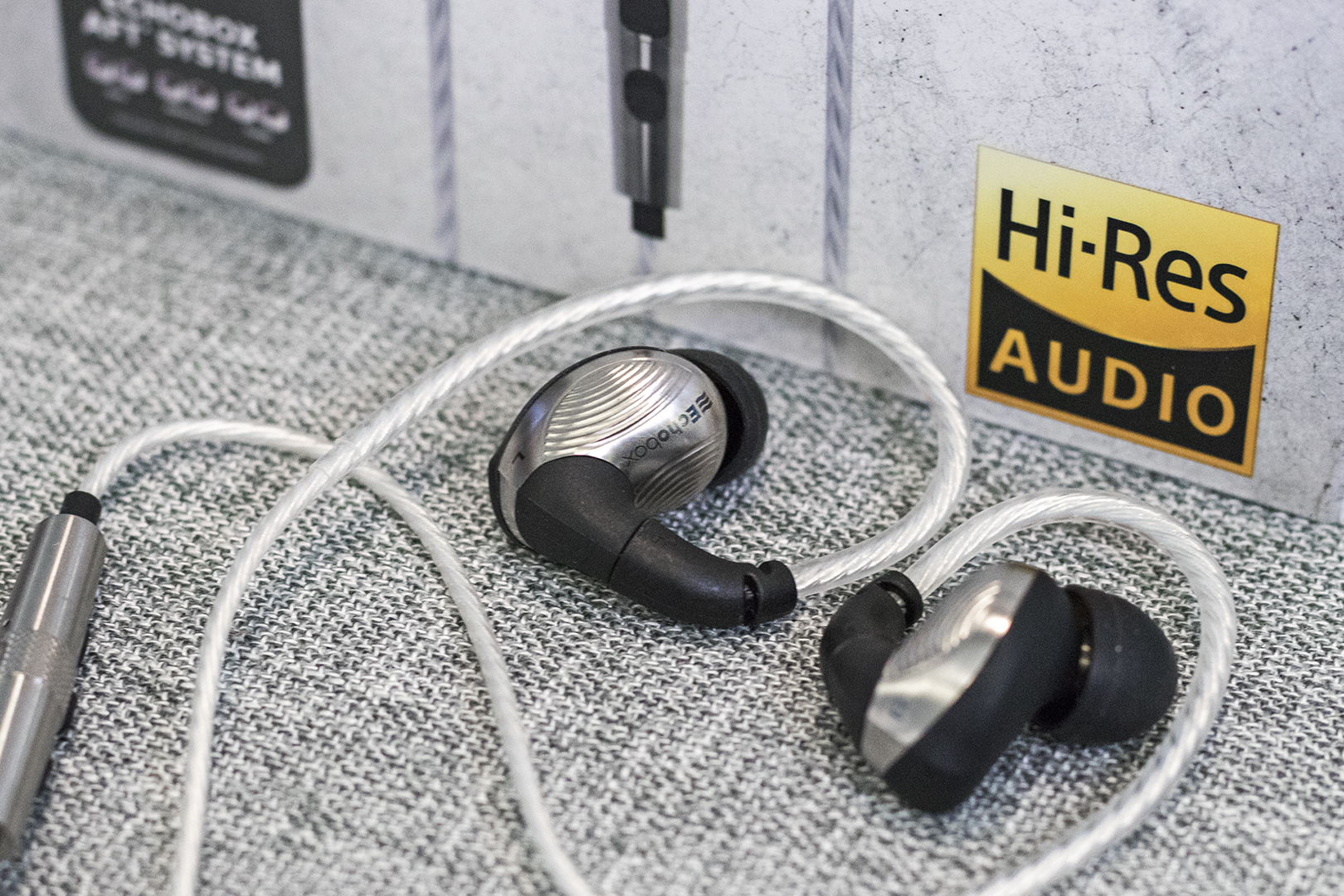 threadID: 11654511
Echobox Nomad Quick Takeaways
Pros: Well-defined and balanced sound profile with plenty of bass and volume; amazing spatial simulation; lots of customization
Cons: High price; slight discomfort when worn for long periods (same issue with all earbuds)
Premium Construction and Design
It only takes one glance at the Nomad to know that these are not the inexpensive wired earbuds you'd normally see on Slickdeals. Audio experts will quickly recognize the design similarities with in-ear reference monitors, like the ones musicians and vocalists wear during live performances.
The detachable MMCX cable connects to each ear module and features a pre-curved end section. These are designed to go over and behind your ears, and stay tangle free thanks to Echobox's unique cable technology.
Solid titanium housings provide sweat resistance and "best-in-class durability." According to Echobox, they are tough enough to "withstand any gaming tirades," A.K.A. you threw your $249 earbuds at the screen/floor.
Its low-profile design and behind-the-ear cable management also make the Nomad a comfortable audio solution for VR headsets or when wearing glasses.
When not in use, the Nomad stores neatly in the included hard carrying case, which also hides five extra pairs of rubber ear tips and acoustic filters. Additionally, every Nomad comes with a pair of Comply thermal reactive earphone tips that deliver "military-grade noise isolation."
Impressive Detail and Spatial Sound
Let's get right to it: the Echobox Nomad are the best earbuds I've experienced in my many years of being a gamer and product reviewer! They're marketed as the ultimate gaming earphones, but I'm sure even the most discerning audiophiles will approve of these for listening to music.
Echobox's signature PEEK dynamic driver technology delivers a rich and balanced sound profile. You'll get not only plenty of bass, but also incredible clarity and detail. This high level of performance is particularly noticeable when listening to songs with complex and layered elements, like " Fists of Fury" by popular jazz musician Kamasi Washington.
I feel like I have super-human hearing when using the Nomad for gaming. This is especially true with a game like "Rainbow Six: Siege," which is very stealth-oriented and strategic. Being able to hear the enemy's footsteps and understand where they're coming from is critical. Additionally, the Nomad delivers 360-degree spatial sound, which enhances awareness so that it feels like I'm right in the middle of the action, rather than just watching from afar.
I spend a lot of time in "Rainbow Six: Siege" waiting quietly for enemies to walk into my traps. It's in these peaceful moments before a fire-fight that I hear details I never knew existed in the game: clothes rustling, the sounds of devices being taken out of pockets, the subtle crunch of dirt on the floor. It almost feels like I have an unfair advantage because these sound cues indicate when it's safe for me to move or attack. When paired with the ultra-wide viewing angle of my recently-reviewed Alienware 34-inch Curved Gaming monitor, the result was an immersive experience that could only be topped by donning a VR headset.
The in-line microphone with volume control functions as expected, clearly transmitting my voice through in-game party chats or Discord. My regular multiplayer partner says the sound from the mic is good, but he's heard better from other headsets. This is most likely because the Nomad's microphone hangs by my neck (like most cell phone earbuds), while a traditional headset's mic is positioned in front of my face.
Echobox also included three acoustic filters (one is pre-installed), which allow for further audio mix customization. They attach just behind the rubber ear tips, and are tuned for more bass, flat balance and less bass. You'll need to listen carefully for the subtle performance difference, but trust me, the filters actually do affect the sound.
Overall, the Nomad delivers amazing sound quality and a level of detail that enhances any experience, whether you're enjoying a new album from your favorite artist, or fighting to be the last one alive in "Fortnite."
Should You Buy the Echobox Nomad?
I'm certain anyone who tries the Nomad will be blown away by the rich sound, expert tuning, and amazing audio quality. However, the $249 list price limits its appeal to only the most serious of music or gaming enthusiasts.
Did Echobox bring a gun to a knife fight? Sort of, but that's a good thing. The company made professional-grade technology available to regular consumers, while also tuning the Nomad to bring out the best in gaming audio. I tried playing the same set of games with my personal pair of Master & Dynamic ME05 earphones (retail $199), and the experience just wasn't the same. It felt like the sounds were happening in front of me, as opposed to around me.
While I enjoyed not wearing a heavy headset/headband during my gaming sessions, things started getting a bit uncomfortable after many hours of having something inside my ears. That's an issue with earbuds in general though, not necessarily a problem with the Nomad. Still, it's definitely a point to consider for serious gamers or live-streamers. Again, there are six ear tips total in different sizes and styles, so make sure you try them all to find the best fit.
As someone who's used many earphones/headphones, I can confidently say that the difference in audio quality between the Nomad and other gaming headphones is significant. But $249 is still a lot of money to part with. At this price point and level of performance, the answer to "is it worth it?" will be different for everyone based on their own experiences and priorities.
With that said, the Echobox Nomad is officially my new high-end audio performance benchmark for both music and video games.
threadID: 11654511
Set a Deal Alert to be automatically notified when the Echobox Nomad appears on Slickdeals or buy one today from Echobox's official online store.
Search
Everything you need to know about Digital Transformation
Subscribe
The best articles, news and events direct to your inbox