Slickdeals content may contain references to products from one or more of our affiliate partners. If you make a purchase on their site through a link on Slickdeals, we receive a small commission. This in no way affects our opinions on products or services mentioned in our content.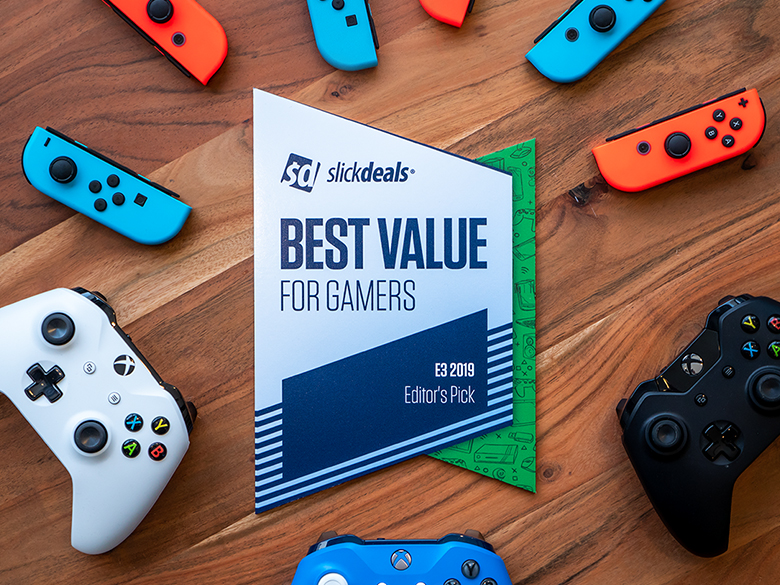 E3 2019 marks the second annual Slickdeals Best Value for Gamers Awards, where we recognize brands, products and services that offer unmatched benefits to those who love the world of video gaming.
Using historical pricing data and trending popularity from the Slickdeals community to guide us, we've identified a handful of new offerings that help your hard-earned dollar go just a bit further, whether via future-proofing, accessibility, or innovation. Keep in mind that these picks aren't based on current retail prices, but rather lifetime value. And of course, the potential for discounts is also a large part of the consideration as well.
Congratulations to all of the winners of the 2019 Slickdeals Best Value for Gamers Award! Check back regularly as we'll be updating the winners list throughout E3.
Best Value | Budget Gaming Laptop: Dell G3 15
Redesigned for the 2019 model year, Dell's entry-level G3 gaming laptop finally addresses everyone's most common complaint – massive bezels – with a stylish new form factor that includes a narrow frame around the 15.6-inch display, and the latest in performance hardware.
Starting at $799.99, the G3 15 comes standard with Intel's 9th generation processor, up to 16 GB RAM, and can be customized with NVIDIA's just-released GeForce GTX 1660 Ti graphics card. An optional 144Hz IPS display is also available for those who don't want to miss a single frame of gameplay.
The G3 is a great next step for console players looking to get into PC gaming. And there's no secret that it's a popular device among Slickdeals users as discounts for the previous-generation G3 could be found in our forums about twice per month throughout the year, with $450 being the lowest price we've seen so far.
Best Value | High Performance Gaming Laptop: Alienware m15 R2
Less than a year after Alienware debuted the m15 gaming laptop – a device we deemed as " one of the best on the market right now" – the performance-focused brand is one-upping itself with a completely redesigned version of its thinnest and lightest 15-inch gaming laptop.
Featuring the "Legend" design language found on the Area-51m laptop, the new Alienware m15 R2 boasts a number of re-engineered components, like new keys with increased travel, a glass touchpad, rigid magnesium alloy chassis, and an optional 4K OLED display with Tobii Eyetracking. On the inside, larger fans, increased airflow, and Cryo-Tech 3.0 technology provide improved cooling for the available NVIDIA GeForce RTX graphics cards and 9th Generation Intel processors.
It's more than just a collection of the industry's best hardware – the all-new m15 is a precise balance of power, aesthetics and portability that will easily deliver high-end gaming performance for at least another three years. Discounts are a bit harder to come by for Alienware products, but they definitely do happen. Just last month, an m15 laptop with an i7 processor, GTX 1060 GPU, and 144Hz IPS display was available for $999.99 after a $200 Slickdeals rebate.
Configure Your Alienware m15 Laptop
Best Value | 7.1 Surround Sound Headphones: Razer Kraken X
Razer's gaming headphones have long been fan favorites thanks to the consistent delivery of rich audio quality and hard-hitting bass. And with the recent announcement that all 2019 model over-ear headsets priced under $99 will receive 7.1 surround sound capabilities, it makes the entry-level Razer Kraken X – priced at $49.99 – the least expensive solution for immersive gaming audio from an established manufacturer.
The all-new Kraken X is a wired headset that weighs a smidge over half a pound (0.55 lbs to be exact), and features memory foam ear cushions with eyewear channels, a bendable microphone, and on-board volume controls and microphone mute. Its universal 3.5mm audio connection means the Kraken X is compatible with PC, PS4, Xbox One, Nintendo Switch, and mobile devices.
Read Our Hands-on Review of Kraken X
We've seen Razer's more expensive Kraken 7.1 V2 headphones go for around $50 when on sale, so you can expect Kraken X to be discounted well below that, considering its already-low starting price.
Best Value | Game Subscription Service: Xbox Game Pass Ultimate
Microsoft just leveled-up its original Xbox Game Pass program to offer even more access and savings, all in one place.
For $14.99 per month, the newly-announced Xbox Game Pass Ultimate offers bundled savings for three services: Xbox Live Gold, Xbox Game Pass, and Xbox Game Pass for PC. Each of these services is valued at $9.99 individually, so you're saving up to 50% when going with the Ultimate package.
If you typically purchase at least two games in the span of 12 months, Xbox Game Pass was already a smart move – for the equivalent cost of two regular-priced games, you'd get access to over 100 titles, including big-name releases like Forza Horizon 4 and State of Decay 2. And now with Xbox Game Pass Ultimate, you're also getting Xbox Live Gold – which is required for online multiplayer – for effectively an additional $5 per month. This matches the discount pricing that we see often on Slickdeals for a monthly subscription to Xbox Live Gold.
For a limited time, try out the first month of Xbox Game Pass Ultimate for just $1. Signing up for Xbox Game Pass Ultimate will also convert your existing Xbox Live Gold or Xbox Game Pass membership to Ultimate based on the days remaining in the subscription.
Best Value | Wireless Gaming Mouse: Logitech G903 Lightspeed
Logitech's flagship wireless gaming mouse, the G903 Lightspeed, has received a huge upgrade in the form of a HERO 16K sensor, bringing automatic variable surface tuning as well as over 140 hours of battery life to one of the best ambidextrous mice available today. The fuller form-factor and ability to attach buttons on either side have helped the previous-generation G903 become a favorite among left-handed gamers and those with larger grip sizes.
The G903 Lightspeed is also compatible with Logitech's Powerplay wireless charging system, which essentially means you'll never need to plug in the mouse. And if you're traveling or gaming at a friend's house, the G903's battery delivers high performance all the time, meaning it doesn't sacrifice accuracy or polling rates in order to achieve its 140 hours of power-on time.
A mouse is arguably one of the most important tools for gaming, and the Logitech G903 Lightspeed offers comfort, versatility, and convenience all without compromising on performance.
Pre-Order the new Logitech G903 Lightspeed
Any product or service prices/offers that appear in this article are accurate at time of publish, and are subject to change without notice. Please verify the actual selling price and offer details on the merchant's site before making a purchase.
Search
Everything you need to know about Digital Transformation
Subscribe
The best articles, news and events direct to your inbox