Slickdeals content may contain references to products from one or more of our affiliate partners. If you make a purchase on their site through a link on Slickdeals, we receive a small commission. This in no way affects our opinions on products or services mentioned in our content.
Dell's flagship laptop, the popular XPS 15, is back for the new model year with refreshed hardware that includes an 8th Gen Intel i7 processor, faster RAM, and an NVIDIA GeForce GTX 1050Ti dedicated graphics card.
Misinterpreted by many as just a lifestyle device – mostly due to its extraordinarily thin form-factor – the XPS 15 actually offers industry-leading productivity features along with raw power that rivals a traditional desktop PC.
Keep reading to find out how the new XPS 15 fared in real-world situations as my one-and-only computer for work and play.
Special thanks to Dell for loaning me an XPS 15 for this review!
Dell XPS 15 Touch
4.7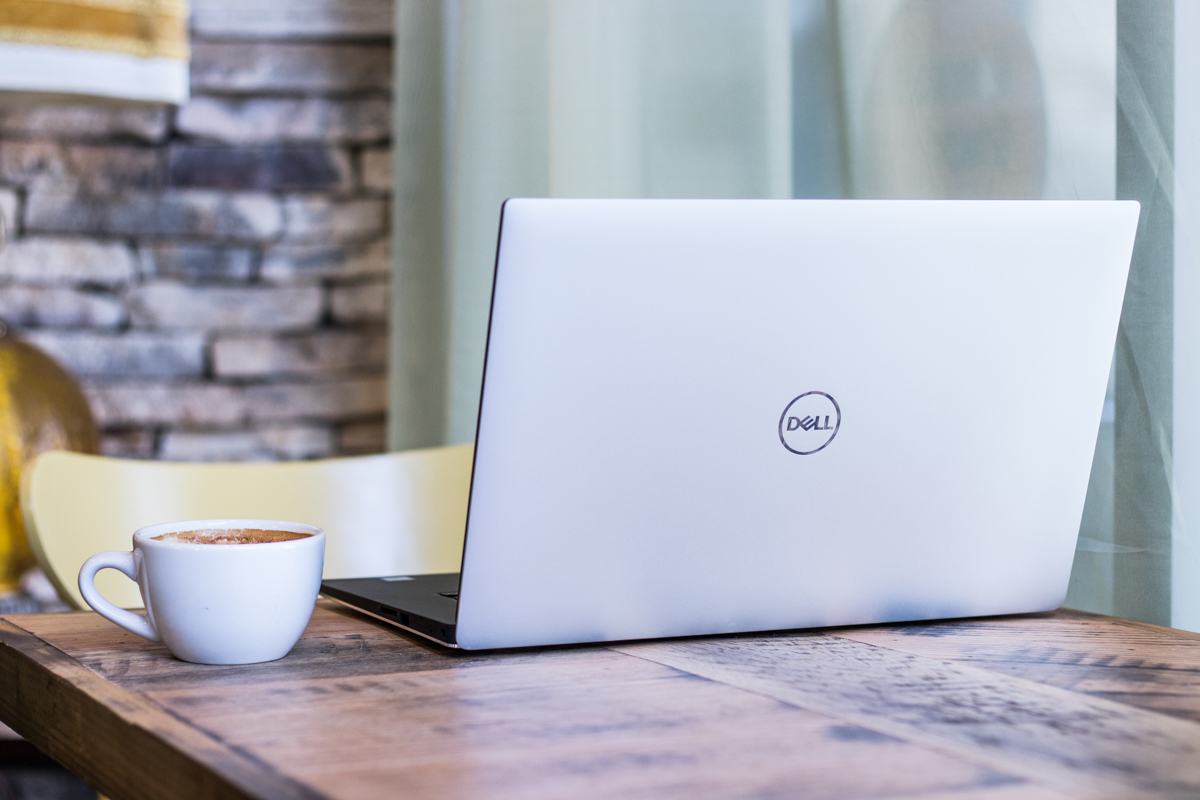 Dell XPS 15 Touch (Model 9570) Full Specifications
8th Gen Intel Core i7-8750H, up to 4.1 GHz, 6 cores
16GB DDR4-2666MHz RAM
NVIDIA GeForce GTX 1050Ti w/ 4GB VRAM
15.6-inch UltraSharp 4K InfinityEdge touch display (3840 x 2160 resolution)
512GB PCIe NVMe SSD
97WHr integrated battery
Ports: Thunderbolt 3, 2x USB 3.1, HDMI 2.0, SD card reader, headset jack
4.5 lbs
Stunning Form, Robust Construction
The XPS 15 materials list reads like one you'd find for a luxury sports car: CNC machined aluminum, carbon fiber composite, Corning Gorilla Glass. More than just a collection of parts, though, these premium components have been meticulously crafted to provide an incredibly rewarding mobile-computing experience.
Milled from a single block of aluminum, the Platinum Silver exterior casing features a satin finish that's resistant to fingerprints and smudges. Dell's choice to go with this seamless, single-piece manufacturing method gives the XPS 15 a highly-desirable visual appeal, but it also adds maximum structural rigidity and durability.
As you open the laptop, polished edges deliver a stunning contrast where the metal chassis meets the black interior. A carbon fiber palm rest – chosen for its strength and lack of weight – offers a comfortable and wear-resistant working surface while you type on the full-size backlit keyboard. It's also quite a striking design element, as the fibrous weaved pattern is subtly visible in the right light.
This tactile functionality continues with the precision touch pad and multi-touch UltraSharp 4K display. Each gesture, swipe and pinch is registered with accuracy and ease. So much so that an external mouse really isn't necessary.
And while the XPS 15 is a perfectly capable stand-alone device, it doesn't overlook the possibility of expansion. Despite its thin profile – less than 3/4-inch thick – Dell still managed to fit all the ports you'd ever need. These include HDMI, USB-A, USB-C, headphone jack, and an SD card reader.
Other notable features include a fingerprint-enabled power button, 5.7 mm bezel, 720p web cam, and stereo speakers tuned with Waves MaxxAudio Pro.
Thanks to its elegant styling and thoughtful design, the XPS 15 effortlessly reigns as the ultimate premium laptop, in my opinion.
All-Out Performance
Featuring an 8th Gen Intel i7 processor and a gaming-grade GeForce GTX 1050Ti graphics processor, the XPS 15 is an on-the-go powerhouse.
Casual users will definitely enjoy the enhanced visual, sound and streaming performance offered by this laptop. However, it's artists and content creators who truly benefit from its high-end technologies, like 100% Adobe RGB color, IPS display panel, six processing cores, and blazing-fast PCIe storage. Inspiration can come at any moment, and the XPS 15 isn't just a stop-gap; it's your creative outlet.
During my time with this laptop, it served as my main workstation, and also powered an additional Alienware 34-inch gaming monitor. Editing photos, creating images, and producing videos was effortless thanks to the discrete NVIDIA graphics processor. And although the XPS 15 was never intended to be a gaming device, I was able to play everyone's favorite game-of-the-moment, Fortnite, perfectly fine. The game held steady at 60 frames per second at full HD resolution.
While playing video games isn't something most XPS owners would typically use this machine for, the opportunity is still there. Plus, it's a simple showcase of the power and versatility of a device that some people mistakenly view as just a super-fancy web-browsing machine. The XPS 15 definitely has the oomph to back up its premium status.
Needless to say, this laptop excels in productivity. Its massive 97Whr battery easily lasts an entire work day. And Dell Mobile Connect (my favorite feature) brings all of my smartphone-based communications and notifications into one centralized hub. See it in action below:
With instant logins via the fingerprint reader and more capabilities than the average user could ever need, the XPS 15 is the perfect device for those who don't want to mess around or wait for things to load. Its feature set and Dell's proven reliability also mean you can go longer without experiencing performance degradation or the need for an upgrade.
Should You Buy a Dell XPS 15?
Not long ago, a desktop PC was widely regarded as the most powerful, efficient, and convenient way to get things done. That's all changing now, though, thanks to products like the XPS 15.
In terms of cost, our flagship test model came well-equipped at $1,671.99 (at time of publish). And while that's not an insignificant amount of money, it's a worthwhile investment for a seriously versatile device that can fully replace a traditional desktop as the main hub for your home or home-office. And if you consider the $2,799 starting price for a similarly-spec'ed MacBook Pro (which doesn't have a 4K touchscreen), the XPS 15 feels like the deal of the century.
Overall, the Dell XPS 15 is a sophisticated and stylish product that serves as a benchmark for what a premium laptop should, and can, be. If you're looking for the best value along with uncompromising performance, this is it.
See the full XPS 15 model line-up or configure your own at Dell.com. Prices start at $999.99, but we've seen them go for as low as $880 on Slickdeals.
threadID: 11810683
Set a Deal Alert to be notified of future discounts for the XPS 15.
Search
Everything you need to know about Digital Transformation
Subscribe
The best articles, news and events direct to your inbox