Slickdeals content may contain references to products from one or more of our affiliate partners. If you make a purchase on their site through a link on Slickdeals, we receive a small commission. This in no way affects our opinions on products or services mentioned in our content.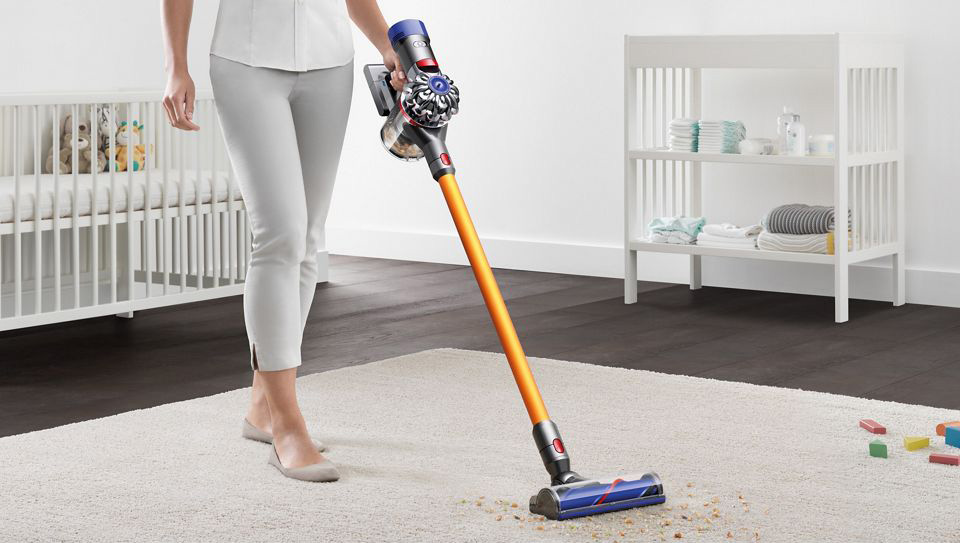 Dyson cordless vacuums make keeping your home or workplace fresh and clean just a little bit easier, especially if you've been lugging around a heavy old vacuum for years.
Boasting the latest in cordless technology, Dyson offers a series of four premium stick vacuums. The Dyson V7, V8, Cyclone V10, and V11 serve a variety of household needs and budgets. Plus, they're all available in multiple models, each with unique proficiencies.
Given the array of features available in the Dyson cordless lineup, we're here to help you find the model that works best for you. We'll take you through the most important technologies, how they differ, and how you can make the best choice.
Dyson Cordless Vacuum Features Guide
Let's start with a quick breakdown of the most important features included with cordless Dyson stick vacuum cleaners.
Suction Power
How powerful do you need your vacuum cleaner to be? The Dyson cordless lineup includes a range of suctioning power, starting with the Dyson V7 and going up to the Dyson V11. Suction power is dictated by the motor in the vacuum cleaner, and, naturally, the stronger the suction, the deeper the clean. And while stronger suction may sound like the better choice, it's not always necessary. If you mostly vacuum on hard-surface floors, you likely won't need something with extra oomph in suctioning ability. A quick tip: The higher the V number, the more powerful the motor.
Maximum Run Time
The amount of time you spend vacuuming on average should dictate how important the maximum run time is to you. Dyson's cordless varieties range from 30 minutes of run time all the way up to 60 minutes, depending on the power mode and attachments used.
Model Types
As mentioned above, Dyson cordless vacuums come in a variety of models, each with a different focus. Motorhead models, for example, are designed for versatility. HEPA models feature advanced filtration. Absolute models focus on powerful, all-purpose cleaning. While the Animal model is, obviously, for those with pets.
The Motorhead comes with a basic set of accessories, while the Animal comes with more options to help specifically with pet hair. The Absolute, on the other hand, includes a substantial number of accessories and a larger dustbin.
Filtration
Do you have family members sensitive to allergens in your home? Most of Dyson's cordless models come with whole-machine filtration, which is certified to be asthma and allergy friendly. If you have housemates that aren't sensitive to allergens, however, choosing the simpler V7 without this filtration may serve your purpose just as well.
Adaptive Technology
Dyson DLS technology is intelligent software that adapts to the surface at hand and provides optimal cleaning for floor types, from wood and linoleum to heavy carpets and rugs. When you select your cordless Dyson, knowing if you need advanced adaptive technology under the hood is important. Currently, only the V11 incorporates the Dyson DLS technology.
Top Picks for Cordless Dyson Vacuums
All cordless Dyson models come with free two-day shipping, a two-year warranty, and a 90-day money-back guarantee. The following three models, however, demonstrate a unique spread of the Dyson cordless offerings and differentiate themselves with unique features and designs.
Dyson V8 Absolute
The Dyson V8 Absolute comes with seven accessories and tools, and has 15% more suction power than the Dyson V7. This model retails at $449.99 and comes in two colors: nickel and iron. This cordless Dyson has a maximum run time of 40 minutes and includes whole-machine filtration.
Two power modes (MAX and Powerful) allow you to choose how deep you want to clean and for how long. This mid-range offering provides a price point and power suitable for the standard household without too many surfaces to scour.
Dyson Cyclone V10 Absolute
The Dyson Cyclone V10 Absolute has 55% more suction than the Dyson V7. It's offered at $599.99, and comes in black, blue, and copper. This model is designed to perform powerfully across all surfaces, and has a maximum run time of 60 minutes. The Cyclone comes with whole-machine filtration and has three different power modes. Plus, the 14 cyclones included in the V10's design work to capture tiny particles like bacteria and pollen. This Dyson stick vacuum works well for the larger home that has a variety of surface-cleaning needs.
Shop the Dyson Cyclone V10 Absolute
Dyson V11 Torque Drive
For a top-of-the-line offering in cordless vacuums from Dyson, the V11 Torque Drive is your answer. The Dyson V11 has 60 minutes of maximum run time and includes whole-machine filtration. It has 85% more suction than the V7, and includes the intelligent Dyson DLS technology. The V11 Torque Drive comes with an LCD monitoring screen and seven different accessories. It retails at $699.99 and suits a home where surfaces abound and an intelligent clean is top priority.
For news and deals on Dyson products, keep a close eye on the Slickdeals Dyson Store Page. And be sure to set a Deal Alert to be notified as soon as new deal is posted, because every home deserves a quality vacuum at a good price.
Promotional consideration for the products in this article provided by Dyson.
Any product or service prices/offers that appear in this article are accurate at time of publish, and are subject to change without notice. Please verify the actual selling price and offer details on the merchant's site before making a purchase.
Search
Everything you need to know about Digital Transformation
Subscribe
The best articles, news and events direct to your inbox