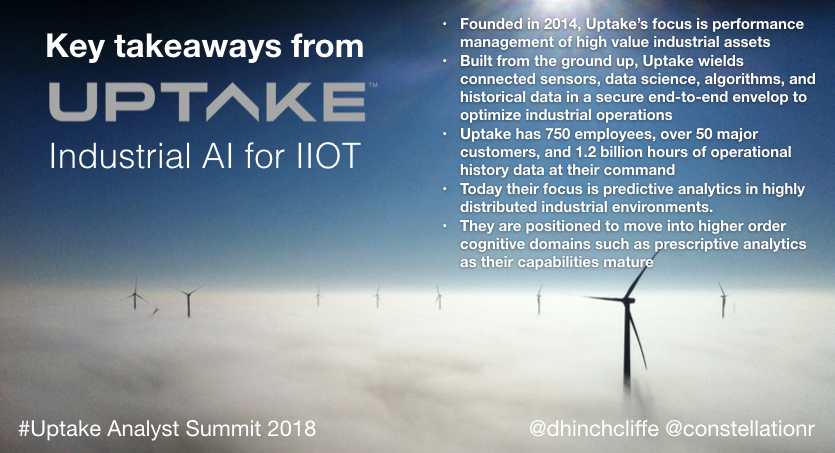 Located in an upscale and ultramodern facility in downtown Chicago, right in the same Goose Island building that also houses the headquarters of Groupon and a number of other up-and-coming digital startups, is a company that even many in the Internet of Things industry still haven't heard much about. The brainchild of Groupon co-founders Brad Keywell and Eric Lefkofsky in 2014, Uptake Technologies is a fast growing Industrial Internet of Things (IIoT) player that has kept largely off the radar while focuses on building early proof points with a strong initial customer base.
Uptake's primary offering uses the technologies and methods of data science and artificial intelligence, along with existing arrays of sensors that customers already have embedded in their industrial devices, to help enterprises that rely on heavy machines (think trains, planes, mining, and manufacturing lines) get the very most out of them, while managing potential risk and downside ("machines don't have to break" is one of their key tag lines.)
Earlier this month, Uptake held their first ever analyst summit and I was invited to participate. Well attended by analysts, including the influential (and my fellow Enterprise Irregulars ) Vinnie Mirchandani and Brian Sommer, the session was a end-to-end overview of the startup's history, aspirations, goals, and progress so far. While keeping a fairly low industry profile up until now, the company has already achieved the coveted unicorn status, with a $2.3 billion valuation as of its last funding round, a series D raise for $117 million last fall. The company has taken care to build good relationships with relevant players as well. Uptake's list of strategic partners over the last few years reads like a who's who in industry, including Caterpillar, Progress Rail, and Berkshire Hathaway Energy.
Falling somewhere between asset management and asset optimization, Uptake's approach is a ground-up rethinking of using real-time streams of connected device data — they touted several times in our sessions that they've already captured over 1.2 billion hours of operational machine data which their algorithms can use as an experience base — by applying the very latest in data science tools and methods to help organiztions monitor, manage, and maintain their fleets of highly valuable equipment. Uptake's performance-based approach makes the most sense with higher value assets whose failure or unavailability would adversely impact an organization significantly. So far they've largely avoided low cost assets, but indicated that they will likely expand their asset coverage their as they refine their capabilities and understand the needs of customers at that level. Not to mention that higher value industrial assets represent a more profitable business model for the company, at least for now.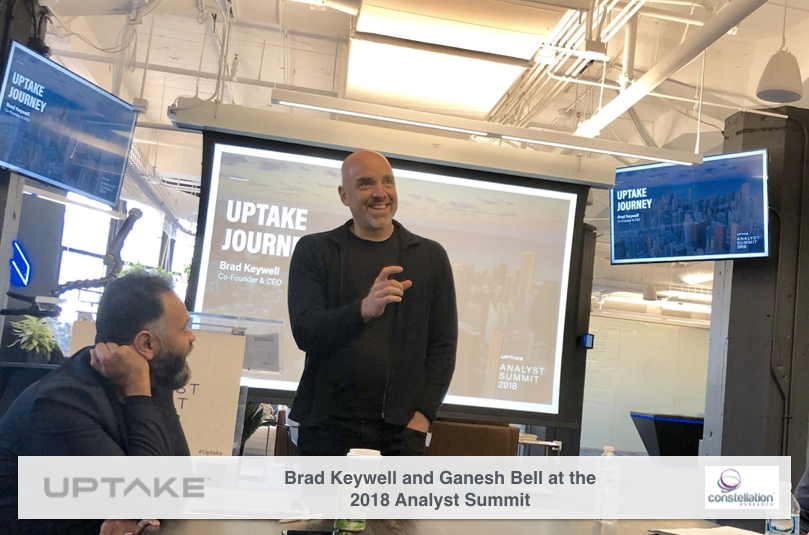 Our day kicked off with a session from co-founder Brad Keywell, who discussed the overall vision of the company that he incorporated just four short years ago and now boasts 750 employees with over 50 major industrial customers. For Uptake, "it's about the efficacy of outcome. If we build the right data, we will become the leading source of outcomes," said Brad. Given the nature of digital ecosystems to confer outsized advantage to those with control over best-in-class data sets, this is strategic approach that will prepare them well to go up against other leaders in the space. These competitors will also be wielding their own growing historical datasets and algorithms to build out and wield competitive advantage. In my analysis, this means that the company that offers the lowest total cost of positive outcome with the highest accuracy will tend to win over time, but the cost of entry is having enough relevant industry data. Uptake has made heavy subject matter and data capture investments in key industries, including a relatively high staff count compared to other digital startups, to delver performance management for assets in the industry segments they believe will propel their growth.
Next up was an overview of Uptake's strategy from Ganesh Bell, who recently arrived at the firm in February from his influential role as Chief Digital Officer of GE Power and is also an industry colleague of mine. In his session, he made the long-term objective of the company very clear, to become the category creator and leader for something he calls "Industrial AI", which is the dynamic application of data science, machine learning, and sensor-based data to improve outcomes in industrial organizations. While Uptake is starting with largely predictive solutions at the moment, over time, as their cognitive capabilities increase and their historical data sets deepen, the company will be able to offer ever more strategic capabilities that reach into the realms of forecasting, prescriptive analytics, and otherwise automating planning and operations of asset-heavy enterprises.
The word "transformation" was mentioned by Uptake's leadership when it came to describing that they did for customers. For now the transformation is more of the tactial variety such as shifting industrial customers from time-based maintenance (such as every 3,000 miles) to condition-based maintenance (the sensors show that the device now requires routine service.) These in reality are significant shifts for relatively large companies to make, and it's good to see Uptake looking at immediate impact as well as a long-term AI-based roadmap, though it's also clear Brad, Ganesh, and others will need to be clearer on what that roadmap is in the coming year or two if they seek to have a full seat at strategic partner tables of their industrial customers.
Figure 1: Uptake realizes nearly the entire reference architecture for an advanced IIoT analytics and ops platform
I also asked Uptake's leadership several times about customer concerns about the data insights there were learning from their customers' equipment, and if there were worries expressed about data ownership and control of those insights, which they will arguably sell to other subsequent customers. While this has been a hot topic in other related industries, I was informed it had not been an major issue so far in discussions with customers, nor a headwind on sales. My view is that this will become much more important for Uptake to manage successfully in the near future as companies increasingly understand the great value they give away by not retaining full control of their industrial data.
The rest of the day included overviews from Chief Product Officer, Greg Goff, Chief Information Security Officer Nicholas J. Percoco, and VP of Data Science, Adam McElhinney, among others. All of them stressed the challenges of creating an advanced industrial analystics capability in remote industrial locations, taking pains to explore the deep thinking they had done to deliver on with the performance, security, and product architecture requirements to create reliable services that accurately predict industrial events. Edge computing, especially distributed analytics on the edge, was also cited numerous times as a core capability of the Uptake platform, and it was clear that the team has done extensive homework to create an early maturity Industrial Internet of Things (IIoT) analytics offering.
My conclusions overall on Uptake based on what I learned at the analyst day:
A strong founding and leadership team intent on creating customer impact more than building a high profile
Clear tactical vision for shifting legacy industrial asset management to an event-driven, real-time model
Good execution on the tech with early case studies with ROI sufficient to drive good revenue growth
Amount of staff in evidence to support just 50 customers in key industries is a potential growth bottleneck
Strategic vision needs more development to tell a compelling longer-term story on customer journey
Ops data history and algorithms a differentiator, but unclear yet if unique enough to keep low cost competitors away
Can deliver as a network orchestrator, one of the most valuable digital strategies, as their strategic vision matures
Related Reading Defining the Business benefit and the knowledge for your IoT/IIoT project IoT Solution Building; Managing and Using Operational Data to change the game IoT: Where are the Integrators? Who are the Integrators?
Search
Everything you need to know about Digital Transformation
Subscribe
The best articles, news and events direct to your inbox