Slickdeals content may contain references to products from one or more of our affiliate partners. If you make a purchase on their site through a link on Slickdeals, we receive a small commission. This in no way affects our opinions on products or services mentioned in our content.
Following the success of its ultra-wide curved gaming monitor, Alienware is further expanding its burgeoning peripheral lineup with the introduction of a wireless gaming headset.
The all-new Alienware Wireless Gaming Headset boasts the brand's iconic styling, and aims to be the definitive audio device for PC gamers with its ambitious convenience and performance features. And there's a lot to live up to, given the uncompromising performance often associated with the legendary "Alien Head" logo.
Did Alienware knock it out of the park on its first outing, or is it back to the drawing board? Keep reading this hands-on review to find out.
Special thanks to Alienware for providing a wireless gaming headset for this review!
Alienware Wireless Gaming Headset AW988
5.0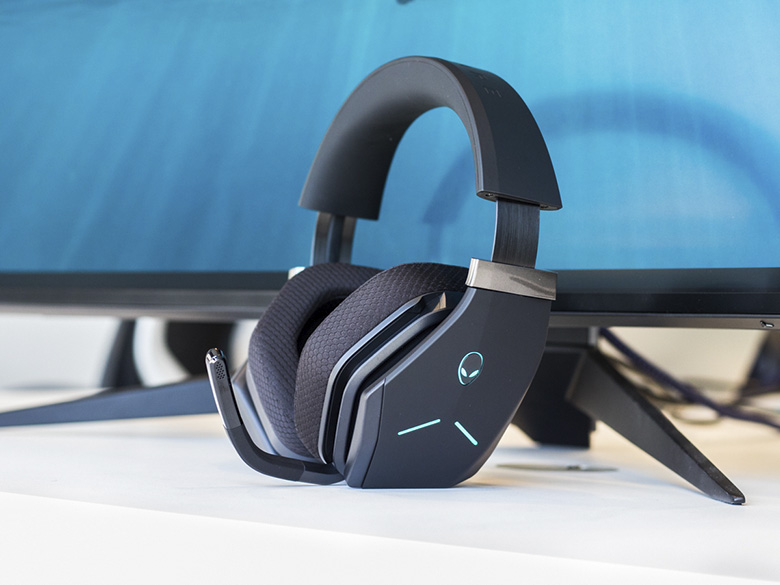 Alienware Wireless Gaming Headset (AW988) Specifications
7.1 Virtual Surround Sound
40mm Neodymium drivers; 20Hz – 20KHz
Noise-cancelling microphone; foldable
AlienFX Lighting; 16.8 million RGB LEDs
Sport mesh ear cushions w/ moisture-wicking fabric
2.4 GHz wireless connection or 3.5mm wired analog
Two separate audio channels for game and chat
Up to 15 hours of battery life
It's All in the Details
It didn't take long after removing the Alienware Wireless Gaming Headset from its robust window packaging to realize that I was in for a major treat.
Everything about these headphones feels really well-designed and well-engineered, from the signature Alienware visuals to the use of advanced materials, like lightweight composites and reinforced alloy. Coming in at just 0.84 pounds, the AW988 headset is lean and purposeful in its construction.
Located on the left earcup are the volume and audio controls, as well as charging and auxiliary ports. Two separate dials offer master volume and game/chat mixer adjustments (more on that later), while the Alienware insignia secretly doubles as the power button. Also situated on the left earcup is a fold-away noise-cancelling microphone that automatically mutes when stored.
For extra style points, both ear elements feature two zones of AlienFX lighting capable of 16.8 million colors. Additionally, the earcups can swivel to accommodate a wide range of head shapes. Other features include moisture-wicking fabric around the ear cushions, an extendable headband, and discrete storage for the wireless dongle underneath the right earcup.
If you have other Alienware products, the AW988 headset will look right at home with its bold and luxurious aesthetics.
Comfort for Marathon Gaming
As a gaming enthusiast who plays almost nightly, a comfortable headset is one of my main priorities. Nothing is worse than getting a headache from headphones that are too heavy or that apply too much pressure.
Thankfully, Alienware's designers understand the unique needs of gamers. The company utilized feedback from numerous professional players to develop one of the most comfortable headsets I've ever worn.
While other manufacturers try to experiment with the shape, material, and thickness of headband padding, Alienware went with the old adage of "less is more." Instead of trying to balance a trade-off between comfort and weight, the AW988 tackles both aspects by using a soft silicone-like material backed by a pocket of air. You read that correctly – the headband is hollow! This unique design allows the surface of the band to stretch naturally over the head, providing a perfect fit that also smartly distributes the headset's weight.
Another non-traditional design choice is the use of pentagonal ear cushions. But like the headband, they follow the contours of the face to provide a secure seal without pressure points. This is an important comfort feature, as a bad fit makes the entire setup feel heavier than it actually is.
With the light weight and well-considered design of the Alienware Wireless Gaming Headset, it's easy to forget that I'm wearing anything at all. And the freedom offered by the wireless system only adds to this experience. Kudos to Alienware's design team for fitting a battery and WiFi receiver into a package that's only a tad heavier than most wired gaming headsets.
Surrounded by Powerful Audio
Whenever the term "wireless" is used to describe earbuds or headphones, the technology referenced is usually Bluetooth. But the Alienware Gaming Headset notably uses 2.4GHz wireless technology – the same as a WiFi router.
With the true wireless system offering more available bandwidth, the AW988 delivers much better sound quality. It also has an impressive operating range – I can keep the conversation going with my friends while I walk downstairs to grab a drink from the kitchen. Think of Bluetooth as a small dirt road, and the Alienware headset's wireless capabilities as a multi-lane highway.
So what do games sound like with the AW988? Powerful. Seriously, I've never felt my games like this before. Playing the open beta for " Battlefield V," I was constantly startled by explosions and bullets whizzing by my head. And it's not just because the 40mm drivers are capable of producing high volume. This intense experience comes from the combination of audio clarity, deep bass, and an expansive sound stage delivered with a richness that really transported me into the game. At one point, a flying bomb buzzed overhead, and I actually ducked down.
What I found to be most impressive about this headset is the feeling of spaciousness when playing games. The extra room inside the earcups, plus the directional audio, made it feel like the action was happening all around me, not at me. Even 2D games like " League of Legends" seemed more immersive as announcements and narrations boomed from afar.
And because not all games are about blowing things up, you can fine tune the audio performance with the included Alienware Headset Center software. Customize your experience by creating different game and media profiles, each with unique sound enhancements. Possible tweaks include bass boost, volume leveling, and virtual surround sound, to name a few. This same app controls AlienFX lighting and microphone noise cancellation as well. It even offers a virtual sound board that can trigger audio samples or effects during a livestream.
For multiplayer communications, the AW988 offers a built-in audio mixer, which allows you to prioritize game sounds over voice chat, or vice versa. It accomplishes this by providing two separate audio output channels, one of which can be assigned to a chat program, like Discord or Skype. This is definitely one of the more thoughtful features not often seen on gaming headsets. We all have that friend who breathes directly into the microphone or eats chips on an open channel, and it's nice to have the ability to quickly lower the volume on that inconsiderate person without affecting overall volume settings.
Alienware claims that the AW988 can operate around nine hours per full charge with AlienFX lighting turned on (up to 15 hours without AlienFX), and I found that to be anecdotally true. With nightly gaming sessions that lasted between one to three hours, I would only need to plug in the headset once per week. If the battery runs out during a game, there's an option of using the 3.5mm audio cable or connecting the power cord. Both are long enough for practical use with a desktop PC situated on the floor.
Should You Buy the Alienware Wireless Gaming Headset?
Designed with actual PC enthusiasts in mind, the Alienware Wireless Headset is one of the best performing and most comfortable gaming audio solutions I've ever experienced.
It's evident that Alienware has incorporated tons of research and feedback to address the unique needs of various PC gamers, from the casual player to the professional Twitch streamer. During my many hours of testing the AW988, I tried to find areas of improvement, or even small suggestions for a future iteration. Ultimately, though, I came up empty. As a result, I have no choice but to declare that the Alienware Wireless Gaming Headset is pure perfection.
With a retail cost of $199.99 (at time of publish), the AW988 falls on the expensive side of gaming headsets. However, it rightfully commands this asking price with an unmatched feature list and exceptional build quality. This headset is one of the few hardware investments that truly enhances one's overall gaming experience, so don't be afraid to treat yourself.
Buy the Alienware Wireless Gaming Headset from Dell
Not ready to leave the world of wired audio? Set a Deal Alert to be notified when the Alienware Gaming Headset appears on Slickdeals at a lower price.
Search
Everything you need to know about Digital Transformation
Subscribe
The best articles, news and events direct to your inbox