Slickdeals content may contain references to products from one or more of our affiliate partners. If you make a purchase on their site through a link on Slickdeals, we receive a small commission. This in no way affects our opinions on products or services mentioned in our content.
As the name suggests, Alienware's Elite Gaming Mouse aims to appeal to those who want nothing but the best in a PC peripheral. Offering additional features and enhanced customization, it functions as a supercharged version of the base model Alienware Advanced Gaming Mouse.
But are the high-grade internal components, along with Alienware's signature flair and design, enough to garner the attention of gaming enthusiasts who may already be set in their ways?
To find out, I logged more than 40 hours of gaming with this premium pointing device. Keep reading to discover if the Alienware Elite Gaming Mouse deserves that all-important spot next to your keyboard.
Alienware Elite Gaming Mouse AW959
4.5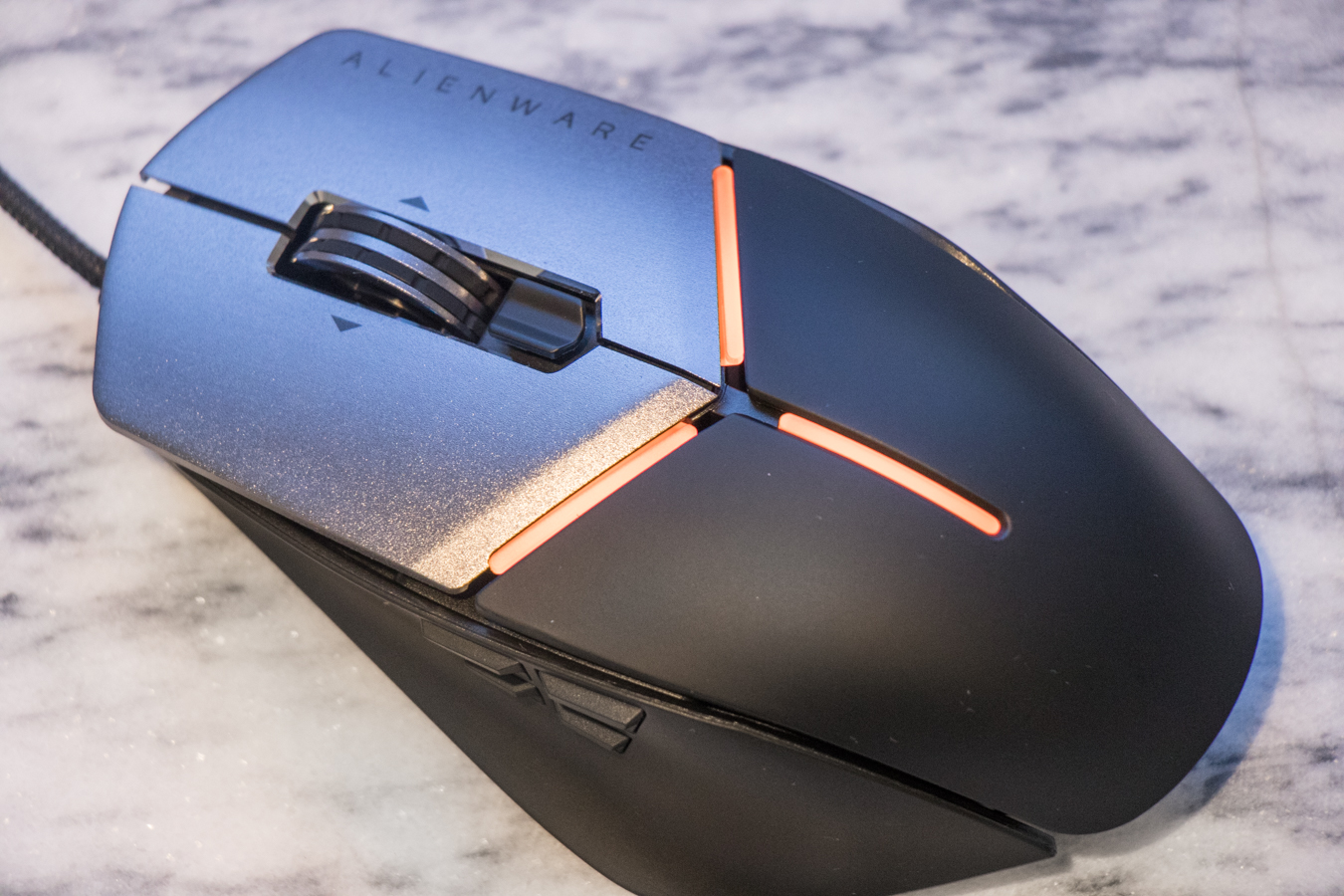 Alienware Elite Gaming Mouse (AW959) Specifications
Optical sensor: 100 – 12,000 DPI, 50G, 250 IPS
11 programmable buttons
Four interchangeable side panels
3-position adjustable palm rest
Configurable weight; four 5g ballasts
AlienFX lighting
1,000 Hz polling rate
Craft Your Ultimate Weapon
Customization is a key theme of the new Alienware Elite Gaming Mouse. Featuring four interchangeable panels, as well as an extendable palm rest, this device is friendly for a wide range of grip styles and hand sizes. In the default configuration, its footprint is bigger than most mice, but that's a good thing. Generally, our fingers and muscles prefer macro movements, so spreading your hand across a larger area helps keep it more relaxed. As a result, you can play for longer before experiencing fatigue.
There are two sets of magnetic panels for each side of the mouse – one regular and one winged version. Along with providing extra comfort and grip, the winged attachment also offers four total thumb buttons that can be customized to any keystroke, macro or function. These buttons are firm yet quick to activate, so you won't have to worry about mis-clicks if you have a tight grip.
At the back of the Elite Gaming Mouse, there are two compartments which can house up to four mini-ballasts, each one weighing five grams. While this feature may seem superfluous, it makes a significant difference for heavy-handed users, like myself. The increased weight steadies the mouse for less jerky movements, and ultimately helps improve accuracy.
An on-the-fly DPI (sensitivity) switch sits just behind the rubberized scroll wheel. It's flanked on both sides by machined aluminum left and right mouse buttons that are rated for 50 million clicks. And of course, no Alienware product is complete without AlienFX lighting. Three integrated LED strips offer 16.8 million colors and a variety of animation sequences.
Other design highlights include a braided nylon cable, soft-touch coating on the grips, and an aluminum scroll/tilt wheel.
Overall, the Alienware Elite Gaming Mouse takes a mature and purposeful approach to its design. It may seem like a simple mouse at first glance, but that's because it doesn't brag about its long list of features. You only need a moment to realize the extent of its luxury and build quality, especially since no part of your hand touches any plastic surface. It also looks right at home next to the rest of Alienware's peripheral lineup.
Related: Alienware Wireless Gaming Headset Review
Fast, Adaptable Performance
After finding my preferred mouse configuration – regular left panel, winged right panel, fully-extended palm rest, 10 grams ballast – I was off to continue my love-hate relationship with the ever-popular multiplayer shooter, "Overwatch."
While playing this hectic game, the most apparent benefit of the Elite Gaming Mouse was how quickly and easily it moved. Two extended "skates" along the underbody allow the mouse to move with very little resistance. When you pair this with surface calibration and a high-performance optical sensor, tracking fast-moving targets is a breeze. See it in action below:
If you're really serious about having an edge over the competition, the redesigned Alienware Control Center software unlocks additional capabilities for the Elite Gaming Mouse. This is where you can fine-tune performance characteristics like tracking sensitivity, macros, button mapping, and more. These preferences can then be saved as individual "themes," and linked to particular games. Whenever you launch a linked game from Alienware Control Center, your custom mouse settings will be automatically applied.
This feature was very useful because I play games across multiple genres, and really enjoyed the convenience of not having to manually adjust anything before launching a different title.
My only issue with this otherwise excellent mouse is the scroll wheel. While its construction is great – aluminum with rubber grips – it spins a little too freely for my preference. I often use the scroll wheel to quickly cycle through weapons during gameplay, but the lower resistance along with muddy feedback from the wheel means I'll occasionally roll it too far or too fast, causing the wrong weapon or item to be selected.
It's definitely not a deal-breaker, though. After a bit more practice and finesse, I've adapted to the sensitivity of the scroll wheel. But for the sake of casual players, I hope future iterations of the Elite Gaming Mouse will feature a stiffer scroll mechanism.
Should You Buy the Alienware Elite Gaming Mouse?
Alienware's sophomore gaming mouse gets a lot of things right. It's fast, accurate, customizable, and most importantly, comfortable to use.
Fueled by the same attention to detail that Alienware applies to its cutting-edge laptops, I found the Elite Gaming Mouse to be a versatile peripheral that offers lots of long-term value. It meets the needs of a wide range of users, from the casual point-and-click gamer to the professional Twitch-streamer. And it's clear that this mouse was designed to adapt to your lifestyle, and not the other way around.
With a retail of price $84.99, this premium mouse goes head-to-head with the likes of a Logitech G502 Proteus Sprectrum or Razer Naga Trinity. But discounts and rebates from Dell/Alienware are not uncommon on Slickdeals, so set a Deal Alert to be automatically notified when the Alienware Elite Gaming Mouse sees a price drop.
Search
Everything you need to know about Digital Transformation
Subscribe
The best articles, news and events direct to your inbox