Companies that do have the resources may be using fantastic AI-informed social media marketing campaigns and interactive brand apps to create demand for their products and services. While cutting-edge demand generation techniques are great, especially in response to the modern marketer's dual challenge of higher customer expectations and higher C-suite expectations, the tried and true, very budget-friendly methods are still just as crucial for your marketing strategy.
Depending on the size of your business and the skill set of your marketing team, the high-tech tools may not yet be at your fingertips. The truth is, many small to mid-sized businesses are still working the digital marketing starter kit – a website, a business Facebook page, as well as a couple other social channels, and email. Only about one-third of SMBs are even using website analytics. Just over half have a website that is mobile responsive.
Integrating technology intelligently into your organization in order to create a ' Demand Factory,' as David Lewis of Demandgen coins it, requires a resources investment, a commitment to change management and an innovative, flexible organizational mindset. While long-term goals of the elegant use of marketing automation and tomorrow's mar-tech tools should be on every marketer's radar, just because you can't leap forward into the future of marketing right now, doesn't mean you shouldn't at least step forward with the classic demand generation techniques that we all know work. The key is to use the effective old-school techniques but refine them with the knowledge we have today about what works and what doesn't. Marketing transformation involves two things:
Adopting the new and improving the old.
Sometimes, we focus so much on the allure of new technology that we may neglect what we already have and can improve upon.
Here are the techniques you can use to create quality leads and to build interest in your brand, no computer science degree or mega marketing budget required.
1. Publish Blog Posts that Answer Your Customers' Questions
Your organization's blog isn't just for driving traffic to your site. It has the potential to be your brand's most powerful demand generation asset. The difference between blog content that engages and one that creates demand lies in relevancy to your audience.
An effective process to use for your content schedule is to follow the buyer's journey. Publish content that fulfills the awareness and consideration stage in order to bring leads along to the decision stage and attain the ultimate goal of revenue growth.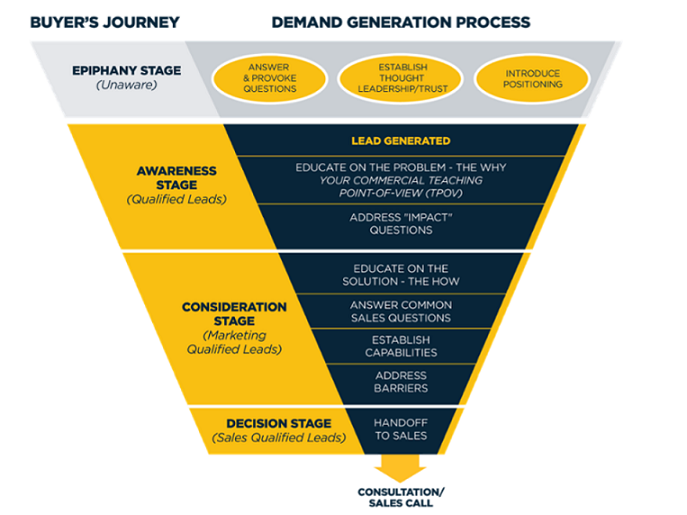 Make sure your posts are answering questions that are specific to your market. Tools like AnswerThePublic and Quora are fantastic for guiding solution-oriented content. It's also wise to keep track of client questions you may find pop up on forums and social platforms for your industry, communications to your sales department, as well as questions on customer feedback channels such as surveys and reviews.
2. Send Emails that Your Contacts Want to Open
When it comes to your email marketing, keeping your audience engaged isn't the easiest thing in the world. There are a few steps you can take to make your emails a more welcome addition to your customers' inboxes.
If your email open rates aren't high, try further segmenting your contact lists so you can offer better-personalized content. For example, consider segmenting based on interest level, number of purchases, the length of the customer relationship, level of customer satisfaction, specific products or services they are interested in, as well as demographics.
Make sure you are building a list of people who want to hear from you. Tactics like a double opt-in at subscription and letting go of your contacts who aren't ever opening your emails anyway will give you a clearer idea of what you're working with. A shorter list of interested contacts will help you better tailor your messaging.
Vary your offerings. Coupons and discounts, sign up for your next event or webinar, a link to your brand's hysterical marketing video – train your contacts to expect the works when they open your emails.
3. Offer Interactive Content
Content marketing is the foundation of your demand generation. If you want to create lava-hot demand, welcome your target customers into your world with interactive content. From industry conferences to educational webinars, when you motivate people to invest their time and energy into your brand, you're on your way to rock solid customer relationships.
Even if you don't have the budget to pull-off a big in-person event, with the technology available today, a webinar can fit comfortably into any sized budget. You can expect to convert anywhere between 20 and 40 percent of your attendees into qualified leads.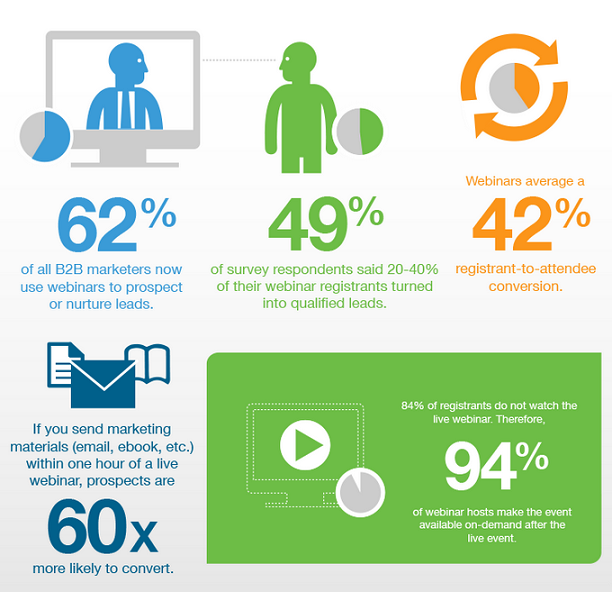 Tip for webinar success: offer regular webinars or create webinar series. When your potential buyers know more online events are coming up, they may keep your brand in mind, follow you on social media, or sign up for your newsletters.
4. Beef Up Your Social Proof
One of the best ways to create demand will always be through social proof. You may not be in a position to partner with a social media celebrity, but the opinion of your actual customers carries a lot of weight with your potential ones. 85 percent of consumers pay attention to reviews for local businesses and 73 percent say positive reviews helps to build trust.
Don't be afraid to reach out to your best customers and ask them to write a review. Encourage social sharing of your brand by offering customers something in return for posting about their experience on Twitter or sharing a snap of your product on Instagram.
How are your customer testimonials doing? Do you only have a few outdated quotes on your website? Do you have photos or videos to make your testimonials appear more authentic? Are you sharing client case studies within your business's blog and LinkedIn posts?
Keep Refining Your Improvements
Want to make a big impact with your demand generation strategy? Keep track of your metrics. How are your email open, website traffic, conversion rates and event registration numbers changing in response to the changes you make? Continually check in with each piece of your demand gen strategy and you'll successfully be able to evolve the big picture. And, of course, the more successful you are at optimizing the digital assets you do have, the more you'll be able to grow your marketing budget so you can dive into all the fun of tomorrow's marketing technology in the future.
Search
Everything you need to know about Digital Transformation
Subscribe
The best articles, news and events direct to your inbox