Rooted in event marketing, experiential marketing encompasses the traditional event concept – as well as any brand-audience interaction that fosters an experience. Think of experiential as in-person events, out of the box. An experiential marketing campaign is just as likely to promote art, culture and innovation as it is to provide the learning, networking and inspirational experience of a marketing conference or festival.
Sue Duris, Director of Marketing and Customer Experience for M4 Communications points out that the increase in experiential marketing as a part of the overall content strategy pie – 77 percent of brands see experiential marketing as essential for their marketing strategy – is partly driven by the penchant millennials have for an experience-driven lifestyle. And on a wider level, the cultural shift towards experience as a driving force, across demographics. We're starting to define ourselves more by what we experience, rather than what we own. CMOs and marketing managers who can recognize and take advantage of this shift are going to be strongly positioned to engage with audiences going forward.


And, let's be honest – from marketers to participants, who doesn't love walking away from a great experience?
Ready to explore the brilliant experiential marketing examples that are defining this sector?
Google's Pop Up Donut Shops
To build interest in Google's personal virtual assistant, the Home Mini, Google has been opening up pop-up donut shops in cities across the US, from San Francisco to Brooklyn, with one stop in Toronto as well.
The concept behind this enticing experiential campaign is that the Home Mini is about the size of a donut.
What's the experience like? People walk into a converted Google-branded donut shop, where there are donuts and donuts carrying Home Minis moving along a conveyor belt. They ring a bell and then ask a question from the Google Home Mini Donut Shop Menu.
For example:
"Hey, Google, what sound does a hippopotamus make?"
Then, a little pink Google box comes out of a service window to provide the answer. Open the box, and the participants find a tasty donut or a donut-shaped Home Mini. If that isn't fun enough, Google has set up a human size sprinkle booth. What for? To jump inside and dance around while confetti rains down, of course.
It's a win-win for the experiencer – a donut or a brand new virtual assistant. It's a memorable way to experience how the device works. And, probably 99% of the donut shop 'customers' are going to share their experience with their social networks or at least will tell their friends about how cool donut shaped Home Minis are.
This example is an ingenious way to boost consumer interest in personal virtual assistants, while also positioning Google as a strong contender to Amazon's already popular Echo.
Glenfiddich: Join the Experimentality
The alcohol industry has long been known to be leaders in experiential marketing. The basic concept of the traditional tasting session is being reinvented by brands like Guinness and Glenfiddich with the creative use of technology.
To market the new Glenfiddich Experimental Series, the whiskey company set up a tasting event in a London bar where customers can log into an app, answer questions about themselves, and then are linked with a drink that matches their personality profile. This is all within a very suave, sophisticated London setting, staying true to the brand's own character.
This is a smart combination of gamification and an in-person tasting event to drum up interest and keep their brand ultra-relevant.
Verizon's Augmented Reality Treasure Hunt
Here's another tech-driven example of experiential marketing at the cutting-edge of what's possible for marketers today. Verizon partnered with Snapchat to create a treasure hunt where users step into augmented reality to try and win one of 236 iPhone 8s prizes.
How does this experience work? Snapchat users in select cities were given a choice to download the scavenger hunt app and then follow the clues, taking participants to different locations around their city. At the end of the hunt is a giant '8'. Take a snap with the augmented reality '8', send it to Verizon and maybe win a new phone.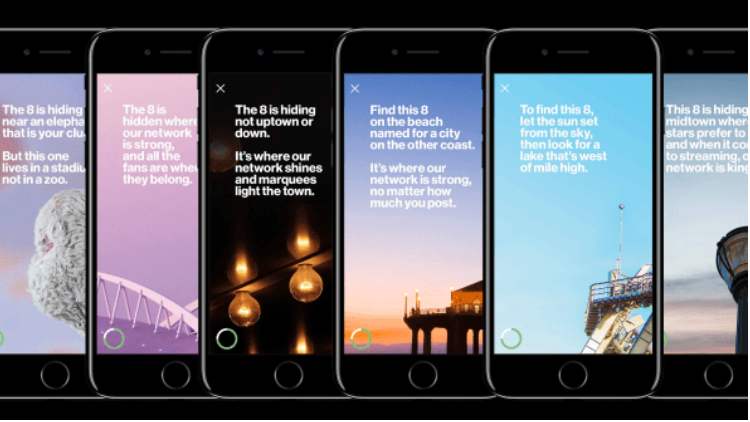 Photo: FastCoDesign
This is a groundbreaking campaign in that it was the first brand scavenger hunt using augmented reality. Verizon pulled off a masterful blend of geolocation, real-time data usage (even weather patterns were accounted for) and creative UX that's going to open doors for more big budget brands to play around with AR in their campaigns.
Nike's VaporScape Installation from The Vision-Airs Exhibit
Nike is hands down one of the most engaging brands out there. User apps, emotive video marketing, and some of the most legendary experiential events the world has ever experienced.
One of their latest content innovations is NikeLab's VaporScape as part of "The Vision-Airs" exhibit at Hong Kong Art Central. Partnering with mixed media artist, Chris Cheung, Nike developed an interactive ambient sound installation to promote the brand's Vapor Max technology for the Air Vapormax sneaker.
VaporScape isn't just interesting – it's philosophical. The idea is to reflect the changing of state that occurs with vaporization through a sound experience.
It is a nod to the human orchestra of the body's own micro sounds as it works to regulate itself internally during exercise – breathing in oxygen, heartbeats to circulate oxygen, which supports the processes that turn liquid into vapor to control body temperature. The installation detects room humidity and the body temperature of the audience to calculate a real-time vaporization rate. This is then translated into ambient sound.
The Experiential Marketing Formula
There's a huge lesson to take away from these innovative experiential marketing examples. When you combine out-of-the-box event marketing with the technology marketers have available today, there are no boundaries. The level of creativity, imagination and vision that we are going to see in the future of experiential marketing is going to be impressive.
Where these brands got it right in these examples as they didn't veer from their brand identity just to create a noteworthy experience. And they all partnered with another brand, often ones you'd never think of (Google and local donut shops – who'd have thought?).
Stay true to your brand story, use smart, strategic partnerships, and leverage technology. That's the winning formula for the type of experiential marketing that leaves a deep impression on your audience.
Search
Everything you need to know about Digital Transformation
Subscribe
The best articles, news and events direct to your inbox