Looking at how hard and fast social media has taken the world's bandwidth and free time by storm, the digital world has clearly experienced a massive transformation over the past decade.
In the wake of this digital tsunami, marketers have been left with a few priceless gems. One of the most notable: the phenomena of user-generated content. With today's customer-centric marketing model, encouraging consumers to publish content on social media – sharing their brand experiences and personal stories – has become one of the most powerful tools for engagement.
When marketers combine user-generated content (UGC) with brand content, engagement can spike by as much as 28 percent. It's extremely impactful with millennials. UGC is 20 percent more influential than any other form of media in driving purchase decisions with millennials.
UGC isn't limited to social sharing. It includes online reviews, brand advocate blog posts, videos, testimonials and images posted on online forums and websites. Burberry's 2009 Art of the Trench campaign is often cited as one of the first successful user-generated content marketing campaigns. Almost ten years later and today UGC has become a staple of modern marketing campaigns and an essential in millennial-heavy industries like travel, tech, fashion and food.
Primarily a business-to-consumer marketing tactic, B2B brands can achieve just as much, if not more reach from the UGC pot of gold. The trick is to view UGC as more of a collaboration than a wildfire social campaign – how can you (customer) and we (brand) work together to share (us) in a way that everyone wins?
Check out these thought-provoking B2B user-generated marketing campaigns to see how it's done.
Intuit
Intuit, the tax and business accounting software provider that is behind QuickBooks and TurboTax, has been leveraging user-generated content for years, connecting their various buyer segments with expert advice and user-generated content.
The program for QuickBooks ProAdvisors – users who have become certified by QuickBooks – creates an incentive for one segment, professional accountants, tax advisors and business consultants, to become more engaged with the brand. They, in turn, gain a platform to attract their own clients and enhance their reputation as a ProAdvisor. Intuit's small business owner and self-employed customer segments gain the valuable connections and expert advice. The QuickBooks brand further establishes itself as way more than a software provider, but a comprehensive resource for various target audiences to meet all their accounting and tax needs, including education, upskilling and marketing.
Intuit hosts a live community forum, the TurboTax Live Community, which is filled with user-generated content – tax advice, questions, updates, and other value-driven, customer-centric content.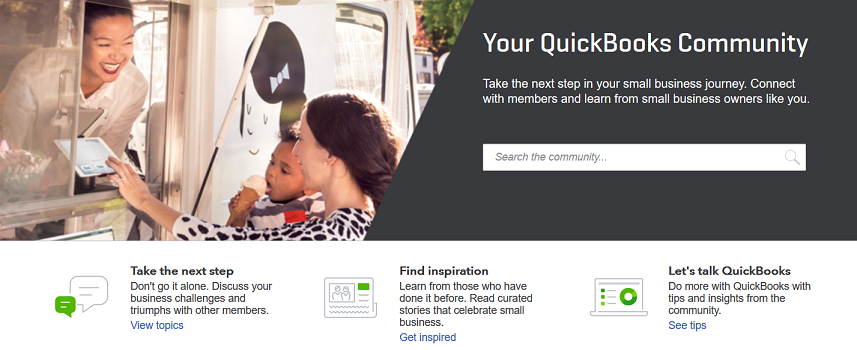 Intuit also utilizes a forum, as well as a dynamic community with QuickBooks, the QuickBooks Community. There's a wealth of user-generated content – tips, inspiration, discussions and member stories. You could grab your toothbrush and laptop and move into the QuickBooks world there's so much content and such a vibrant brand community. What's in it for the 'customer content creators'? Reputation, insights and business growth. Those are powerful offerings to motivate engagement.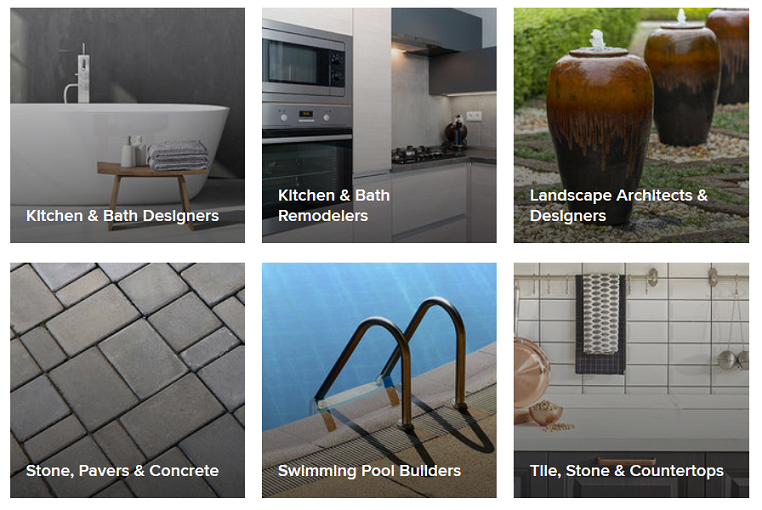 Houzz
Houzz is an online company that straddles B2B and B2C commerce, connecting architects, designers, painters, builders, suppliers, and a dozen other professionals with end customers, while providing a platform for all of their market segments to share ideas, and for their B2B customers to sell their services.
Houzz's Stories and Advice channel is a library of user-generated content. Home renovation and design professionals can post guides, tips, and other advice, using the Houzz platform to drive business for themselves and to grow their reputation. There are also discussion forums on both home projects and gardening, where users can post projects and ideas and get feedback, and even vote on other users' design choices.
As with Intuit's QuickBooks, Houzz has created its own social network with its online brand community. This is where B2B user-generated content can be several steps ahead of B2C content. It offers a channel for its B2B customers to market to their customers, creating long-term value for users.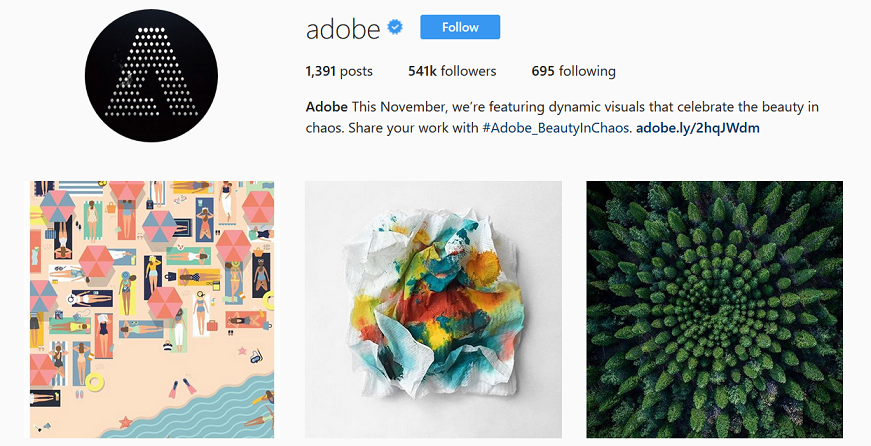 Adobe
Adobe uses Instagram as its UGC platform of choice for customers to share their visually-stunning content. The makers of Photoshop and Illustrator have created an entire brand community for users to showcase their work, get inspiration and to receive feedback from other creatives. Instead of just posting anything, Adobe creates a theme for users to follow each month. This encourages the same customers to contribute regularly, driving more content. It also makes exploring and engaging with the images more compelling because there's always a fresh concept.
The brand becomes an even better established industry thought-leader.
The 'co-creators' (the B2B customers) get to share their expertise, thus attracting customers for themselves, as well as other positive industry attention.
And, the customers of the customers gain easier access to the experts and professionals they may benefit from, while also having access to infinite, first-hand, authentic content.
As with the other examples, Adobe isn't just running a one-off campaign on a social media channel. They've planted the seeds for ongoing, self-perpetuating user-generated content. That's the magic of B2B user content creation. Once it has started, it keeps going because the customer creators have a perpetual incentive to post, share and engage.
This is different than B2C campaigns, which tend to be short-lived, cyclical, or require a constant input of new customers – which means the brand has to keep promoting the UGC campaign in order to keep it going or to restart it. With B2B customer content, on the other hand, the customers become 'co'creators, participating with the parent brand community to foster growth and share knowledge. In the process, everyone wins.
For UGC B2B success, make it the good stuff, the practical, concept-sharing, worthwhile content. You'll not only inspire engagement but also more long-term marketing goals like establishing your brand as an industry leader, building trust, and forging stronger customer relationships. The more work and thoughtfulness you put into creating a platform for your B2B user-generated content, the more you empower your brand community to grow on its own. Plant the seeds, give your customers space, and watch your content grow.
Search
Everything you need to know about Digital Transformation
Subscribe
The best articles, news and events direct to your inbox