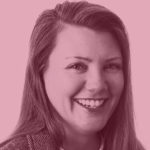 Shaper/Caper has a history of digital transformation that has been embedded across marketing and audience engagement; creative practice and practical business management tools. Learn how this small dance company has taken a series of small risks in order to embed digital in the company.
In 2009 the three-person Smallpetitklein (SPK) team, a dance company lead by Tommy Small, had moved up from England to Scotland and were feeling a bit like the new kids. It was later that year that the AmbITion Scotland programme was launching, and digital still felt really new. The Smallpetitklein team wanted to get involved in the digital development project in order to figure out how to embrace digital and make it work for the company.
I spoke with Tommy in April 2018 in order to learn about his company's digital development story, which has unfolded over the past eight years.
ENGAGING ONLINE
Smallpetitklein was an associate participant in the first round of AmbITion Scotland (2010-2012). At first, they were looking for insight on using online tools for audience engagement and reaching more people. Previously they'd felt email communication was a bit formal and they wanted to open things up through new social channels or perhaps a new website.
Their participation opened up a period of digital growth for Smallpetitklein where they were able to take a series of small risks. Their initial instinct that their website needed a renovation was proven right. They were using an out-dated system which kept them from keeping their website up to date. Making a change helped build confidence and they began to act on more digital opportunities.
BACK OF HOUSE BUSINESS SYSTEMS
In the next phase they started working on back house stuff, tools to effectively share information like using Skype and Dropbox to collaborate using the cloud. Using these tools, the team were able to work efficiently from their base in Dundee with people anywhere. They started using digital conferencing to meet via Google Hangout with their Board. This was important to get regular informal support and input from people that could inform senior level decision-making. Tommy reports that tools like Facebook Messenger or WhatsApp have been brilliant for day-to-day contact with the board.
Working this way the team embraced learning through trial and experimentation, being willing to fail along the way. This approach and this confidence was lead by Tommy's participation as Clore Leadership Fellow in 2013-14 where he says one of the things they were interested in was the idea of resilience, the 'bouncebackability' to respond to changes in the market and changes in technology.
DIGITAL CREATIVE PRACTICE
In 2015, on the heels of his experience, after AmbITion Scotland and then Clore, Tommy was appointed at BBC Radio2's first Artist in Residence, working in partnership with The Space, to create new digital work. As a dancer and choreographer, one of the first questions was how would the work relate to radio, traditionally an audio-only channel. The natural answer was taking his creative practice online.
At the time, live social video – things like Facebook Live, Periscope – were brand new and Tommy was excited by their potential to reach new audiences. In his year with Radio2 he ended up producing four pieces of work and each was a brand new way of working for him, using video and online distribution. For example, the first, The Drive, was filmed with dancers inside a car driving around and captured using GoPros – the original idea to livestream was stymied when the team discovered that the 3G coverage at the performance site was too poor to support a live stream! This kind of practical learning needs a flexible approach, as working with new technology means both new possibilities and new limitations to learn from and plan for.
EMBEDDING
Twenty fifteen was also the year that Smallpetitklein wrapped up and Tommy began setting up the new company, Shaper/Caper. Tommy says that in many ways his run as Radio2's Artist in Residence and all that he learned about digital creative practice helped to launch the new company.
Digital "is a part of everything now". Tommy reports that funders see the digital by default way Shaper/Caper work as a particular strength of the company. Since its inception in 2015, they've worked on several projects that have built on the Radio2 experience. Cmd Shift – a Time To Shine digital project in Dundee and Aberdeen city and shire was a youth-lead project. The company partnered with a skate park which became the site for a sprawling production for over 200 young people. This lead to Pow Wow another project for young people to work creatively with technology and physical theatre. The model is working so well that a third iteration, Ctrl Shift is getting off the ground.
Digital "is a part of everything now".
Additionally, Shaper/Caper have an active presence on a range of social media channels – YouTube, Facebook, Twitter, Vimeo, Instagram and Snapchat. The team continue to collaborate, work and tour beyond their base in Dundee by making use of cloud-based systems which allow the small company to have a big impact. Shaper/Caper are currently working in partnership with YouthLink Scotland and National Library of Scotland to create a film developed and filmed by young people as part of the Youngwummin project. The film explores the role of women in the First World War and will be on display at National Library of Scotland throughout the summer.
The digital transformation that's taken place for Tommy Small and the Shaper/Caper team can be seen across all areas of the company – in their creative practice, business operations and audience engagement. It has built from a willingness to experiment, take risks and learn from experience. Success has come from the way the company grab on to what work for them and let go of what doesn't.
Main image credit: Image copyright Shaper/Caper used with permission
Search
Everything you need to know about Digital Transformation
Subscribe
The best articles, news and events direct to your inbox