I f you'd like to read this text in Finnish, please click here.
In 2014, HR4 realized it needed a digital learning and collaboration environment for its customer training programs. Today, many of the employees of this HR management consultancy company use REAL on a daily basis, and the platform keeps growing with the company. It provides multifaceted functions for organizational development and customer projects.
From software user to a strategic partner in three years
Established in 2005, HR4 has grown rapidly. Today, the company has more than 100 employees, and it offers HR management, research and business management consultancy services for a wide range of companies.
Since HR4 started using REAL, Senior Marketing Manager Sanna Eulenberger and Marketing Specialist Otto Salminen have been developing the platform in response to the changing needs of the growing organization and its customers.
"Initially, we adopted REAL for customer training programs," says Salminen. "We needed a digital learning environment where the students are not left to their own devices. Instead, we wanted our consultants to facilitate and guide learning. REAL was the platform that best met these requirements."
At HR4, REAL is known as HR4 Campus. The company's consultants use it in most of their customer training programs. The consultants typically provide part of the training on HR4 Campus, although some programs are completely virtual. For an expert organization in HR management, it is important to serve as an example of what digitalization at its best means in terms of providing training and increasing commitment among employees.
Recently, Eulenberger and Salminen have also been using REAL at customer events.
"We want our meeting with the customer to begin before the event and continue after it," says Salminen. "Most recently, we carried out an advance survey on HR4 Campus, with all of the participants responding. This helped us customize the event. During the event, we sent the participants a link to a live poll via SMS. After the event, we shared workshop materials and photos on the platform, and the participants had an opportunity to network."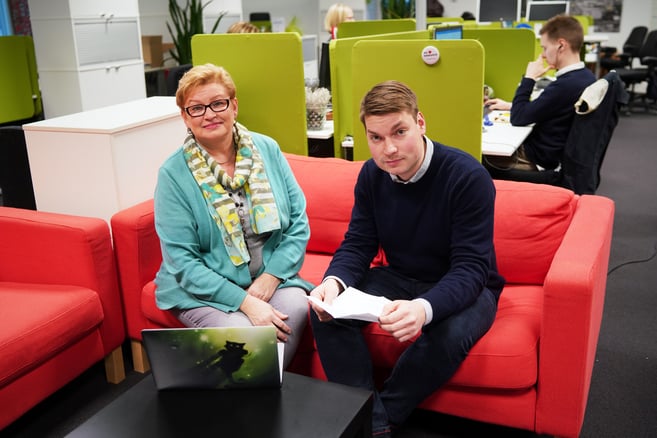 Eulenberger and Salminen are already planning the next customer event.
An important internal communication tool for a decentralized company
HR4 Campus has also become an important internal communication tool. It is used for training programs, induction training for new employees and extensive organizational development projects.
"HR is responsible for ensuring that the organization has the right type of competence in the right place at the right time," says Eulenberger. "In a way, it is the company's strategic nerve center. With the forms of work changing, we need digital tools for personnel management."
She explains, "Our company has nearly 120 employees, most of whom work in customers' locations. A digital interaction environment is a necessity, as we are operating in multiple locations. Through HR4 Campus, our employees across the entire country, including Oulu in the north, can participate in our Skills Academy training programs. REAL makes training and other operations more effective."
For recruitment and training programs, Eulenberger and Salminen have created new functionalities for REAL at workshops organized by Humap Software. These include live streaming, to name just one example.
Learning REAL through play and humor
"What do you think, Satu? Should we climb higher? Yes, we should be bold! Satu, be careful! It's slippery there on the top! Oh my, I fell! No worries. Let's climb together again."
Two Moomin characters are climbing to the top of a plastic Moominhouse, accompanied by Account Director Markku Hugg. The scene is from a motivational sales video that was uploaded to the company's internal workspace on HR4 Campus. The workspace has a wealth of other content as well, both informational and not-so-serious.
"On HR4 Campus, we encourage our employees and offer opportunities to participate," Eulenberger explains. "When we adopted REAL three years ago, everyone had to question and change their old ways of working. We held internal training events for our consultants to recognize that this tool really makes our jobs easier. Before giving it a try, people needed to understand how they could benefit from the platform. In addition to training programs, playful contests and the laid-back content on HR4 Campus have been successful ways to teach people how to use REAL."
HR4's employees and customers have quickly learned how to use REAL effectively.
"This platform is easy to understand and use," says Salminen. "It's particularly easy to learn for employees and customers who have used social media. It's easy for them to participate in chats, polls and discussions. The videos and images are also uploaded to HR4 Campus just as you would on social media," says Salminen.
Interested in improving your customer and employee experiences? Get started with a free trial.
Search
Everything you need to know about Digital Transformation
Subscribe
The best articles, news and events direct to your inbox