Get started Bring yourself up to speed with our introductory content.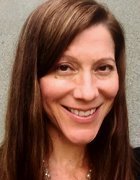 To win the war for talent, you need a great employee experience strategy that addresses culture, workspace and technology. Here are some essentials you need to get started.
"If I think about the language that I used as an HR professional, let's say 18 months ago," said Paul Davies, employee experience leader at General Electric, "the term persona, the term user experience, the term user interface, the term moments that matter, storyboards, journey maps — [these] were simply not in my vocabulary."
Davies focuses on creating a great employee experience at GE. It's a concept that some believe will be a requirement in the war for talent. In addition to being heavily influenced by design thinking, employee experience tends to borrow much from customer experience strategies. It also requires leaders to approach problems in what may be a new way, including collaborating across the organization.
To this point, Davies said that, every day, he now works across a number of departments — including IT — since the employee experience is "so influenced through the tools and technology that [employees] use to be productive in their jobs."
In HR technology terms, that means looking at tools, such as your talent management systems, the ease of employee-facing HR sites, mobile tools and software that enables feedback. But it also means scrutinizing all the other office systems and hardware, as well as whether physical spaces enable productivity and — especially critical — what effect your company culture is having. Indeed, designing the best employee experience strategy for your company means examining and being willing to improve everything that affects workers' jobs.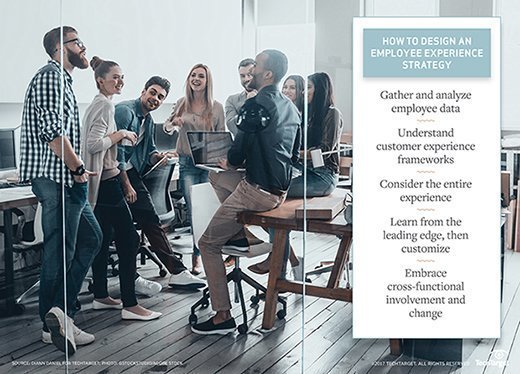 Just as you wouldn't expect that bringing flowers to a partner would solve major relationship problems, you can't expect that simply handing out superficial perks or new technology will solve systemic issues. To that end, here are a few ideas to help you begin designing a truly better employee experience.
1. Gather and analyze employee data
"Probably one of the most crucial elements in designing the employee experience is just knowing your people," said Jacob Morgan, a workplace futurist and author of the recent book The Employee Experience Advantage. For starters, there needs to be one-on-one conversations, but there also needs to be easy-to-use feedback tools.
Feedback software — some of which are known as pulse tools — includes products such as TINYPulse and Subcurrent, the latter of which supports running polls on the Slack collaboration platform. In addition, a number of ERP vendors are offering people analytics dashboards to help understand HR issues and can be considered in employee experience efforts.
Data analytics are critical to creating an employee experience strategy, Morgan said, whether a company builds its own technology or looks to vendors for tools. Morgan said that you may need to collect new data; however, first examine and understand the data you have already been collecting.
Samuel Stern, a principal analyst in Forrester's customer experience research practice (which also includes employee experience), recommends observing and welcoming employees' real work processes. Find out their adaptations from standard processes, and use those to design superior processes. "You have that ongoing set of data … [that can guide you on] what the right employee experience will be," he said.
Stern also recommends looking to the high performers and teams to see what's working today. These can provide clues to what could work on a broader scale, particularly when it comes to perceptions of meaning and purpose.
2. Understand customer experience frameworks
Stern said Forrester's definition of employee experience "very much mirrors our definition of customer experience." Indeed, Stern said he sees a lot of companies taking tools from the customer experience, design and user experience practices, such as observational research and journey mapping (a tool to help understand what a customer truly wants), and applying them to the employee experience. As companies are trying to figure out this new world of employee experience, they are using these methodologies to figure out the "complexities and interlocking pieces," he said. Employee perception is critical, since how employees feel about what happens determines how they'll respond. Journey mapping software tools, such as UX360 and Touchpoint Dashboard, are increasingly being used to digitally capture both customer and employee journeys, Stern said.
Determining high performers, as mentioned above, can also come from the customer experience arena. Stern said that one pathway to determining high performance is to look at teams or locations with superior customer experience scores, such as a high Net Promoter Score or customer satisfaction score, or teams or locations with superior business performance, better revenue, higher profitability or lower cost to serve. As for customer feedback platforms, Stern said that Medallia, Qualtrics and inMoment are a few of the vendors companies may want to research. These are also increasingly being used to collect feedback from employees.
Forrester's definition of employee experience 'very much mirrors our definition of customer experience.'

Samuel SternPrincipal analyst, Forrester
GE's Davies said that, when you start with the customer (i.e., employee) in mind and ask questions such as "What do you need to be successful as you come into our company?" you are apt to find out some things you didn't know. Moreover, walking in the shoes of your employees can yield some important information that can enable employees to do their "very best work," Davies said. To this end, GE has a team dedicated to observing how the different employee personas — in broad strokes, composite profiles — interact with colleagues, tools and technology. This information is used to articulate the needs, goals and pain points of the different types of employees. "From there, we create journey maps to ensure we create great experiences for our people."
In other words, think customization.Just as one person's Amazon page looks different from another, using a customized approach with employees is important. As an example, having the right learning management system is critical. GE uses BrilliantYou, which incorporates machine learning and analytics — among other features, such as sharing — to personalize learning experiences. With its smart features, BrilliantYou is intended to help meet learning challenges and provide better performance development.
3. Consider the entire experience
For GE, the highest level of employee experience is truly seen across the continuum — from the candidate experience all the way through to if an employee leaves the company. That even includes those who weren't hired.
Still, it's important to dive deep into milestones and pain points.
Stern said that such areas — the hiring journey, the onboarding journey and the new manager journey — can yield some important information. As an example, one company realized it was alienating new employees by not reaching out to them with information between when an offer was made and when they started. In another case, he said the company's onboarding system was so onerous that people were simply bypassing it.
GE's investigation of such milestones also yielded critical information. For example, Davies said the company discovered 40% of employees made the decision that GE is the place that they want to work during their face-to-face meeting on-site, insight gleaned both from surveys and outright asking. With that insight, the company can provide even more attention to this powerful milestone.
4. Learn from the leading edge, then customize
Davies advises becoming inquisitive and delving deep into the relevant new concepts to inform your employee experience strategy. "Go out and explore," he said. "That's what I did for the first 100 days." For example, Davies met with experts from Disney and Airbnb, as well as technology companies, startups, not-for-profit organizations and consulting firms. Davies took what he learned back to GE — with a twist. "I think understanding market practice and then making it relevant to your business is important."
Understanding market practice and then making it relevant to your business is important.

Paul DaviesEmployee experience leader, GE
Employee experience is a new theme, Morgan said, and creating the best employee experience for your company has to be a customized process. Companies will need to address the three environments he believes constitute employee experience — culture, technology and physical space — but the rest will be individual. "What Google does is going to be very different than what Apple or what Netflix does."
As a testament to this, Morgan pointed out that one of the big trends has been getting rid of annual performance reviews. A few years ago, Facebook went public with the news that it was keeping an annual review. It had collected the data and found that 87% of employees wanted to keep them. Morgan said that's a good example of an organization not changing just because other companies are doing it, but instead looking to its own employees. He said that companies spend a lot of time looking at these broad research reports and forget that they have an excellent source of information in the people who work at their own company.
Feedback necessary to inform an effective employee experience strategy can be collected in a plethora of ways, including from employee survey software and performance management software, to name just two.
5. Embrace cross-functional involvement and change
The CEO, HR, leadership at all levels, employees — they all matter in creating a company with productive, happy employees. As with any other important initiative, CEO support is critical.
Morgan said that companies such as Airbnb and other standouts in the employee experience space demonstrate this concretely. "The CEOs of those organizations make commitments to their people around investing in [employee] experience, and they make these in front of the whole world."
Concrete evidence of that commitment can also be found in empowered HR departments. A strategic HR department is critical to employee experience efforts since HR will be responsible for driving the employee experience initiatives, Morgan said. But then, there's a ripple effect. Everyone needs to get involved — including employees.
"Employees need to speak up," he said. This includes participating in data-gathering programs and providing feedback.
A great employee experience strategy and all the actions to realize and sustain its vision require getting comfortable with becoming more agile. Davies said that, with GE coming from a Six Sigma background, variation was historically not seen as a good thing. Now, the company is experimenting with "acting more like a startup, taking more risks, failing quickly, [and] iterating."
Diann Daniel asks:

What are the most important steps in creating your company's employee experience strategy?
Search
Everything you need to know about Digital Transformation
Subscribe
The best articles, news and events direct to your inbox