There's no one-size-fits-all solution to becoming AI-ready, but the building blocks for maximizing its value over the long term are already available.
In just a few short years, artificial intelligence went from abstract concept to real-world, practical application. Consumer awareness is at an all-time high, with in-home and mobile assistants increasingly commonplace. In the enterprise arena, research firm IDC predicts that in 2019 alone, worldwide spending on AI will reach $35.8 billion, and will climb to $79.2 billion by 2022. The impacts of those investments are staggering.
McKinsey that AI techniques have the potential to create between $3.5 to $5.8 trillion in value annually across nine business functions in 19 industries. That results in about 40% of the overall potential impact from analytical techniques. With AI's ability to turn data into actionable insight, automate manual tasks and improve experiences, its impact is far-reaching and utterly transformational.
We have not, however, seen it reach its fullest potential as the ability of companies to absorb the new technologies takes time. The McKinsey Global Institute "it may take to 2045 for full, worldwide diffusion of emerging smart automation and AI technologies in new use cases." Interestingly, only 4% of CIOs worldwide report they have AI projects in production, according to Gartner research. While it is setting a new standard in several industries like online advertising, financial services, retail and high tech, AI is still maturing in areas such as unified communications as a service (UCaaS) and contact center as a service (CCaaS). There is a gap between its understood benefits — automating meeting scheduling for UCaaS or agent support for CCaaS, for example — and organizations' ability to bring these functions to life. Businesses are still determining the optimal ways for AI to leverage and ultimately improve overarching communications experiences.
As every organization is unique, with its own technology stack, processes and procedures, there is no one-size-fits-all solution to becoming AI-ready. That said, the AI building blocks for maximizing its value over the long term are already available. Here are a few ways to get started:
Aggregate your data. All of it.
The amount of data created by businesses daily is staggering. Historically, humans have been tasked with combing through this information to glean the most important insights. With AI's advanced analytics, however, it can draw more meaningful correlations across larger data sets. Take a retailer, for example, which can leverage AI to map traffic patterns and high-value products to optimize a store front — as opposed to manually poring over the data.
But, AI cannot function as intended without a complete and unfettered view. For example, if you're engaging with a customer, and information gathered from their early interactions with sales teams is not accessible for customer service, that's critical context missing that could ultimately make for a better interaction. Purchase history, communication preferences, etc., all paint a single picture of this customer. Back in 2015, IBM made this point with their research highlighting that unstructured data or dark data accounts for 80% of all data generated today. Most of that data is dark: We cannot make sense of it. It is noisy or in formats that cannot be read by traditional systems. Furthermore, they state that dark data is expected to grow to over 93% by 2020.
In preparation for further maturity of AI, data needs to be treated as a single, shared resource across the business. That pool of knowledge not only fuels AI, but analytics solutions that you may already have in place. For communications, customers don't just call the contact center. They talk to and text with your inside and field sales reps, customer service agents, technical support engineers and chat online. To get useful insights about that customer, the data from all those interactions should be included. Not doing so limits your ability to accurately personalize the experience, identify new opportunities or effectively listen to the voice of the customer.
Think experience first
From an employee and customer experience standpoint, AI has the potential to solve many traditional problems. Consider the frequent flyer: Every country visited requires a call to the credit card company to prevent a bank freeze, and forgetting to do so can be consequential. Today, it's the same hassle at each turn. AI, however, can proactively identify pattern behavior and adjust the experience accordingly. If you're consistently likely to need a travel notification, AI can automate the experience and make it seamless.
In the interim, embracing an experience-first mindset can help ensure a similar level of service. How can you leverage your current resources to identify opportunities to improve customer experience (CX) and employee experience (EX) and set the foundation for AI? Context here is vital. Whether it be employees or customers, understanding their preferences and behaviors is a powerful way to be proactive, and deliver upon their increasingly high expectations.
Keep regulation top of mind as part of data readiness
One of the most consequential pieces of regulation of 2018 was the implementation of General Data Protection Regulation (GDPR). Under which, businesses that collect the personal data of EU citizens must build a few safeguards to prevent the abuse of data and communicate in clear terms the purpose of data collection. Furthermore, similar legislation was passed in California last year, and is set to go into effect in 2020. Global lawmakers and citizens alike are coming to understand just how powerful data, and by extension, artificial intelligence, is.
Given the sheer magnitude of how AI will shape the future of business, there's a meaningful likelihood that AI will be further regulated. When building an AI strategy, getting ahead of regulation means prioritizing transparency. Being overly communicative of how you're leveraging AI to deliver value to employees and customers is an important first step.
Artificial intelligence is upending how organizations operate from the top down. From the contact center to collaboration, it will fundamentally change the way we think about the way businesses and individuals interact. Getting access to all the data, having a way to store and easily access it, applying the right expertise to transform it and being able to present it are all important components to inform how you approach it today. Even though much about AI is hype, businesses need to look for every opportunity to get experience and be part of the AI revolution.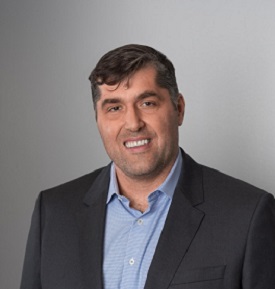 Dejan Deklich is 8×8's chief product officer, responsible for the company's global infrastructure, product vision and roadmap. His extensive experience in technology evaluation has made him an enthusiastic driver of corporate and product strategy for computational platforms and large-scale systems from both a technical and a business perspective. Prior to 8×8, Deklich served as the vice president of Platform and Cloud at Splunk, where he oversaw engineering for the core Splunk Enterprise product as well as the company's next-generation architecture effort. He also served as the chief technology officer of Merced Systems, which was acquired by NICE Systems in 2011, and the chief technology officer of Attributor, acquired by DigiMarc. In addition, he has held positions at Yahoo! and IBM.
The InformationWeek community brings together IT practitioners and industry experts with IT advice, education, and opinions. We strive to highlight technology executives and subject matter experts and use their knowledge and experiences to help our audience of IT … View Full Bio
We welcome your comments on this topic on our social media channels, or [contact us directly] with questions about the site.
Search
Everything you need to know about Digital Transformation
Subscribe
The best articles, news and events direct to your inbox
Read more articles tagged: