You might have heard of Blockchain in the area of Bitcoin and security, as it is developed specifically for this purpose in 2008. However, later we saw it approaching towards various industrial segments including marketing automation. Although the relationship is in its infancy, several experts foresaw the potential for a revolution.
Blockchain and its technology are resonating across multiple industries. You might have heard its mention concerning Bitcoin since Blockchain was evolved to assist it, but nobody was aware that it would emerge in marketing automation until there was a potential breakthrough. Overall, the Blockchain is persistently growing and spreading across significant industries.
Here, we would like to take you through some of the significant developments we can expect from the Blockchain and marketing automation's budding relationship.
Impact of Blockchain on the Marketing Automation Industry
Due to the rapid growth of Blockchain, it is not yet feasible to see all the ways that it might slam marketing automation. The following are just a few means that can be predicted at this time.
Data Access and Security
Blockchain technology is way more secure because of its decentralized way of storing the data. Therefore, the question is – how can marketers access? Marketers will be led towards the course of the precise data of the right audience while it takes the clients towards the direction of relevant content based on the available data. Thus, it ensures that you run your campaigns to gain the attention of curious buyers only. Besides, this technology can segment the user's data to some extent on its own and thereby lessens the burden of marketers.
It is pretty straightforward that blockchain technology will impact the performance of the marketing automation industry. But at the same time, we can't predict how far this growth might go. Blockchain technology needs much more time to adapt to this industry.
Improved Campaign Performance
Blockchain will help to manage by providing higher transparency about the customers to any business. Every employee or team member will have access to the same data about clients, and they can share it easily across various units. Thereby, firms can offer suitable ads to the audience as each department would have precise and up-to-date data about customer's likes and their stage in the buying journey.
Robert Duke, Marketing Manager at Blue Mail Media, says, " Some businesses don't realize they are relying on wrong data most of the time. In this new age, having an accurate database is notably effective. Also, making those data open to all the staff across the department has become today's need. The Blockchain is the easiest way to make that happen. "
The users would less likely be annoyed as it assures that ads are never over-served. This level of tracking and transparency by blockchain technology will help to improve the performance of the brand overall.
Increased Accuracy
The marketers have to spend enormous effort to keep a sealed and valid dataset because of many issues such as legacy modes, various databases, several stakeholders, and more. Business can view blockchain as the best key to solve these issue as it comes with real-time updated single customer view. This technology acts as an ideal bridge for the succeeding stage of the marketing automation industry.
It not only lessens the error rate but also favours accuracy. Besides, it allows error-free targeting, perfect segmenting, higher engagement, and makes it usable across many channels.
Identifying Advertisement Frauds
Marketers must be aware of the hurdles online, mainly the crooked actions leaking advertising funds. These advertising frauds have become one of the most vital issues currently disturbing the marketing industry. Some marketing giants have begun to reduce their funds in this area because of it. According to research released by Google, people do not see 56.1% of ads online. This figure makes us clear how most of our marketing efforts are going in vain.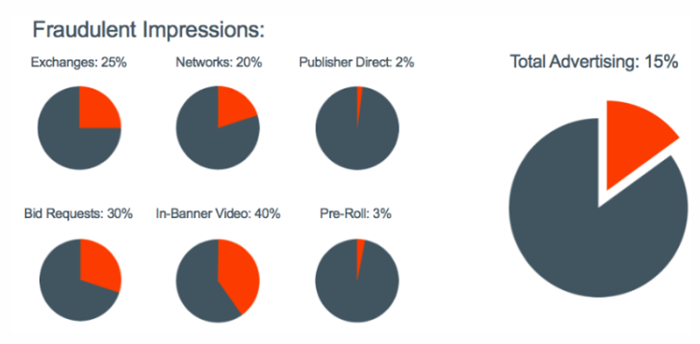 Image Source: Integral Ad Science
But, why is this happening?
There are a few reasons for it. It covers a lack of precise data, data misuse, false or lack of power over ads such as when, where, and how the users see it. Even the giant conglomerates are losing their income because of this problem. For your surprise, the right implementation of blockchain can help the firms in this state.
This technology gives required transparency about data. Marketers will have a higher charge over ad delivery through better monitoring (the placement of ads), leading to better engagement, and ROI. It will also test ads and data, giving space back to real firms.
Building Public Trust
Blockchain can certainly help companies to re-establish their trust in the advertisement. Besides, it can also help brands create a warm kinship with their clients. That is, with this technology, firms are liable for its word. It allows the public to see through the authenticity of the product and then helps the firms to work towards the bonds in the next step. By this way, you can create a positive vision around the business actions, and connect better with your target audience.
In this age of big data, blockchain will help you in this area by managing user's consent, and keeping the data secure. So, the firms can always be 100% sure that it uses clients' data with their approval. By this way, you can make sure that you follow GDPR data privacy law in your niche market.
Isn't it a real gain?
Now, we know blockchain brings more transparency, which many patrons were asking for a long time. With better control and monitoring over the valuable data, both the clients as well as firms can get many benefits from this technology.
While this technology is here to refine the marketing automation industry by leap and bounds, there is no way to imagine how afar the enhancement will go. In the meanwhile, it is strongly recommended to keep up with the ongoing constructive strategies and start drafting the plans to adopt this trend when it takes over the marketing automation industry.
Be alert and be prepared when you need to be.
Search
Everything you need to know about Digital Transformation
Subscribe
The best articles, news and events direct to your inbox
Read more articles tagged: