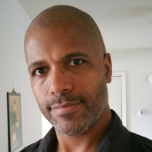 Unveiling of the new TCS Pace Port at the Tata Innovation Center reveals plan to work with academics and startups to find new hires and help industries evolve.
School is not quite out for everyone this season. The start of summer kicked off a program that blends the problem-solving minds of academics with the resources of a player in digital transformation. Last week the team at Tata Consultancy Services took the wraps off its second TCS Pace Port, located on the Cornell Tech campus on Roosevelt Island in New York.
TCS is the IT services and consulting subsidiary of the Tata Group. Its TCS Pace Ports are hubs where the company explores novel ways to address its clients' needs in research and digital transformation. Executive leadership from TCS joined Cornell Tech administrators to formally launch the latest of these hubs, based at the Tata Innovation Center on the Cornell Tech campus. The first TCS Pace Port was established in Tokyo.
Cornell Tech, a joint venture between Cornell University and Technion – Israel Institute of Technology, is a graduate school for technology, business, law, and design intended to nurture the development and training of engineers and entrepreneurs. In short, New York wants the school to become a source of homegrown technology developers. Part of the campus remains under construction, but the Tata Innovation Center already has the lights on. The center will house established, growing, and startup companies that develop new ideas as well as include academic space.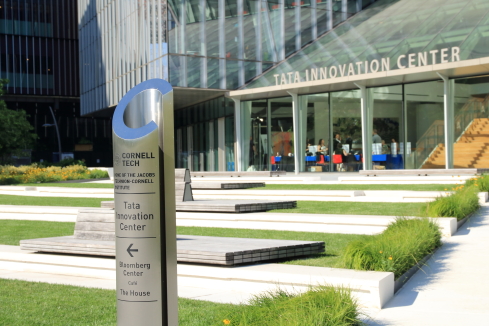 This is not the first time Tata has teamed with a technology-oriented, academic institution. The MIT Tata Center for technology and design, founded in 2012, is backed by philanthropic group Tata Trusts but is not a TCS Pace Port site.
At the unveiling event on Roosevelt Island, TCS showed off some of the early projects in digital transformation it has underway at the center to serve its customers. Some of the innovations were developed in conjunction with the local startup community and grad students. Teams demoed some of the digital transformation technology and services in the works. For example, Rolly Sitani, digital commerce consultant with TCS, said the work being done at the center can help retailers move into a machine-first world of automation by extracting data that can be leveraged by businesses.
She spoke directly with InformationWeek about how the relationship with Cornell Tech and startups fit with TCS's digital transformation services. The abundance of data now in the hands of many retailers, she said, includes text, voice, and video that can be used to unlock new possibilities. "What we need to do is infuse this data into the business process," Sitani said. This includes merchandising, store operations, checkout, and personalization for customers.
While TCS has its own research teams, she said collaboration with research institutions is critical. "A lot of cutting-edge innovation happens here, and we have to be part of this ecosystem," Sitani said. The first projects were brief academic projects but TCS wants to do deeper research work at the center. "When an industry gets disrupted, there is such tremendous potential for innovation," she said. "That's why we're here."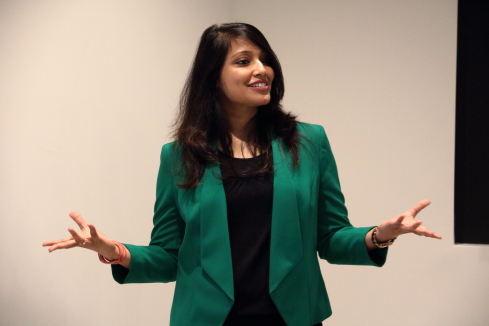 This also opens up recruitment potential for TCS, which gets the chance to work firsthand on digital transformation projects with grad students who could be prospective hires. Sitani expects long-term research efforts to be conducted at the TCS Pace Port that combine a variety of disciplines and perspectives. "We are looking at a lot of startups in the city who could come here," she said. "We want to jointly build solutions, take them to market, and help retailers transform their industry."
Ryan Metz, senior data scientist and machine learning engineer with TCS gave a glimpse of what the company believes will be the future of retail. Intraday sales predications, he said, could be used to keep store managers apprised of whether they are likely to hit sales targets. "We track stores in real-time and our AI engine makes projections about where they will end up on the day," Metz said.
This includes alerts sent to managers about issues inside the store or external factors such as inclement weather that might affect daily sales. TCS developed in partnership with the Indian Statistical Institute a platform called Recognize, which uses a recurrent convolutional neural network to recognize when items are missing from shelves or out of order, he said. "Management will know immediately when to send someone to replenish the aisle."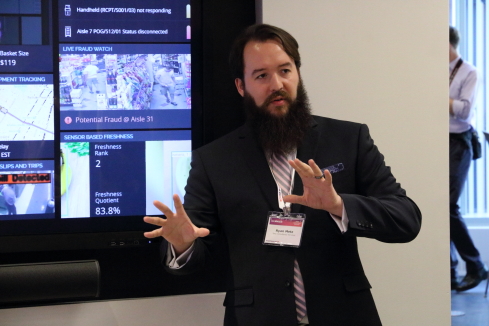 Metz also presented an app called Fresher, which was developed by a team of Cornell Tech students. "It uses image recognition through a convolutional neural network as well as information about packaging to detect how fresh fruit and other perishables are," he said. That can be used by retailers to better position produce for sale and reduce shrinkage due to spoilage.
The TCS Pace Port at Cornell Tech is being positioned to serve other industries such as travel that want to be more responsive and competitive through digital transformation. Sitani said the center can help retailers make greater strides in understanding customers who increasingly want more personalization that is not intrusive. "Today, consumers are looking at YouTube influences and Instagram, leaving bread crumbs of data everywhere," she said. "It's so important that we get that narrative of 'what does my customer want?"
Joao-Pierre S. Ruth has spent his career immersed in business and technology journalism first covering local industries in New Jersey, later as the New York editor for Xconomy delving into the city's tech startup community, and then as a freelancer for such outlets as … View Full Bio
We welcome your comments on this topic on our social media channels, or [contact us directly] with questions about the site.
Search
Everything you need to know about Digital Transformation
Subscribe
The best articles, news and events direct to your inbox
Read more articles tagged: