Ranking highly on different search engines is vital for your new business, yet it can be difficult to determine how you can make it easier for your potential customers to find you online. Knowing the basics of Search Engine Optimisation (SEO) can be a huge help, so taking a look at keyword research and content optimisation are two great places to start with your SEO strategy.
Keyword research
One of the most important things you should include in your SEO strategy is keyword research. This is a chance to do some easy market research that can help you promote your existing products as well as developing new ones. By using tools such as the Google AdWords' Keyword Planner, you can discover search volumes for the products you offer, who your competitors are and the demographics of those who search for products like yours.
Using the keyword research tool of your choice, first search for your own URL as well as those of your competitors or other relevant companies. This will provide you with a list of relevant keywords. Alongside the keywords themselves, you'll also find metrics like search volumes and forecasts for the future use of these keywords. You should collect relevant keywords as well as some of the metrics associated with them into a document for future use.
After you've identified your keywords, search volume seasonality, competition and how valuable each keyword is, you'll want to determine what the potential opportunity is for your keywords. While there's many steps in the manual process, here's a couple of the key ones:
Categorisation
Keyword research can be a slow and manually intensive process. Of the many steps involved categorising is one of the most important phases. This will help you at a later stage when it comes to prioritising which categories and pages you want to optimise first.
You should review each keyword you have and categorise it accordingly to reflect your site map. Don't have a site map? Use the categorisation phase to inform your sitemap. Once you have your broader categories (for example: magazines, gifts and homeware), you can then categorise them further into subsections (such as subscriptions, seasonal gifts and food and drink).
Mapping
Following this, you'll want to manually map a keyword to an existing page on your site and then optimise each page accordingly. This process highlights potential opportunities, not just at a category level, but also at a URL level. It can also flag up any gaps you might have; if there's not an existing page which would be appropriate for a keyword, you should create one.
Other data you might want to consider incorporating into your keyword document includes:
● Current click-through rate (CTR)
● Current rank
● Current ranking page
With around 2 trillion searches a year and 16% of these searches a day completely new and unique, it's good practice to continuously update your keywords research document for the best results.
Content Optimisation
One of the best ways you can use your keyword research is to optimise your website content.
You should use popular keywords in your niche prominently in your onsite content, especially in your URL, page titles, meta descriptions and H1 tags. When it comes to using keywords in onsite copy, it's important to remember to avoid repeating the same keywords too many times. Instead, you should use different variations to catch a wider audience and to make sure your text flows naturally.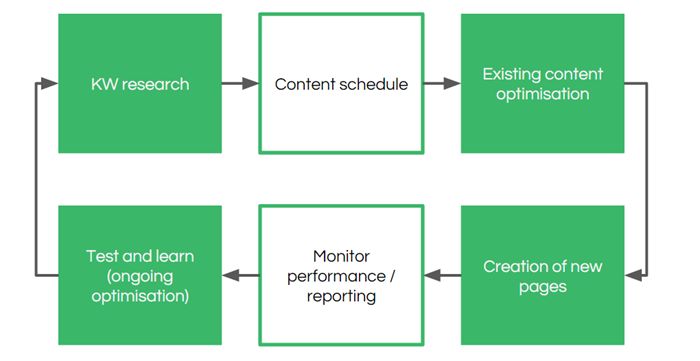 You should also make a schedule for optimising pages on your website and creating new content. When creating this schedule, focus first on your most important product pages and categories, as well as pages with the most potential – your keyword research can help you identify these opportunities. If you're outsourcing the creation of a content schedule, an agency or freelancer will determine how many pages they can realistically research, edit and publish on a monthly basis.
Remember, when it comes to writing your content, there needs to be a balance between SEO and usability. In other words, you're writing for humans, not search engines. With this in mind, don't overuse the keywords within your copy – this is considered 'keyword stuffing'. While it's unavoidable for some keywords, try and use variations or semantic keywords as this will build a more natural page and attract long-tail traffic.
While algorithms and the online environment change almost daily, following existing best practices and applying core principles behind search engines, will help mitigate the need to make substantial changes to your re-written pages in the future.
As a general rule, your most prominent keyword(s) should be used in:
Body copy – generally as close to the top of the copy as possible and where required naturally in the rest of the copy.
For your body copy, keep in mind that your audience will most likely skim-read your first paragraph for relevance. Therefore, it's a good idea to use primary keywords at this point to give an indication of what the page is exactly about. Unnatural and forced sounding pages won't only make your readers lose attention quickly, but Google will also detect that the page might be trying to artificially manipulate search results.
Instead, break up content into digestible snippets and highlight key areas using subheadings with H2 tags, bullet points and lists, or bold and italic styling so users can navigate to their search query quickly.
The world of SEO is a complex one, and it doesn't help that it's constantly evolving. However, knowing these basics is a great start.
Search
Everything you need to know about Digital Transformation
Subscribe
The best articles, news and events direct to your inbox
Read more articles tagged: