Forrester in its recent research grouped the upcoming technology trends in three for the CIOs to focus their attention while drafting their roadmap and deliverables for 2018. Dawning: The technologies or trend which are in a growth phase and organizations…
Forrester in its recent research grouped the upcoming technology trends in three for the CIOs to focus their attention while drafting their roadmap and deliverables for 2018.
Dawning: The technologies or trend which are in a growth phase and organizations are experimenting with them to understand the scope and implementation process along with the benefits and challenges as part of the process.
Awareness: This includes the trends/technologies against which organizations have benchmarked ROI and tangible benefits, by reducing cost, improving customer acquisitions and engagements and optimizing workforce.
Acceptance: The technology or trend that have matured and been accepted by the industry as a core part of their technological setup and are set out to make a change in the culture to ensure a 360-degree implementation.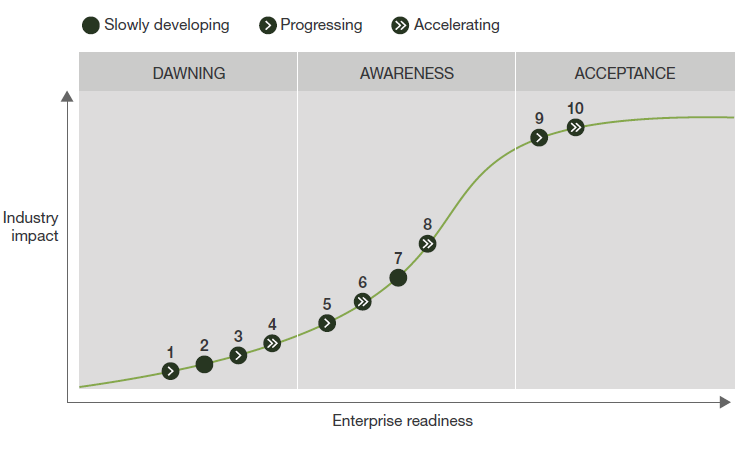 The internet of things (IoT) and computing on edge: As IoT leaders push boundaries and expand the IoT ecosystems, technologies like Edge servers, cloudlets, intelligent gateways, fog fabric nodes, stream data management and analytics,internet of things (IoT) analytics platforms-as-a-service will see accelerated growth. The industry will use edge computing more to build distributed applications that close the gap between data, insight, and action and lead to an actionable and measurable approach towards technology and organization's goal outcome. However, the transition of computing from data centers and cloud to the edge is still in the dawning phase. As the organization and industry move to IoT and computing at the edge evolves, it will eliminate centralized and linear technology models and distributed analytics architecture will become key to manage the ever-expanding IoT ecosystem.
Distributed trust systems vs. centralized authorities: Blockchain has already witnessed global acceptance, and 2018 will see applications of blockchain outgrow cryptocurrencies to attack any market with valuable assets. The debate and the contingency around distributed trust systems will start to disappear, and more emphasis will be placed on improving the technology, compliance and governance aspects. Technologies like Blockchain and distributed trust ledger, platforms like Ethereum, Hyperledger, R3 Corda, and Ripple will play a critical role in forming a commercialized and sustainable distributed ecosystem.
Automated security intelligence: Last five years have seen an unmatched disruption in the technology space, owing to automation, the late adopters being risk and security domains. However, with the distributed ecosystem and IoT, organizations need to adopt soon and leverage the benefits of automation. The industry is witnessing early-stage automated breach detection and response system being implemented. Security automation and orchestration (SAO) holds potential to transform the Security and Risk role, by eliminating the repetitive, manual tasks. The technologies like Security automation and orchestration, digital risk threat intelligence, security analytics and user behavior analytics will gain prominence in the security and risk domain. The CTO/CISO should work towards developing mature security processes and develop a robust risk intelligence collection strategy.
Digital employee experience(EX): A positive employee experience leads to better productivity, better customer experience and in turn better profitability. Enabling the workforce with the right digital tools and better EX ecosystem will help them develop superior skills, share knowledge and have a seamless corporate experience. Next-Gen technologies that have seen the light of the day in Customer experience (CX) domain will witness adoption in the EX space as well. Technologies like Artificial intelligence, IoT and sensors, machine learning and microservices integration will lead to the development of Employee systems of engagement and insights, employee onboarding platforms, personalized recommendation engines, virtual agents and knowledge engines to deliver a desirable digital EX.
AI Software: AI technologies like Digital Insights, Deep learning, Predictive analytics, Advance analytics Natural Language processing saw an accelerated growth and implementation in 2017. Organizations are now looking at extracting measurable value out of the investment in the infrastructure made. The amalgamation of big data, AI, and the cloud lead to an unmatched disruption, and the layer of multimodal machine learning, transfer learning, emotion recognition, speech analytics, natural language, generation, gesture analytics and deep learning will aid the expansion by making the ecosystem self-evolving and self-learning. Organizations need to develop their AI strategy by, building their team's AI vocabulary, vigorously adopting cloud for AI, implementing real-time architecture and extracting and democratizing data by creating data lakes and knowledge engines.
Digital employees enter the white-collar workforce: As per forester's, report 'The Future Of Jobs, 2027: Working Side By Side With Robots', automation will substitute some jobs and create others, with a net loss of 9.8 million US jobs by 2027 – while altering at least 25% of the remaining jobs. The future will witness Humans working alongside software robots, and organizations will have workforces that is part robot and part human. Robotic process automation (RPA), Cognitive intelligence, chatbots, intelligent agents, predictive analytics and machine learning, will automate a significant part of current white collar workforce. The HR leaders need to have a robust automation strategy, team, and road map which will complement their workforce.
Insights-as-a-service: While 2017 saw a massive adoption of data-as-a-service, 2018 will witness an expansion in insight-as-a-service market. CIOs are already implementing strategies involving data lakes and the public cloud, but the concept of Data democracy (seamless sharing of right kind of data between process, organizations, and industries), and Dataops will gain momentum to transform centralized analytics organizations to distributed centers of excellence.
Immersive customer experience: An immersive experience is the need of the day and mandate from the current millennials generation. With the emergence of IoT, AI, Virtual and Augmented reality, physical and virtual worlds are intertwining to create, what is popularly known as the 'phygital' world. Organizations are intelligently connecting people, places, and objects to data, creating more personalized cross-channel CX. Organizations need to evaluate the readiness of their current technology ecosystem to deliver an immersive and seamless CX and design holistic experiences that fuse human, digital, physical, and virtual elements.
Contextual and data privacy: A Forrester's research specifies that 36% of US consumers are Data-Savvy Digitals, willing to share their personal data with businesses that they trust will protect it.37 On the contrary, 65% of US online adults are concerned that their data could be recorded, accessed and misused. Data security and privacy is a critical concern by consumers and calling for a more transparent in data collection and use practices. Organizations need to look beyond risk reduction and compliance and employ contextual privacy to drive retention and loyalty. Organizations need to shift to data-centric model and build Zero Trust architecture. Personal data lockers, Identity and access management (IDAM), privacy management, data access governance, consent and data rights management, personal identity and data management (PIDM) will play a critical role in defining the domain around data privacy.
Public cloud accelerates business innovation: Public cloud offers agility, flexibility, and vigor to manage different applications and massive data. AWS, Google, IBM, Microsoft, and Salesforce lead the list of public cloud platforms, providing computing, storage, data, analytics, and machine learning capacity to organizations and other technology firms. Public cloud infrastructure, modern app platforms, containers and container management, Lambda and Spark are few technologies that will fuel the growth of public cloud. New applications are built faster in the public cloud, where they can scale, reach customers, and connect to other apps. Organizations need to create the roadmap for migration of on-premises systems of record to new software-as-a-service (SaaS) and modern app versions in the cloud.
The trends that we see today are just the tip of the iceberg. The future holds an unparalleled disruption in the technology landscape which will transform the way we exist, work and interact today. 2018 is going to be an interesting year to look forward to, with new technologies emerging, other maturing and few waning.
Search
Everything you need to know about Digital Transformation
Subscribe
The best articles, news and events direct to your inbox
Read more articles tagged: