A new year is the perfect chance to review your marketing campaigns and put in place new tests to optimise them for the forthcoming year. To help you on your way, here are some simple AB tests to try. We've run these with our clients and all had a significant impact on results.
Life is full of choices. Especially at this time of year.
Wine or champagne? (Champagne obviously).
Latest fad diet or new exercise class.
Ant or Dec.
Whatever floats your boat.
As marketers, we shouldn't be presumptuous about what our customers might like, particularly when it comes to referral marketing. As the saying goes "one man's meat is another man's poison". Thank goodness then for AB testing.
Our referral platform enables AB testing of all elements of a refer-a-friend campaign. Often, something that works well for one brand, can have the reverse result for another. So it pays to plan out a series of tests to establish what resonates best with your customers.
Our platform has delivered hundreds of AB tests for our clients over the past few years. Although these aim to deliver an increase in the number of referrals, they can also have an impact on a number of marketing metrics, including brand share rate and AOV. (in fact, we've recently updated our dashboard so that clients can set the objective for each AB test they run).
To kick 2018 off on a positive note, we thought we'd share a selection of successful AB tests that our clients have experimented with last year. They could prove food for thought.
Incentive tests
1. DISCOUNT TYPE
A common test among our clients is to test a % discount vs fixed value discount.
At first glance it seems a simple test, but more than twice as many new customers were generated from the % compared to the $ off. Plus a % discount can often increase the AOV. In this case the AOV was 46% higher.
Indeed we have run tests for clients, where a fixed discount generated more new customers than a % discount, but the % discount significantly outperformed the fixed discount in terms of driving AOV.
Knowing what you want to achieve from your experiments is crucial in defining success.
2. DISCOUNT LEVEL
If a percentage discount works better for your brand, then the next test might be to see what level of discounting performs better.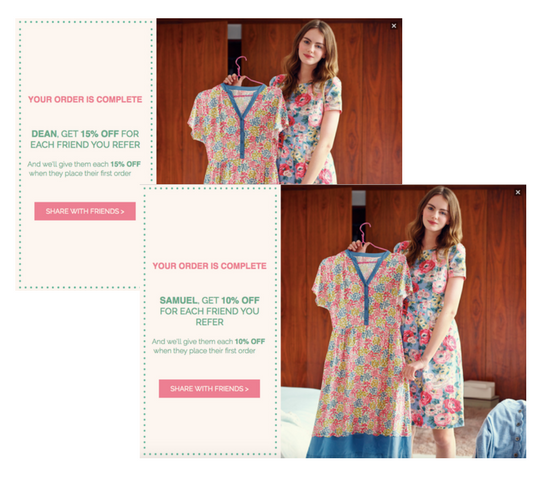 In this experiment the 15% offer drove 47% more new customers. Whilst this might seem an obvious conclusion, it can depend on the level of discount offered. In research we recently undertook, some customers suggested that too high a % discount was viewed with suspicion as it was likely to require a high spend value.
In some brands referral performs so well that they can look to optimise the margin by decreasing the amount they give away to measure the impact on referral. Our client Bloom & Wild did this to great effect.
3. FREE GIFT
Referral doesn't have to involve discounting. In this test, cosmetics brand Benefit tested different free gifts as rewards.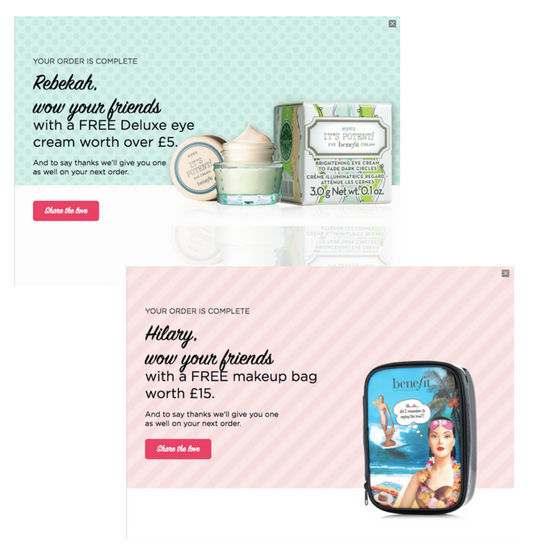 In this test, although far more customers shared the eye cream offer with friends, over twice as many friends went on to become customers by redeeming the make-up bag offer. So the offer that appeals to your existing customers may differ from that which appeals to prospective customers.
Copy Tests
4. REFERRER VS REFEREE LEAD
Are your customer the generous kind, who like to share something special for their friends? Or are they more likely to be driven by an incentive for themselves?
This is a popular test with many of our clients.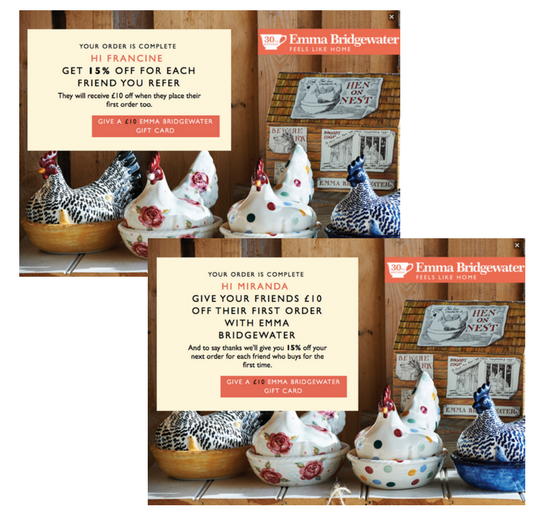 In this case, leading with the reward for the friend resulted in more customers being inclined to share the offer.
Customers are often more comfortable to recommend something if they are seen as being generous to their friends. We talk about this concept of social capital in our blog post on The Psychology of Referral.
5. CONCISE COPY
Another great test is the amount of copy used in the referral message. In this case the client undertook a test where one version had the share message pre-filled and the other was left to the customer to complete.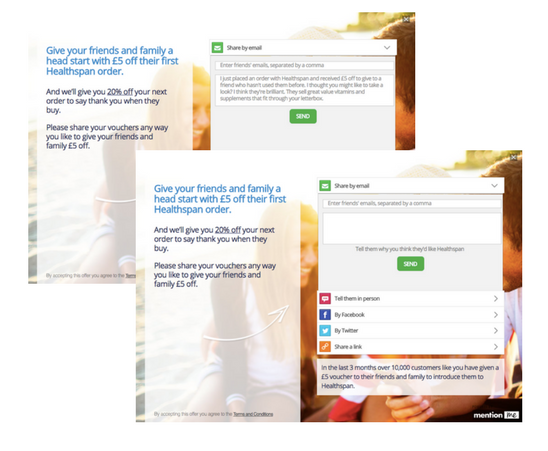 Does giving the customer flexibility to write their own referral message improve results? Actually no. The version with the pre-filled text generated a third more shares. And in fact, across all clients, we have found that whilst customers can always change the content of the message, over 90% do not bother.
However, whilst the blank field drove less shares, it did give the brand some useful insight on what their customers really thought of them.
Image tests
6. NO IMAGE
Whilst most of our fashion clients use impactful images which appeal to their customers, there are some categories where product images aren't necessarily so eye catching. In this example a health brand tested a background image with a text only share message.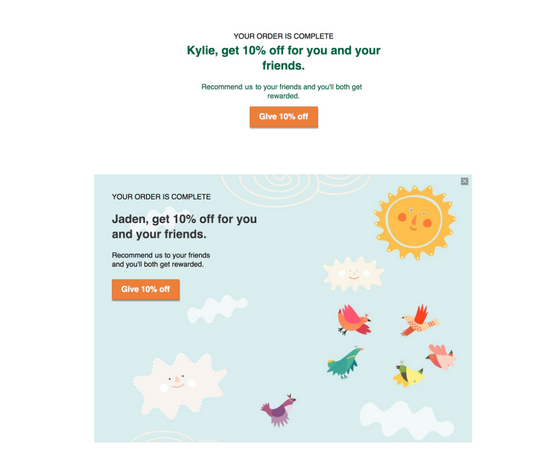 Surprisingly, the text only message outperformed the images based message, driving more customers to share the brand and in turn, more friends to become customers.
Share Options
Whilst the focus for referral marketing is often on the incentive. Sometimes small tweaks to layout can make a bit impact. In particular, the sharing messages and how they are presented. Seemingly small things, but often impactful.
7. NUMBER OF SHARE OPTIONS
In this test, the first group were presented with 4 different ways to share the offer. The second group had a stripped down version with just email and share by name options. Proving the theory that sometimes less is more, the version with less share options resulted in more customers sharing the offer, and 20% more introduced friends becoming a customer.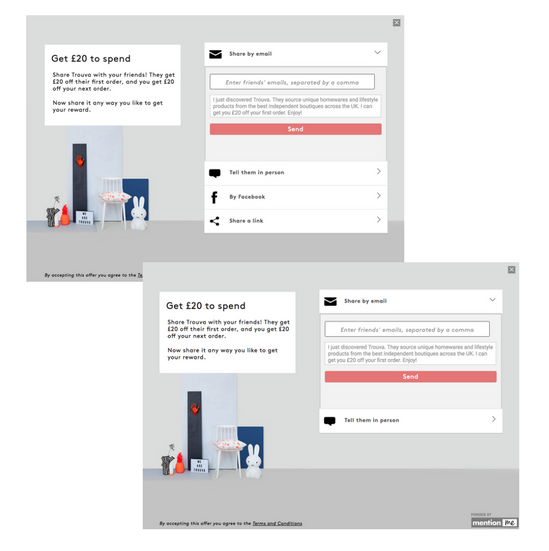 8. LAYOUT OF SHARE OPTIONS
Client Biscuiteers have continued to optimise their programme by running numerous tests. One test this year was the layout of the share options – testing vertical compared to horizontal layouts.
Despite being a small change, the vertical share options drove 18% higher customer acquisition than the horizontal version.
So there you have it. 8 simple tests which delivered significant improvements. If your referral offers were stuck in a rut in 2017, maybe these experiments will inspire you to build a testing strategy and identify exactly what resonates with your customers.
You might have a few surprises. Maybe your customers are more Cava and less Champagne. Heaven forbid!
Search
Everything you need to know about Digital Transformation
Subscribe
The best articles, news and events direct to your inbox
Read more articles tagged: