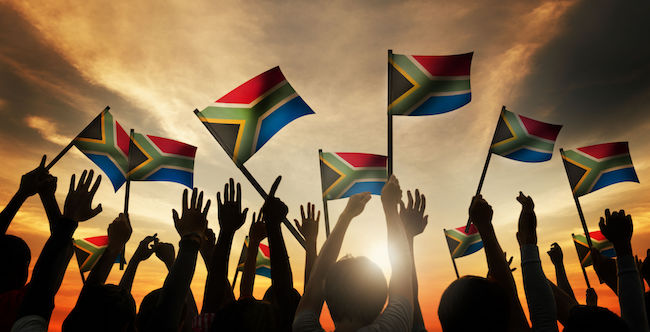 Today, I am excited to announce our plans to open a new AWS Region in South Africa! AWS is committed to South Africa's transformation. The AWS Africa (Cape Town) Region is another milestone of our growth and part of our long-term investment in and commitment to the country. It is our first Region in Africa, and we're shooting to have it ready in the first half of 2020.
The new AWS Africa (Cape Town) Region will have three Availability Zones and provide lower latency to end users across Sub-Saharan Africa. AWS customers will also be able to store their data in South Africa with the assurance that their content won't move unless they move it. Those looking to comply with the upcoming Protection of Personal Information Act (POPIA) will have access to secure infrastructure that meets the most rigorous international compliance standards.
This news marks the 23rd AWS Region that we have announced globally. We already have 55 Availability Zones across 19 infrastructure regions that customers can use today. Another four AWS Regions (and 12 Availability Zones) in Bahrain, Hong Kong SAR, Sweden, and a second AWS GovCloud (US) Region are expected to come online in the coming months. Despite this rapid growth, we have no plans to slow down or stop there. We are actively working to open additional Regions in the locations where our customers need them most.
We have a long history in South Africa. AWS has been an active member of the local technology community since 2004. In December of that year, we opened the Amazon Development Center in Cape Town. That's where we built many pioneering networking technologies, our next-generation software for customer support, and the technology behind our compute service, Amazon EC2.
In 2015, we expanded our presence in the country, opening an AWS office in Johannesburg. Since then, we have seen an acceleration in AWS adoption. In 2017, we brought the Amazon Global Network to Africa, through AWS Direct Connect. Earlier this year, we launched infrastructure on the African continent by introducing Amazon CloudFront to South Africa, with two new edge locations in Johannesburg and Cape Town.
Because of our expansion, we now count a number of well-known South African enterprises as customers such as Absa, Discovery, Investec, MedScheme, MiX Telematics, MMI Holdings Limited, Old Mutual, Pick n Pay, Standard Bank, and Travelstart. We also work with some of Africa's fastest growing startups such as Aerobotics, Apex Innovations, Asoriba, Custos Media, EMS Invirotel, Entersekt, HealthQ, JUMO, Luno, Mukuru, PayGate, Parcel Ninja, Simfy Africa, Zapper, Zanibal, and Zoona.
Innovative organizations in the South African public sector are using AWS to help change lives across the continent, such as Hyrax Biosciences. Hyrax has developed an AWS based technology called Exatype, which rapidly and accurately tests HIV drug resistance. Traditionally, it cost $300 to $500 to do a single resistance test. With the AWS based system, Exatype can do this at a fraction of the cost.
Many of our startup customers in Africa are leveraging the AWS Cloud to grow into successful global businesses. One example is JUMO, a technology company that has developed a platform for operating inclusive financial services marketplaces to serve small businesses and individuals in emerging markets. Since it launched in 2014, more than 9 million people have saved or borrowed on the JUMO platform. The platform gives these customers real-time access to loans, savings, and insurance products from banks.
JUMO has offices in Ghana, Kenya, Zambia, South Africa, Tanzania, Uganda, Rwanda, Pakistan, Singapore, and the United Kingdom. Using AWS allows JUMO to rapidly expand their operations throughout Africa and Asia and enables the company to focus on business expansion and forge technology partnerships. They partner with leading international and pan-African banks like Barclays and Letshego, and large mobile money operators like Airtel, MTN, Telenor, and Tigo. JUMO uses a broad range of behavioral and payments' data, near real-time analytics and predictive modeling, to create financial identities for people who were previously beyond the reach of banks. Using AWS, JUMO has been able to process this data more than 1 000 times faster. What would have taken two weeks on local servers now only takes a few minutes.
One of my favorite stories to come from Africa, however, is the work we are doing alongside our partners-Intel and Digital Divide Data-to help the National Museums of Kenya digitize their entire collection of artifacts. The National Museums of Kenya holds one of the largest collections of archaeology and paleontology in the world. This project uses 3D digital imagery to create records of over one million items. This makes the records more accessible to researchers around the globe. It also preserves the museums' collection for future generations.
As well as helping customers in South Africa, and across the continent with technology, we also have a number of programs to help foster startups and to support the development of technology skills in the education sector. With AWS Activate, we have been supporting startups across Africa with access to guidance and 1:1 time with AWS experts. We offer web-based training, self-paced labs, customer support, third-party offers, and up to $100,000 in AWS service credits-all at no charge.
This has helped unearth innovative startups like Asoriba. Asoriba is a web and mobile platform that runs entirely on AWS and enables church administrators to effectively manage church membership, events, communications, and finance. The platform also allows church members to easily make donations and offerings via a mobile app. Asoriba already has 1,500 churches as members, serving 150,000 with the aim of touching all of Africa's 521 million churchgoers.
We also work with the venture capital community, accelerators, and incubators in South Africa. In Cape Town, AWS works with organizations such as Demo Africa, LaunchLab, Mzansi Commons, and Silicon Cape as well as co-working hubs, such as Workshop17. We provide coaching and mentorship, technical support, and resources to help African startups launch their businesses and go global.
For educators and students, we have AWS Educate. This program gives access to resources such as AWS credits, a jobs board, and training content to accelerate cloud-related learning. With this program, we are already working with institutes such as the University of Cape Town and Stellenbosch University in South Africa. We also support the Explore Data Science Academy to educate students on data analytics skills and produce the next generation of data scientists in Africa.
Another program for higher education institutes is AWS Academy, which provides AWS-authorized courses for students to acquire in-demand cloud computing skills. The program has already attracted the country's major academic institutions, including the University of Cape Town, University of Johannesburg, and Durban University of Technology. By providing resources to tertiary institutes, we believe we can grow the number of cloud professionals and create a generation of cloud-native technology experts to help grow African economies into the future.
We have also been investing in helping with a number of philanthropic and charity activities in South Africa. We support organizations such as AfricaTeenGeeks, an NGO that teaches children to code; Code4CT, a charity set up to inspire and empower young girls by equipping them with technical skills; DjangoGirls, which introduces women to coding; and GirlCode, which supports the empowerment of women through technology. Our engineers work with these and other charities to provide coaching, mentoring, and AWS credits.
We look forward to working with customers from startups to enterprise, public to private sector, and many more as we grow our business in South Africa and across the African continent. For more information about our activities in South Africa, including webinars, meetups, customer case studies, and more, see the AWS Africa page.
Search
Everything you need to know about Digital Transformation
Subscribe
The best articles, news and events direct to your inbox
Read more articles tagged: Cloud