Home Top Digital Transformation Trends to Watch in 2020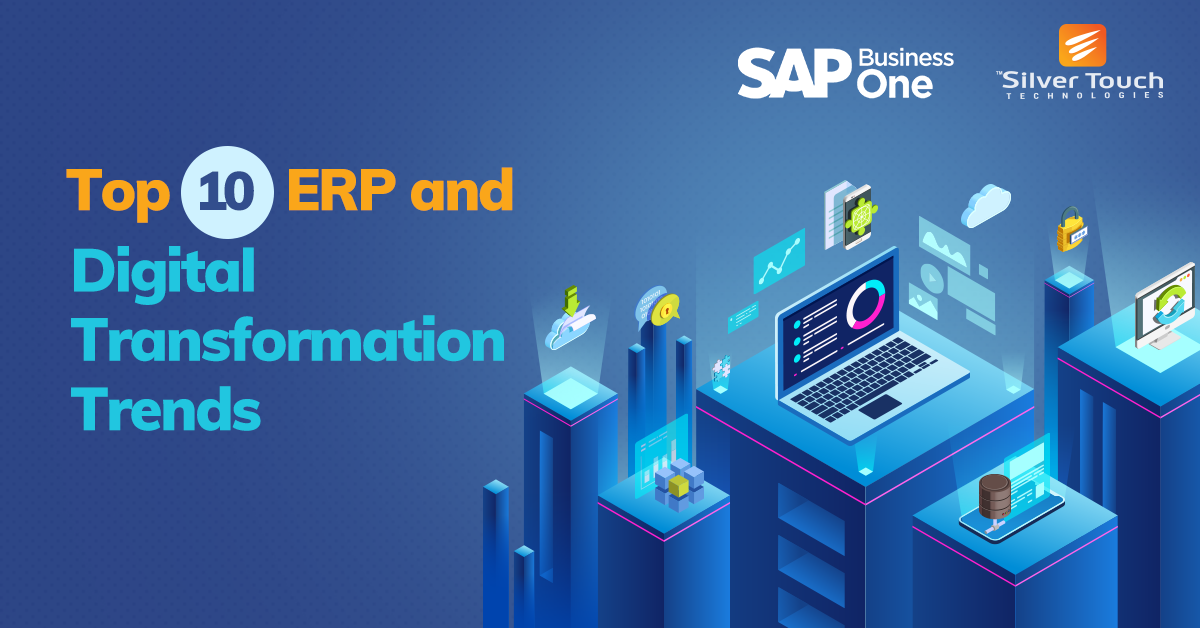 Digital transformation and ERP software are considered as a future of modern enterprises. Emerging technologies like AI (Artificial Intelligence), AR (Augmented Reality), and IoT (Internet of Things) revolve around these two concepts and advancements in these technologies are aimed at making the digital transformation of the company as smooth and seamless as possible.
We just tried to discover future trends for both digital transformation and ERP.
This is what we have found.
Top Ten Digital Transformation and ERP Trends 2020
Cloud Technology

Cloud computing is around us for years, but every year, it increases its impact on the company's IT environment. TechGenix has rightly mentioned that the cloud is changing IT environment rapidly. Entrepreneurs will become more adaptive than before for the cloud technology for implementing digital transformation. With the advent of SaaS, PaaS, and IaaS, the cloud concept has become more powerful and prevalent in the corporate sector. We expect that such services will become more common in the year 2020 irrespective of the company's size and scale.

Customised ERP

Gone are the days wherein companies integrated the flagship ERP software and tried to adjust their system accordingly. In the cloud-driven age, the flagship ERP solutions are becoming obsolete rapidly. These days, companies want customised features and functionality in the ERP solution that can give them the best value for their money. Organisations are now more choosey or selective for the ERP features and we will see this trend to continue in 2020.

Selection of ERP

This is something tricky. We have to select from half-backed ERP software or a customised ERP solution. Entrepreneurs will have to consider many aspects like requirements, budgetary constraints, competitors' moves, market trends, and the like before selecting the right ERP solution for their companies. In coming days, we will witness the selection of ERP will become more cumbersome.

Hybrid Solutions

SAP Business One has gained ground swiftly by providing the robust ERP platform to startups, SMEs, and large enterprises alike. Such best of breed ERP solutions will remain in focus in the year 2020 and beyond. One-size-fits-all ERP systems or single solution is not possible for modern enterprises with diverse requirements. So, this concept will become outdated soon and hybrid or best of breed solutions will prevail.

AI

There is no exaggeration in mentioning that AI will remain the most popular trend in 2020 as well. A Digital Trends Survey 2019 conducted by Adobe has shown that the influx of AI continues. From offering more personalised experiences to increasing productivity, AI is all set to perform different tasks intelligently in the workplace. AI will remain one of the top priorities for various brands globally in 2020. When it comes to digital transformation, AI will help companies to handle critical and repetitive tasks.

Security Risks

Digital transformation deals with devices, network, applications, and software. In other words, various equipment will gather the employee or the customer's data and process the same for facilitating the companies to provide better experiences. Once the digital transformation is done, the company's data will become highly vulnerable to cyber-attacks. Therefore, security concerns remain one of the biggest challenges of digital transformation and ERP implementation.

Extensive Support

As mentioned above, the rise of digital transformation will increase the security risks significantly, and entrepreneurs will seek extensive support from service providers and ERP vendors to overcome them. In other words, digital transformation service providers who fail to offer such support will soon go out of the competition. With this, independent ERP consultants will remain busy in the coming years to help corporate clients to sail through troubled waters.

ERP Vendors

ERP vendors who will fail to provide 'after-sales' support or stay updated with technological advancements can find it increasingly difficult to survive and thrive in a competitive market. It is necessary for both digital marketing service providers and ERP vendors to keep their software updated and integrated with the latest technology trends.

Robotic Process Automation (RPA)

RPA will play a crucial role once the company is digitally transformed. Robots or bots will handle all repetitive and mundane tasks with ease and the company management can focus on other critical tasks. It will have a positive impact on efficiency of the workforce and overall productivity. The RPA approach will get boost with the advancements in AI and IoT technologies in 2020.

IoT

Though IoT has to cope with some serious challenges like the need of AI and ML (Machine Learning), data security, and revenue generation, the concept actually thrives because of its overall high usability and flexibility for modern business. It is expected that IoT investment will start to deliver ROI soon, and it will give more strength to this concept over the period. The number of connected devices will rise significantly as well and the digital transformation process needs to consider the existing IoT network.

Apart from these aspects, we will have several other digital transformation trends that will have a big impact on the corporate sector in 2020, as predicted by G2 Crowd. These trends include Agtech (Agriculture), Fintech (Finance and Banking), AR/VR, cyber security, HR, and content management. It is interesting to see how these trends will transform the industry and enhance productivity in the near future.

How to make the most from Digital Transformation

Today, every entrepreneur wants to jump on the digital transformation bandwagon. It seems like hysteria in the corporate world! Here we give some useful tips to make the most from digital transformation and ERP solutions without falling into the trap laid by biased vendors and less experienced technology partners.

Stick to your game plan

ERP vendors or system integrators may give you a timeline for digital transformation of your enterprise as per their schedule. But, here you need to remain cautious. Once you define the roadmap and decide the deadline for transforming your company, you need to stick to it. Meanwhile, you can focus on other critical activities like strengthening organisational competencies and spreading awareness among your employees.

Plan your roadmap precisely

You need to be very clear about the objectives or goals you want to achieve through the digital transformation of your company. A well-defined strategy can help you save many bucks and time in implementing changes at the workplace. Also, you should get ready to make real-time decisions based on insightful data during the digital transformation phase.

Ask for support

Whether you are a technical person or a non-technical person, you always need support at some stage of transformation. Here you need to ask for help from the companies that have already undergone the transformation and are least concerned about your decisions. For example, if you own a manufacturing unit then you can take help from a warehouse owner for implementing ERP software at your workplace. You can also find independent third-party experts to get support.

Concluding Remarks

The digital transformation process has some challenges, but at the same time, it offers great opportunities to modern industry. All you need to find a reliable digital transformation services provider to leverage the benefits of transforming your enterprise digitally. Be it defining a digital strategy or making a roadmap for transformation, experienced professionals can help your company go through a smooth transition.

Kunjan Jasani

An experienced business leader, heads the UK operations of Silver Touch Technologies Ltd. With 15 years of experience in the industry, he has set the track record of delivering transformation and revenue growth with SAP Solutions.
Lets Get Started!
Confidential & Secured
This form is Secured with Validations.
Your Privacy is our utmost priority.
We will not reveal any of your info.
It will be used to contact you for Project purpose only.
Search
Everything you need to know about Digital Transformation
Subscribe
The best articles, news and events direct to your inbox
Read more articles tagged: ERP