Being disconnected, operating manually, and having limited user licensing meant Kelly Products, Inc. was not functioning at peak level with their legacy ERP. When it was time to implement a new system, Kelly Products chose Acumatica cloud ERP and digitally transformed into a modern, agile company.
Kelly Products, Inc. is the proud parent company of 13 individual businesses and branches that run the gamut of agribusiness, from manufacturing plant protection products to offering licensing and registration software to state departments of agriculture, regulated agencies, and consumers and from landscaping services to farm-to-table products. You can read the company's Acumatica success story for the details on each business, but what you really need to know is that these businesses were disconnected and inefficient…until Acumatica cloud ERP entered the picture.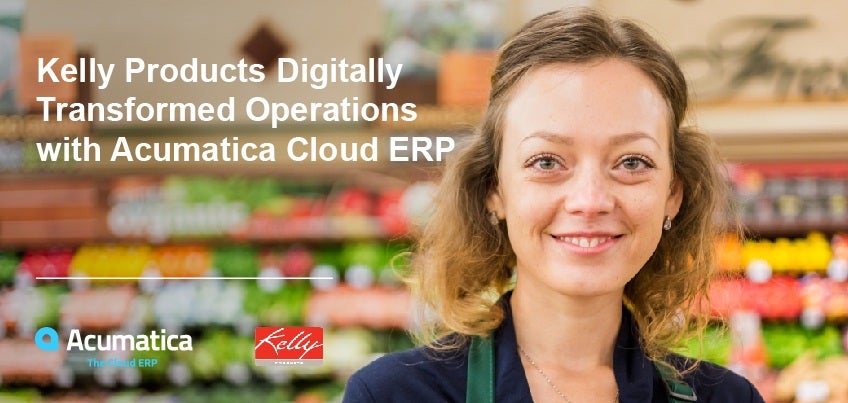 Kelly Products bids farewell to legacy ERP and welcomes Acumatica cloud ERP
Kelly Products began in 1993 in Georgia. With its multiple brands, over 200 full-time employees, and hires some 300 part-time seasonal workers, the business has grown into one of the premier agribusiness companies in the U.S. However, their ERP software solution couldn't keep up with their expansion, creating more problems than solutions.
Corey Wynn, Kelly Product's Information Technology Manager, says they implemented an ERP a few years after starting the holding company. As new divisions were started, new instances of the ERP were created.
"The biggest challenge was that there was no cross over between the companies. Different people set up things differently for each business, which made it difficult when someone was out," Corey says.
Other challenges included:
Different people handling the accounting duties of the 13 businesses
Limited amount of software licenses requiring employees to take turns in the system
Employees needing to log in and out of the different instances
Manual intercompany transfers, reconciliations, and consolidations
Delays in monthly reporting due to paper-based processes and time-consuming data-entry
No single version of the truth because of manual-entry errors, missing paperwork, and occasional system crashes
It was obvious that a change needed to be made. The Kelly Products team considered numerous platforms, including building its own ERP, before they decided to take a cloud-based approach. With the help of Acumatica VAR Emerald TC, the company bid farewell to their legacy ERP and greeted Acumatica cloud ERP and Acumatica Manufacturing Edition with open arms.
The many benefits of digital transformation with Acumatica cloud ERP
"Acumatica is not a complicated system to maneuver around in and the modules have the same look and feel, which makes it easier to train employees and find things," Corey says. "The help feature is tremendous. You just click on something and get information about it right from that particular screen. That alone speaks volumes to ease-of-use of the application."
In addition to the usability factor and easily accessed information, Corey named a few more reasons for choosing Acumatica cloud ERP and Acumatica's manufacturing software, including Acumatica's inherent affordability (Acumatica offers a unique pricing structure where you pay for computing resources, not each user added); its ability to handle intercompany transfers; and its Acumatica cloud xRP platform and open API.
Choosing Acumatica's manufacturing ERP software has led to multiple benefits. "One of the key benefits is being able to link companies. We can pull something one time and updating it one time updates it for all the companies rather than having one person entering it into many systems one at a time," Corey explains.
Additional benefits include:
Automating accounting tasks
All 13 businesses are now connected and operate with standard procedures
Monthly close outs have reduced from two months behind to closing in a week
Tracking inventory in one system (Acumatica seamlessly integrates with the company's personally-designed inventory management system because of Acumatica's open API)
Invoicing in real time
Connecting Kelly Product's manufacturing resource planning software directly with Acumatica
And more
Kelly Products' businesses have been digitally transformed. They're now enjoying new-found connectivity along with the flexibility, usability, and customizability that Acumatica cloud ERP has provided. And, according to Corey, the company is thinking about starting another business in the near future. The support and capabilities found in Acumatica's fully integrated, mobile solution will help them proceed successfully.
The same success is possible for you and your business. If you'd like to set up a demonstration or have questions about Acumatica's cloud ERP solution or Acumatica Manufacturing Edition, contact our experts at any time.
You're also invited to check out Kelly Product's full customer success story and to read about our other customers featured in our ongoing customer success blog series. They include Superprem, Specified Technologies Inc., Ray Allen Manufacturing, Berthold Technologies, Shoebacca, Tayse Rugs, MiiR, Fabuwood Cabinetry, Nothing Bundt Cakes, Firewire Surfboards, World Hope International, Curran Young Construction, ProPharma Distribution, Korpack, Tilray and Power Storage Solutions.

Kim Plank leads Customer Success Marketing efforts at Acumatica. She works to align Marketing opportunities and initiatives featuring existing Clients showcasing their success with Acumatica Cloud ERP.
Search
Everything you need to know about Digital Transformation
Subscribe
The best articles, news and events direct to your inbox
Read more articles tagged: ERP