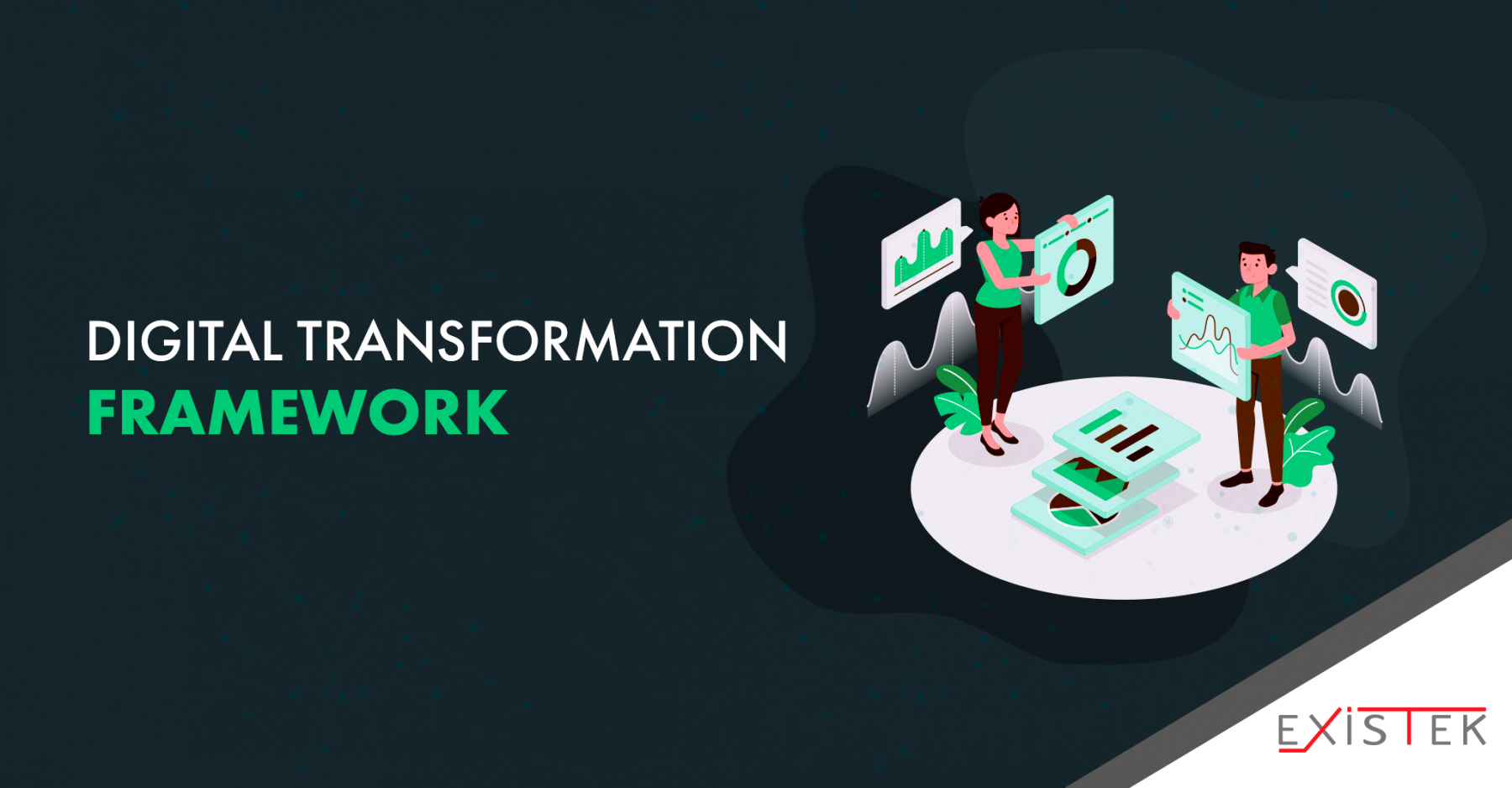 It is hard to imagine any business done without digital tools. They enable modifying the business culture, simplify numerous processes and improve overall performance. Furthermore, technologies focus not only on advancing existing approaches but generating fresh ideas for doing things or even creating new types of business. Successful transformations can be adopted with the help of an efficient digital transformation framework. In this article, we'll discuss where and how the digital business transformation frameworks are used and how the companies could benefit from it.
Lists of contents
WHAT IS DIGITAL TRANSFORMATION FRAMEWORK
Enhancing the business digitally should cover a number of approaches, different technologies, and lots of research. It is quite a complex process of implementing digital transformation technologies to the existing processes or replacing them with new solutions. It always requires effort, time and good management. Business transformation comprises all the essential aspects – overall performance, employees' productivity, and customers' expectations. It might be surprising, but in the era of big data, cloud, APIs, mobile technologies, IoT, artificial intelligence, and machine learning only 34% of companies have started the digital transformation process with the defined programs so far. What's more, some companies have admitted to being overwhelmed and a bit confused. Why does it actually happen?
The answer is rather simple, the organizations that don't draw much attention to tactical planning decrease their chances to succeed. The digital transformation framework aims at delivering a strategic plan to integrate the required tools into the current business processes. It is obvious that no changes can be implemented without a detailed plan that guides the company through digitalization. This point can't be overlooked by any company since the framework helps to outline business approaches in order to stay equipped and ready to adapt to the latest trends. It ensures that all areas are taken into consideration and not left behind.
Regardless of the company's specialization, competition, technology innovations, and increased expectations outline today's market requirements. Applying the digital transformation framework, companies acquire a powerful tool to make the right changes, predict future needs, and keep pace with different trends.
WHAT INDUSTRIES APPLY BUSINESS TRANSFORMATION FRAMEWORK
Any industry that targets delivering up-to-date and high-quality services is the subject for the digital strategy methodology. There will be no exceptions as all of them are looking for efficient ways to manage daily processes, implement changes and take new opportunities. There are several key aspects that every industry pays attention to like process management, staff productivity, user experience, the company's culture, and digital technology implementation.
This turns to be the emphasis of every digital transformation framework as well. Retail, manufacturing, government, insurance, healthcare, banking, logistics, transportation or any other companies could accept the evolution within the digitization strategy framework. Many successful companies suggest using this effective tool to withstand the rapidly changing market requirements.
Customers' expectations can make great differences in businesses. We can mention banks and how their operations are organized for customers like self-service points, mobile applications, authentication solutions, etc.
One more positive aspect is developing an innovative culture at all levels in the company. The digital transformation framework is responsible for communication and collaboration within it. Employees' engagement, good management and sharing the same values will always bring impressive results.
Therefore, the transformation framework is a must-have for every industry that would like to overcome the change evenly. So let's try to define what benefits the companies actually get with it.
BENEFITS OF DIGITAL TRANSFORMATION FRAMEWORK
A digital transformation framework enables joining all business' areas into one powerful mechanism as well as outlining the required strategies to lead the company through various innovations. The number of benefits is impressive since it comprises the team's functions, digital transformation technologies, users' needs, and market requirements. It helps to make positive changes to the current business situation and support it with top-level services.
Customer experience
Adopting changes is the continuous process that never ends. As a result, companies are able to develop consistent strategies within the business process transformation framework to strengthen their position and have the ability to improve fast. Most services are now automated in both private and government institutions. For instance, citizens don't need to go physically to the state organization, their request can be processed and transferred from one department to another automatically. Paperwork is being replaced, as tons of data are stored in the cloud. Moreover, everything remains structured and the possibility to lose some data is decreased to a minimum.
Data-based insights
Extensive collaboration
Collaboration in the company always remains the key priority. However, it isn't that easy to establish it across all the levels. The digital era has offered many tools to structure, process and most importantly share the data in a few clicks. We can observe a lot of changes to the organization of workplaces. Collaboration apps, cloud platforms, CRMs will boost business efficiency and employees' productivity. Adoption of virtual and augmented reality enables the options to work remotely, have online meetings and collaborate with the team members from any location.
Leadership
This advantage concerns the analytic and strategic approach to the transformation process. The digitalization framework serves as a template for fulfilling the organization's goals as well as defining risks in advance. For instance, the following steps of the distribution company will greatly depend on the preceding experience. Taking into account the received results, they can easily find out what products are popular among customers, which ones need additional advertising, or what amount of goods need to be produced.
Flexibility
That includes the ability to stay up-to-date. Following the trends isn't enough unless the organization faces and overcomes the appearing challenges. In order to achieve desirable results, always be ready for constant improvement. Implementing the mobile application might not be enough in some time. The company should constantly support updates and add new features. Like the eCommerce application can be improved later by adding new payment or delivery options, scheduled orders, e-gift cards, tracking options, etc.
Digital culture
It is important to take into account the company's culture, it should produce an adaptable atmosphere, strong connections, productive workflows. Both employees' and customers' engagement is a distinctive benefit to overall success. The taxi services that have a mobile app for customers should provide separate ones for drivers and administration as well. Thus the drivers can instantly accept and perform orders whereas any other details like payment or customer feedback will be sent to the administration dashboards. It is obvious that the digital culture has to be established on every level.
STEPS TO IMPLEMENT DIGITAL TRANSFORMATION
Analyzing the transformation experience at different companies, we have compiled a list of required steps to implement corporate digital transformation successfully. Covering initial business ideas and following simple digitalization guidance can result in complementary and positive sequences.
Aim for the sky
The digital transformation framework outlines the long-term perspectives for improving the business processes or replacing them with new solutions. Innovative business models enable effective task prioritization. All the improvements are completed gradually since tasks are targeted specifically. Organizations have the possibility to make a detailed insight and implement the necessary changes.
Define the required technology
The market is full of tech opportunities that would advance your business. The final choice is driven by the internal needs, customers' expectations and, of course, the market trends. For instance, analytics and management tools are something that no organization can omit nowadays.
Stay connected
The digitally-enhanced company will adjust connectivity across all the business areas. Lacking these connections ends up causing potential issues and taking away the possibility to anticipate areas for needed improvements. Collecting and analyzing the data from all the business fields enables setting realistic expectations and continuous work on efficient product and service delivery.
Meet customers' needs
It is quite important to get your customers involved. Data-driven marketing has greatly changed the relationship between customers and companies. Digital channels have supported new ways to do business and keep in touch. Analyzing these connections as well as customers feedback always provides fresh ideas for improvements.
Define a roadmap
The roadmap helps to divide all the transformation process into separate stages with precise details on its implementation. It is required to follow the roadmap however the organization should be ready to change the initiatives if required. That covers a part of business strategy – predicting different options but choosing the best one.
Build a productive workforce
Improvements can't be underestimated when it comes to productivity and job satisfaction of the personnel. Successful companies encourage positive environments, professional development, and open communication. Investment in digital tools will keep the processes connected and help to manage responsibilities on different positions.
Continuous analysis
All contributions for business development are made due to data-driven insights and comprehensive analysis. The received results allow companies to increase productivity, reduce expenses, generate higher revenues, follow trends, etc. It carefully guides the organization along the complex digitization integration.
DIGITAL TRANSFORMATION MYTHS
As long as we define the implementation steps, we would like to mention a few common myths that might mislead the companies or even turn their back on continuing digital transformation.
Everything relies upon technologies
One of the misleading concepts that makes the company believe that adding cutting-edge tools completes the overall transformations. Beyond any doubt, technology is an indispensable part of the process. However, it has to be accompanied by the marketing strategies, data-based insights and the digital culture practiced within the organization. Effective utilization depends on subsequent and analytical tool integration to existing business processes within the framework.
Complex definition
The technology integration is a complex long-term business process where the digital transformation strategy framework should present the detailed plan. However, not everyone accepts the situations when it's needed to be improved or changed. It might just seem like a step back, whereas the company actually needs to avert those challenges and grow the potential from it.
Vague value
There is a belief that observing no clear or significant value requires immediate actions and frequently rejection of the initial idea. Take into account that digital transformations aren't done in one day so evaluating all the results should be divided into separate stages. Understanding the potential value is based on completed tasks. Have a look from a different perspective, analyze each business area and only later work on joining them together.
Remains optional
Even today's most successful company risks losing its positions unless it keeps on improving. As long as you want to stay on the market, digital transformation is unavoidable. It can become a fatal mistake to ignore the technology possibilities whereas the competitors improve the services, streamline processes and empower their workforce.
IN CONCLUSION
There would be only a few businesses that haven't taken steps towards adopting innovative technologies. Whenever they want to keep up-to-date with advances and provide high-quality services, they look for new solutions and effective ways to implement them. Digital transformation isn't just a market trend, it provides wide opportunities for doing business. Considering the details mentioned in this article, we can definitely say that a digital transformation framework is an inevitable tool for anyone who wants to integrate technologies into the existing business processes or replace them with new solutions. It outlines the required steps and guides the organization through the digitization process.
If you have some ideas and need professional assistance, you are welcome to contact . We are an outsourcing software development company that has extensive experience in providing digital transformation services for different companies. Feel free to reach us via the contact form or use the chat widget on the right for any further assistance.
Search
Everything you need to know about Digital Transformation
Subscribe
The best articles, news and events direct to your inbox