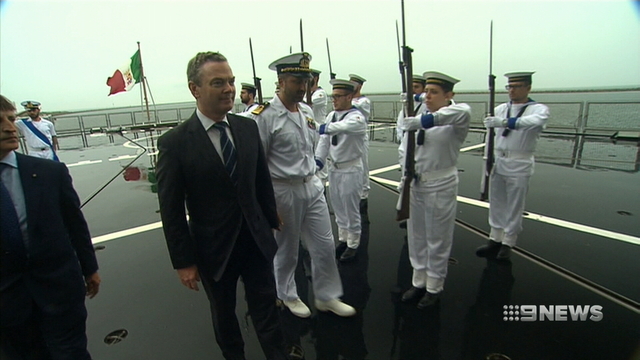 There are calls for an investigation into Defence Industry Minister Christopher Pyne's social media after his Twitter account was apparently hacked overnight, sparking cyber security concerns.
Mr Pyne's account appeared to "like" a video showing explicit gay pornography.
The original tweet of the video was posted at 3.45pm on Wednesday, and Twitter shows Mr Pyne's verified account "liked" it in the early hours of this morning (AEDT).
Hours later, he tweeted that he was hacked and questioned whether it was someone "making mischief over the plebiscite".
I was hacked overnight! I was 😴 at 2am. Someone tried to hack my social media yesterday. Maybe they are making mischief over the plebiscite?

– Christopher Pyne (@cpyne)
November 15, 2017
The social media site allows users to "like" tweets, including videos, posted by others.
It appears the matter was made public by a Twitter bot, set up to relay politician's social media activities.
Mr Pyne's account has since removed the post.
Labor leader Bill Shorten came to the Turnbull minister's defence, saying it raised concerns about the dangers of a cyber attack.
"This is serious. I do think there should be some sort of investigation and explanation," he said.
"We want to make sure that important military and defence information cannot be hacked."
Australian Conservatives Senator Cory Bernardi is also calling for an inquiry into the matter.
"We need to know exactly how far this hacker penetrated into the government's sensitive documents and what we're going to do about it," he said.
Mr Pyne, who regularly uses Twitter, most recently posted about addressing the Defence and Industry Study Course Dinner at the Australian War Memorial last night.
In a statement this afternoon, a spokesperson for the minister said it wasn't the first time his social media accounts had been accessed.
Mr Pyne's office was yesterday notified of attempts to hack his Facebook account.
© Nine Digital Pty Ltd 2018
Search
Everything you need to know about Digital Transformation
Subscribe
The best articles, news and events direct to your inbox