Meet your secret team that makes you look like a social media genius and empowers you to embrace change.
If you're a community manager, marketer, or consultant who's struggling to keep up with the ever-changing, constantly-morphing updates from Facebook, Instagram, Twitter, LinkedIn, Messenger, and beyond, then welcome!
Welcome to a place where you're not alone, where we feel your pain, and where we strive to help you. With the social media landscape shifting moment-by-moment, we can all use a little extra help.
Are you ready for the coming change?
Facebook has hinted that major changes are coming to their platforms. Stories-based video will begin dominating feeds. Only social activities that result in meaningful interactions will be seen by your fans. Embracing Messenger-based marketing will become more important as Facebook encourages more private communications.
Do you need to do more with YouTube, Facebook ads, Instagram, and Google Analytics?
If your business counts on you to navigate the social media changes while improving exposure, driving more traffic, and developing loyal fans, we know your struggle.
Change is on the way.
👉 Are you ready?
👉 Are people expecting you to make sense of all the chaos?
👉 Could your job be on the line?
Don't you worry. You're in the right place. You've discovered a little secret:
The Social Media Marketing Society
We're a genuine community of marketers. And we're here to support you.
Think of us as your career insurance policy. We keep you focused on what matters. We make sure you won't be left behind as the changes keep coming.
Imagine tapping directly into the network of experts that Social Media Examiner has built.
You get plugged into a welcoming group of peers. Marketers who love the same things you do.
You discover new tactics, get your questions answered, and develop a true competence to tackle change, head on.
Enrollment Closes May 24, 2019!
"With all the changes that take place on social media platforms every day, I'm grateful for the Society and the support it provides. The Society provides a pool of wisdom that keeps professionals informed and learning," said Society member Kellie Moeller.
Access to training, support, and community-whenever you need it!
Join a genuine community of marketers-people just like you-who are here to support you.
Think of us as your career accelerator. We keep you focused on what matters and make sure you won't be left behind as the changes keep coming.
✅ You'll tap into Social Media Examiner's network of marketing experts. They'll train and equip you.
✅ You'll discover new tactics, get your questions answered, and develop a true competence to tackle change, head on.
✅ You'll get plugged into a welcoming group of peers. These are marketers from every industry who bring their unique experience to the community.
"The Society connected me with a lot of people that I could turn to and ask really complicated questions. I launched new marketing programs that have been really successful for my organization. I'm going to be involved forever," said Kristin Jones.
The Society is designed for you: the marketing professional…
Need direction and guidance so you can move forward with confidence?
You're not alone. Thousands of marketers experience these struggles daily, and they've found a place that changed everything for them: The Social Media Marketing Society.
This could be you:
Imagine knowing how to successfully implement the latest techniques.
Imagine having the wisdom you need to make important marketing decisions.
Imagine having a close group of peers who are like family-your always-available, go-to group who you can ask any question or present any new ideas.
Imagine having complete confidence in every strategy and tactic you present to your boss, colleagues, or clients.
Imagine connecting with people who speak your language, understand your challenges, and get you.
Imagine having peace of mind, knowing you are up-to-date with everything that matters and never having to worry about missing out on crucial marketing insight.
This is why we exist: We give marketers (1) the training, (2) the support, and (3) the community they need to confidently succeed at their jobs.
The Society trains and equips you. Here's how…
The Society is the place where you'll find the best insider secrets, the latest developments, and the tools that will help you grow your business. This is the place where you'll become a social marketing hero.
With our help, you'll stay on top of the upcoming trends. We constantly analyze the industry and tap our network to bring you the best experts, right when you need them.
#1: Get ongoing professional training, every month!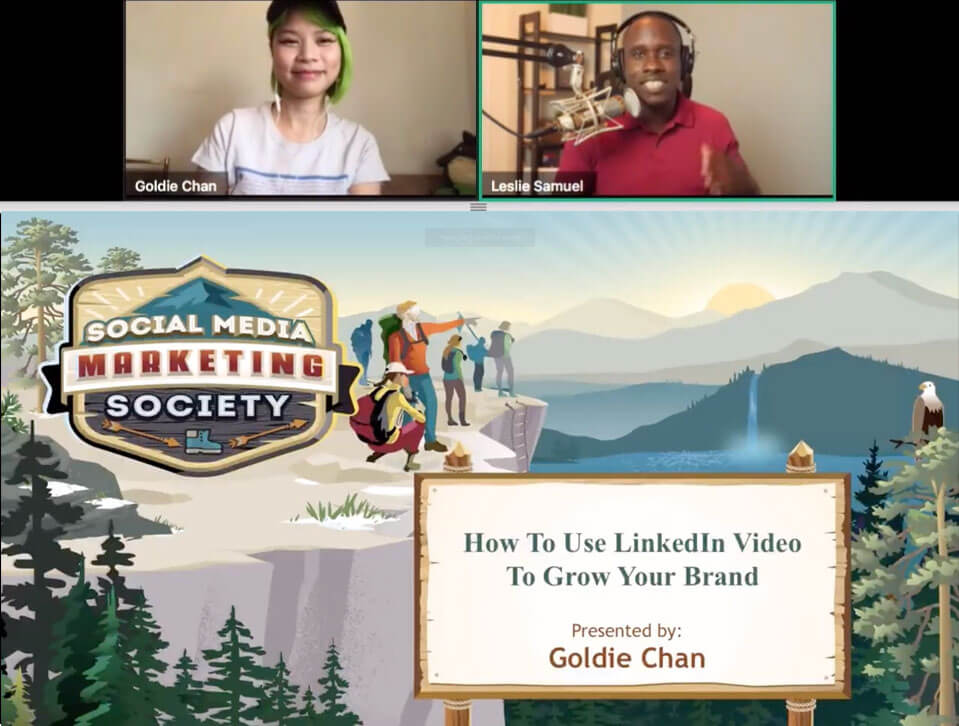 Each month, you'll have access to three live (and original) online workshops, taught by social pros. These experts show you-step-by-step-the latest social media marketing techniques and answer your questions-live.
You'll walk away from each training equipped and ready to use the latest marketing techniques.
Some of our more recent workshops include:
✅ 3 Steps for Creating a Killer Instagram Ad Funnel, by ads expert Andrew Hubbard.
✅ How to Use Emotional Targeting to Increase Your Facebook Ad Conversions, by conversion expert Talia Wolf.
✅ How to Create Effective YouTube Ads, by YouTube expert Tom Breeze.
✅ How to Use Facebook's Attribution Tools to Gain Insights on Your Customer Purchase Path, by analytics pro Chris Mercer.
✅ Smart Video Marketing with your Smartphone, by video pro Justin Brown.
✅ Fundamentals of Messenger Bots: How to Set Up Your First Chatbot, by bots expert Natasha Takahashi.
With your membership, you get on-demand access to more than 100 workshops.
Here are some of our upcoming workshops:
✅ How to Craft Strategic Facebook Ads, by Facebook ads pro Amanda Bond.
✅ How to Master LinkedIn Ad Targeting, by LinkedIn ads expert A.J. Wilcox.
✅ How to Get Actionable Answers from Google Analytics, by analytics pro Chris Mercer.
"I want to be known as being someone who knows what I am doing. It is hard to stay on top of stuff. The training has been amazing. It's really effective training that I can put into action straight away," said member Amanda Webb.
#2: Tap a network of pros for the support you need…
You'll receive ongoing support from working marketers like you who want to help. You'll get answers to your pressing questions.
Monthly office hours with experts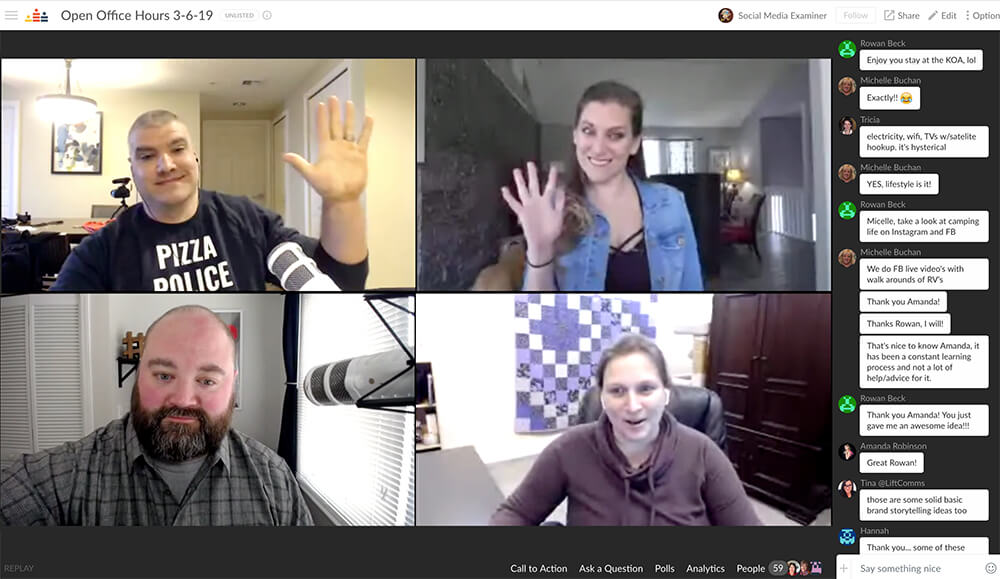 In addition to our workshops, our social team, Society teams, and special guests go live each month to talk about the latest trends in an "open-forum" style chat.
Ask your questions, tell us your problems, vent your frustrations about social media marketing, and we'll work through it together.
"The education, the networking, and being able to go in and have instant answers from experts or people like you is more helpful than you would ever imagine," said member Mandy Haws.
#3: Join a community of marketers just like you!
You don't need to go it alone. The Society is where people understand your struggles.
Get support and connect with your peers via our exclusive Facebook group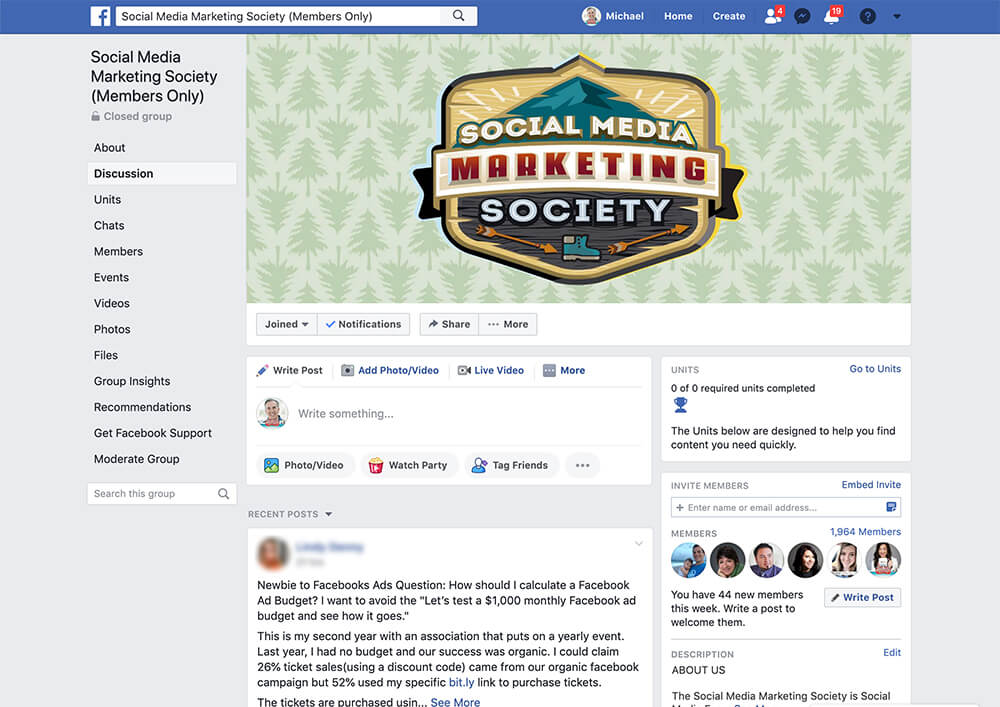 Not only will you stay informed as social media news breaks, but you'll gain access to a supportive Facebook group, full of marketers just like you.
Make valuable connections or ask any questions you have. Our team of experts, trainers, and fellow members will help you tackle your most complicated challenges.
This will quickly become the most valuable Facebook group you are part of.
"The Facebook group is worth its weight in gold. You can ask them, 'How do I do this?' or 'I'm having a problem with this' and they are really helpful to you. It's an active community. There is always discussion," said member Tim Lewis.
How to Join and Invest in Yourself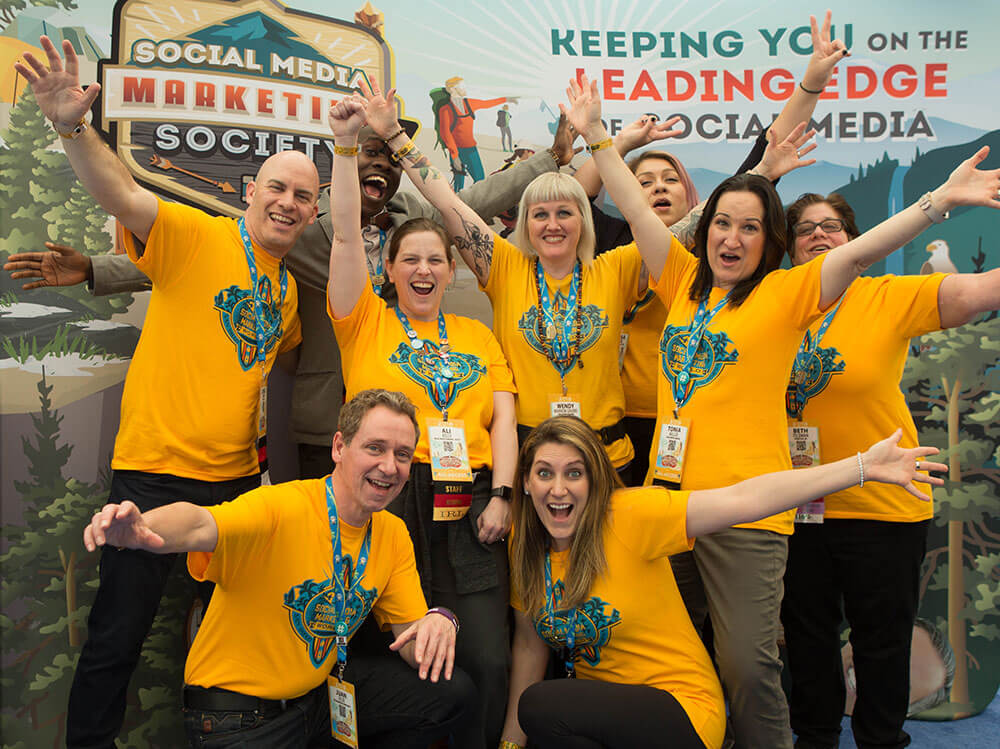 The Society is your secret advantage. It will reduce your trial and error, empower you to find what works best, support you when you need help, and turn you into a social media rockstar.
Traditional professional development opportunities-featuring world-class training and providing a chance to connect with your peers-can cost thousands of dollars. Not so with the Social Media Marketing Society.
We wanted to make the Society very affordable to you. We wanted to make this high-quality professional development accessible to anyone who strives to become a better marketer.
"Best investment so far for my career: Social Media Marketing Society! Thank you, Mike Stelzner," said Society member Pat Mills.
[rs-divider type="solid"]
ENROLLMENT DEADLINE: Your last chance to enroll in the Social Media Marketing Society is Friday, May 24, 2019. Enrollment won't reopen until 2020.
PRICE: The membership fee to join the Social Media Marketing Society is $697 annually (that's about $19 per training) or $70 per month.
ENROLLMENT CLOSES MAY 24TH: ONLY $697 ANNUALLY (SAVE $143 off the monthly price-that's like getting 2 months free). That's about $19 per workshop or $58.08 per month. This includes a guaranteed rate lock (membership fees will never increase for you). Your membership will be renewed automatically each year. This offer is good until May 24, 2019.
CLICK HERE NOW TO ADD YOUR NAME TO THE WAITING LIST
MONTHLY PAYMENT OPTION: ONLY $70 per month: That's about $23 per workshop and includes a guaranteed rate lock (membership fees will never increase for you) when you pay month-to-month.
Need to Convince the Boss? We've got you covered! Click here for an email template.
No Risk, Sample-It Guarantee
You can try the first 30 days of your membership and still cancel for a full refund if you determine the Society is not for you. Take a few weeks to dive into the workshops. If the Society does not meet your needs, notify us here within 30 days of your registration, and your credit card will be refunded and we'll cancel your access.
Monthly Plan Cancellation policy: You are never locked into any long term contracts. If after your initial 30 days you decide the Social Media Marketing Society is not for you, simply email here and request a cancellation. We'll immediately stop your billing and cancel your access. No hassles. No hard feelings. You may cancel at any time.
Terms and conditions: Your membership fee will not increase as long as you maintain your payments.
Here's what Society members have to say. Click play on this video:
Common questions answered
The live workshops don't fit my schedule. Can I watch them another time?
Absolutely! Get your training any time, from anywhere in the world, as often as you like.
Not only can you watch these videos trainings over and over, but we also provide:
Downloadable slide decks
Downloadable audio files
Transcripts
Time stamps for topics in the training (and questions answered)
Links to resources mentioned
Links to discussions on the training
I'm a social media marketing novice. Will the Society sessions be way over my head?
Everyone's a novice when everything's changing.
The old ways don't work, so in some regards, we're all restarting the adventure, over and over.
While Society instructors are experts, they work hard to answer your questions. We typically commit 30 minutes in each workshop to your questions.
We staff our Facebook group to ensure no question goes unanswered. We also have a very supportive community of members who are glad to answer questions.
So while the Society is ideal for the advanced marketer whose job is heavily focused on social media, even a beginner will find value.
What will I receive every month as a member?
When you join the Social Media Marketing Society you'll have access to three original training workshops every month. You'll also have access to the recordings of ALL prior training workshops as long as you keep your membership active.
You also get access to our exclusive Office Hours where the Social Media Examiner social team discusses the latest trends in an "open-forum" style chat.
You'll gain exclusive access to our Facebook group where you can connect with peers and get your social media marketing questions answered.
Society members who attend Social Media Marketing World (our annual conference in San Diego) will enjoy special conference benefits including exclusive meetups.
How do I watch the live workshops?
You simply log in to our member website and follow the instructions we provide. You'll be able to view the live training workshops on a computer or mobile device. We also stream workshops live into our Facebook group.
I can't attend all the live training workshops. Will I get a recording?
Yes. For each training workshop we'll provide a recording you can watch online via your computer, tablet, or mobile device, so you won't miss a thing.
If you have other commitments (like a day job) or if a workshop occurs at an inconvenient time, no need to worry. Even if you attend a live training workshop, you'll still get the recording. You'll have access to recordings for as long as you maintain your membership.
How do I watch the playbacks of training workshops?
You simply log in to our membership website. There you'll find streaming videos you can play back from a desktop or mobile device. Downloadable transcripts, slide decks and audio files are also provided.
Will there be transcripts?
Yes. We'll provide transcripts of each workshop as Adobe PDF files. This will allow you to study and scan the content of each training.
Three ways. First, during the live training workshops, you'll be able to submit questions during the Q&A portion of each workshop. If you are selected we will bring you on live to ask your question. Second, you can post questions in our exclusive Facebook group to get answers from your peers and the experts. Third, you can join our monthly office hours and ask your questions.
Where is the event located?
At your home or office. Since this is online training, there is no physical venue and no travel expenses. And you'll get the recordings, so if you miss a live workshop, no worries.
How long are the training workshops?
Each of the workshops is 60 to 90 minutes in duration.
CLICK HERE NOW TO ADD YOUR NAME TO THE WAITING LIST
What if I still have questions?
Send an email here and we'll get back to you right away.
Disclaimer: Your results may vary. Participating in the Society doesn't guarantee success with your social media marketing.
Search
Everything you need to know about Digital Transformation
Subscribe
The best articles, news and events direct to your inbox