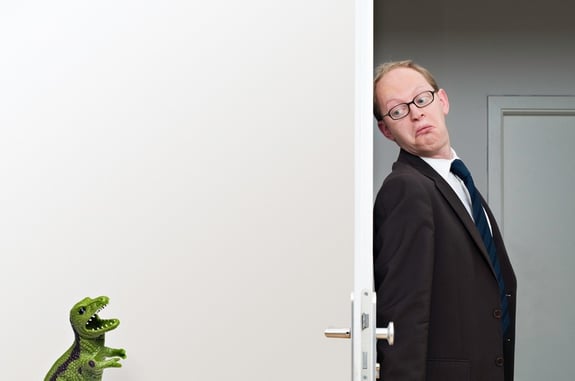 A New York Times story today shared Saks has turned the entire second floor of their New York City store into The Wellery , including a salt room and fitness bootcamp run by ex-cons.
Marc Metrick, the president of Saks said , "Selling stuff in stores is not the answer. You have to build an emotional connection with them. Where else can you take a fitness class and buy a Chanel handbag?"
Seriously? Saks is not about selling stuff in stores?
Is that hubris or carelessness?
No, I'm sorry, retail about selling and great salespeople who know how to do that and make a truly is emotional connection are in danger.
A great salesperson has been in the field for a number of years. Either working on commission or a bonus program, they have learned through trial and error what works and what doesn't work since they have a stake in the game.
Their value is less about what they did than what they can do . They understand the customer pays their salary. It isn't a hobby with them to work part-time; their retail job is their only job.
They've seen the trends, they understand what motivates a shopper…and what doesn't. When it comes to the premium items, they can sell value over price .
See also, How The Best Retail Salespeople Make The Sale
But the buy online, on app, in-store or smartphone – omnichannel – is upending that level of retail employee.
I received a comment from a guy…
"I work in an extremely high end department store. We are competing against our own stores online who constantly have gift cards for the customers that we don't have and we cannot match their promotions. People are constantly coming by and taking photos. They are buying clothing and returning them because they are finding them with additional markdowns online that we could not match or returning because online has more offers. We are all so discouraged and this is really affecting our business. We are competing against our own stores online business."
This came from a Nordstrom employee.
Jennifer responded to this post separately, "I miss the top salespeople that Nordstrom had. They have pushed out the veterans and added millennials that can only tell you it's cute. I don't want to be cute!"
We see omnichannelpersonalization on websites when a customer shops online. T he shopper is immediately recognized and an algorithm suggests something like a shipping option they have used before … like do you want to do an in-store pickup of your order at your local store like you did last time or would you rather have it shipped.
And this is before you even purchase an item you were looking for.
And while the new trend of look local and shop online is a factor, there's no doubt that shoppers are buying more online. In fact, some stores' retail employees are trained on how to help shoppers make online purchases as part of the selling experience.
But the experienced salesperson knows how to sell the $100 T-shirt. They can emphasize the way it is cut and how a woman's boobs won't hang out when she bends over to pick up groceries or her daughter.
They know how the feel of a silk dress next to the skin is more important than a 15% coupon on a polyester knockoff and can get anyone to try it on.
They can sell the Sonos speaker because they believe in it and what it can do for the customer.
They take enough time with running shoe fittings on a treadmill because some shoppers take longer than a root canal to decide.
These experienced salespeople are excited to see loyal customers and recognize them without an app or impersonal beacon.
But with a newer sales associate who gets no retail sales training?
A vendor recently wrote me, "I hear all the time that our product is 'too expensive' and sales associates do not take the time to point out the special attributes of the product, especially if it is hand-crafted. Instead, they point the customer to a less expensive brand that may or may not be as special. Boom. Done. No effort required."
So the merchandise sits due to an untrained and uninterested workforce.
And yes, I get it there are some veteran salespeople who can be like unmovable objects and don't want to change anything. But that's not the majority of them. Most want to give their all and be rewarded for it.
And I think that is an easy way for most retailers to think… Who cares? We got the sale.
Except that you once valued the sales associate for selling to the one .
Now you're just saying, "Deal with it."
That's how you get stories like this one from CBS news about a 29-year Bloomingdale's veteran who was earning about $35,000 a year five years ago in New York City. These days, she is taking home about $28,000 a year, a 20 percent pay cut that she attributes to the rapid rise in consumers purchasing online.
CBS ID'd the problem correctly, "The issues involved include not only less traffic in brick-and-mortar stores but also when clerks spend time catering to customers in person and on the phone only to lose the sale and commission to the internet. Customers also make purchases online, then bring the merchandise into a Bloomingdale's store to return it, helped by clerks with no hope of a commission."
But how could you attribute a sale correctly?
Randy Harris, president of Trendex said, "It's complicated as hell, to be honest with you, and I think they are almost opening a Pandora's box."
David Cost, with Rainbow Shops, recently detailed a scenario where a customer purchases an item from their online store and then returns it to a brick-and-mortar location. Not only does the brick-and-mortar location receive no benefit for the initial sale, but feels punished with a negative sale due to having to take the return.
To fix the situation, Rainbow decided to note the shipping zip code of each online purchase and apply it to the bonus of the brick-and-mortar Rainbow store that is within a 10-mile radius of that ZIP code.
That's fine…as far as it goes… but that doesn't touch the individual salesperson.
Chris Petersen with Integrated Marketing Solutions noted that "John Lewis customer relationships that are omnichannel purchase 300% more than if customers just buy online or just buy in-store. If the omnichannel structure is in place to foster a customer-centric relationship of anytime and everywhere then everyone adding value can participate." So that partnership is crucial.
In order to begin to solve the challenge of who gets credit , Petersen believes retailers need to be able to track at least four kinds of sales streams:
Online purchase direct to customer;
Online long tail shipment direct to store;
BOPIS – click-and-collect, buy online collect in store;
Buy anywhere, ship from store to home (or anywhere)."
And that sounds great. But most retailers have legacy POS systems and separate systems for ecom and their stores.
I know, just deal with it , retail salespeople.
But that's not right. And it's short-sighted.
The brightest and best experienced retail salespeople have chosen to make their living selling a brand's wares and deserve to have their talent to build rapport, compare and contrast, make the sale , and add-on rewarded.
An article this week in the Harvard Business Review , noted that for a sales incentive plan to produce results, there are two necessary conditions:
Salespeople must have a large impact on sales results by focusing on activities that add value and directly influence customer buying decisions.

The company must have the ability to measure individual results by separating out each salesperson's contribution and determining how much an individual's actions affect the outcome.
It added, "Salespeople have impact on purchase decisions but because that impact is shared with multiple sales roles and digital channels, the company's ability to measure impact and attribute it to a specific salesperson is limited. The second necessary condition is no longer true."
They conclude bonuses and commissions be done away with and salespeople simply be given salaries.
That, like pooling sales dis-incents the good salespeople who pride themselves on creating desire for premium items where the shopper never offered they were looking for them.
What's the answer?
It's easy to simply give the store credit for the online sale to help with their goals but that doesn't help the individual sales professional.
Some say any sale that is made online by someone who is already registered in your system should go to the salesperson who last helped them in store.
That seems naive – like is there really only one employee the customer worked with?
And what about those who are new to your store who the employee helped but they went on to buy online?
This does nothing to reward the employee for their efforts in the store.
Of course, this doesn't really apply to you if you only hire the lowest per hour employee you can get and rely on discounts and promotions to get people in the door.
But a recent national study of store managers by SquareRoot illustrates how the front lines are struggling to compete .
Only 32% of respondents said they have the number of associates needed, and only 42% of store managers feel they currently have the tools and retail sales training needed to be successful, showing the impact of organizational cutbacks on the frontline due to omnichannel's growth.
See also, Motivation Beyond Paying Retail Sales Commission: 3 Ways To Get Employees To Sell
In Sum
Bloomingdale's averted a strike at their New York store recently by ratifying a new contract – but one that did not address this problem of attribution. They said store employees will still need to "complete sales-related duties such as fulfillment when they aren't with customers or on the phone."
Look, I understand this is a complicated issue but in a world of amateur salesclerks who merely ask, Can I help you? …
Or amateurs who fidget with their hair while checking their phones as shoppers walk past them…
In a world of websites tracking and improving every interaction,
And in a world of shoppers ready to post their unhappiness at the swipe of a screen…
You need the professional retail salesperson to sell to the unit of one.
Only you can fortify or undercut their abilities by your attribution model.
Search
Everything you need to know about Digital Transformation
Subscribe
The best articles, news and events direct to your inbox