It really has to work all of the time
Overview
The retail industry has changed significantly over the past decade and it keeps on evolving further and faster by adopting new, cutting edge technologies while transforming from a classic store to an omnichannel business that is not limited to one country or to the physical world at all.
While these businesses strive forward, some of them open new online or offline stores every day, their infrastructures can't sometimes keep up with the pace.
The modern store is a vast collection of technologies: Points of Sale, Self-checkout kiosks, payment and security systems and operational technologies like refrigerators and baking ovens. Most of these technologies are not limited to the store and rely on many different backend systems which in their turn rely on other systems which often span multiple vendors and service providers. This huge, interconnected network of technologies is very hard to keep track of and when problems start you need to be ready to identify and solve them fast or suffer the consequences.
The State of Online Commerce
Digital transformation is no longer about if enterprises will transform, but about when. Companies that have not embraced transformation, such as Kodak, Blockbuster or Borders have disappeared, and even technology companies like Nokia, that have failed to change with the times, are now struggling to survive.
Source: Profitindustry.com May 2019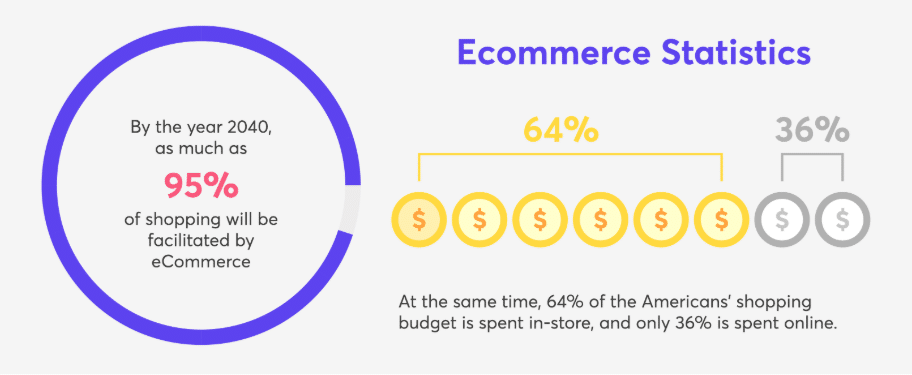 The accelerated pace of economic change is compressing the lifecycle of businesses and those that don't digitally transform will be rendered irrelevant; and it will happen with remarkable speed, and with little warning.
Digital transformation is not just about technology; it's about redefining your entire business strategy. The degree of difficulty is compounded by the dearth of experienced resources. According to Forrester, in 2017, 74% of companies have a digital transformation strategy, but only 15% have the skills and capabilities to implement it.
The Changes Driven by Digital Transformation
Digital Transformation is a disruptive process and it will not only "transform" your IT department but also will change all aspects of your business, including; the way you relate with your customers, your partners, and your suppliers.
In this document, we will focus on the intrinsic technological requirements, not the business process aspects of the process.
At its core, Digital transformation drives some key changes:
Every key business process of the company and the interactions with every key constituency are implemented in software and are rapidly evolved to maintain competitive advantage online.
Data driven applications are deployed on cloud-based infrastructure and every facet of the supply chain is connected through the cloud.
Real-time data analytics for notifications and abnormality detection (AIOps).
Big Data to optimize system performance in reaction to change.
Users now must have a connected device to see the necessary information on cloud.
Applications should be able to adapt to different environments (on-premise, Cloud, containers, etc.), detect and inform environmental changes and proactively change their behavior accordingly.
The Omnichannel Approach
The term OmniChannel refers to better introspection of the customer experience by understanding where, when, how, and of course, what he/she wants. It means offering the customers a real-time, on-demand, cloud-based, self-service experience through the convergence of all the channels. With information coming from virtually everywhere (on premise, cloud systems, IoT, mobile applications, etc.) and in real time, it is critical to have applications that can provision these sources of information efficiently, and in real time.
OmniChannel may include:
Online browser based applications
Mobile applications (owned and 3rd parties)
Kiosks
Telephone Interactive Voice Response
Social media
Help desk
Physical locations (branches, plants, etc.)
One of the most critical components of the OmniChannel strategy is the backend.
As with any other multi-technology support (IoT, Cloud, on-premise, Mobile, etc.) it needs a myriad of connecting elements and workflows to pull, push and normalize the information flows. The business in turns needs to guarantee that these business flows are working correctly, as they are becoming the bloodline of the digital business.
An OmniChannel approach at a Global Fast Food Restaurant
What Happens When Things Go Wrong?
Online systems in retail directly support the revenue generation of the company, and when they are not working correctly also damage the reputation of the company, and the ability to retain customers. So an outage does not just represent a one-time loss of revenue, it often causes customers to leave and to never return.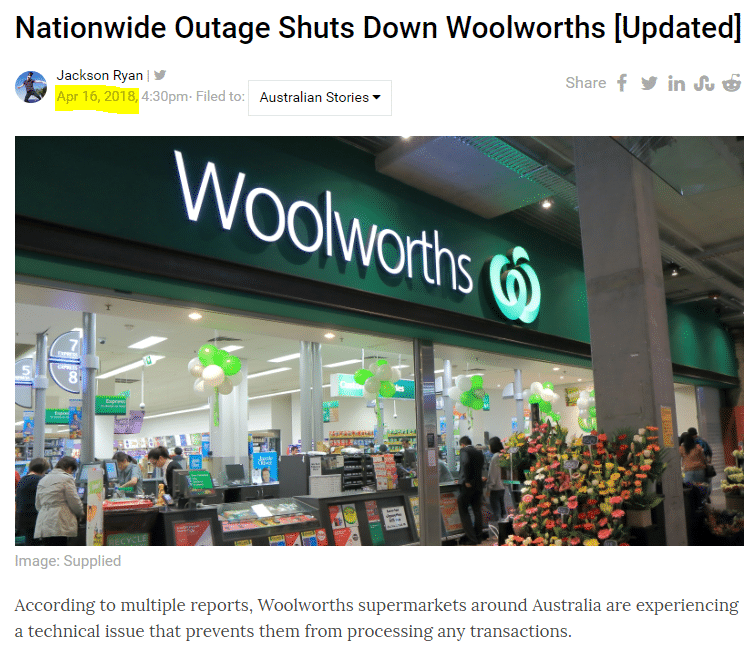 Immediate revenue loss, stock market crashes and reputation damage cause retailers billions of dollars of damage every year!
The Centerity Solution
The Centerity AIOps Platform has a proven history in supporting business service outcomes across complex enterprise and managed service environments. Centerity is built on strong operational analytics and data mining, as well as powerful discovery, visualization, and dependency insights. Highlighted features include the following:
Deep and Broad Integrations: Centerity integrates with the tools and platforms that you rely upon.
Dynamic Service Views: Simple to understand gauges that show the service quality for each critical business service
Real-time Analytics: Advanced management & tactical dashboards maintain SLAs for critical processes.
In Context: Constant alignment between IT data and business objectives.
Consistent User Experience: Detect user experience degradation before your users do.
Traffic Analysis: Analyze bandwidth consumption and data flow; filter by application, packets, protocols, etc.
AI-driven Anomaly Detection: Machine learning for digital services moves the performance discipline beyond thresholds
The Centerity AIOps Platform
Centerity's Dynamic Service Views translate technical metrics and their impact on business services and resultant consequences.Each gauge represents the availability, performance, throughput and error rate of the entire stack of software and hardware supporting each digital business service.
Unified Dynamic Business Service Views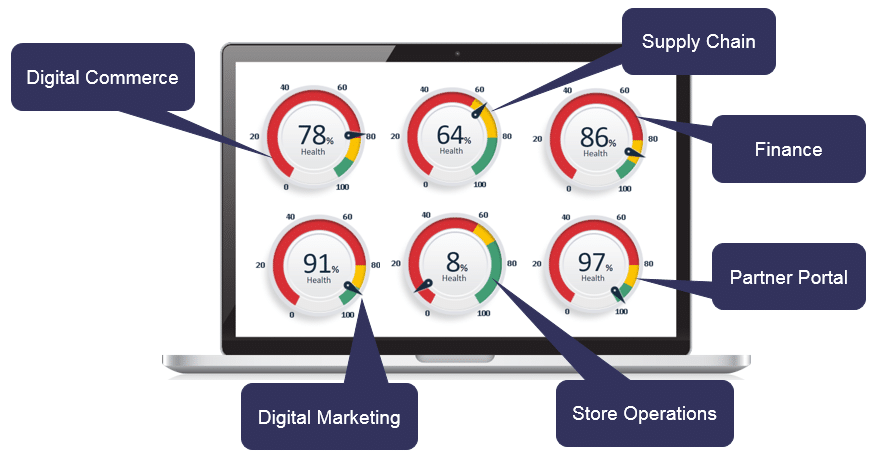 When service levels degrade, Centerity provides a bird's eye view of how the operation of each layer that supports the digital business service is impacting the overall service level.
Drill Down Into Each Layer of a Digital Business Service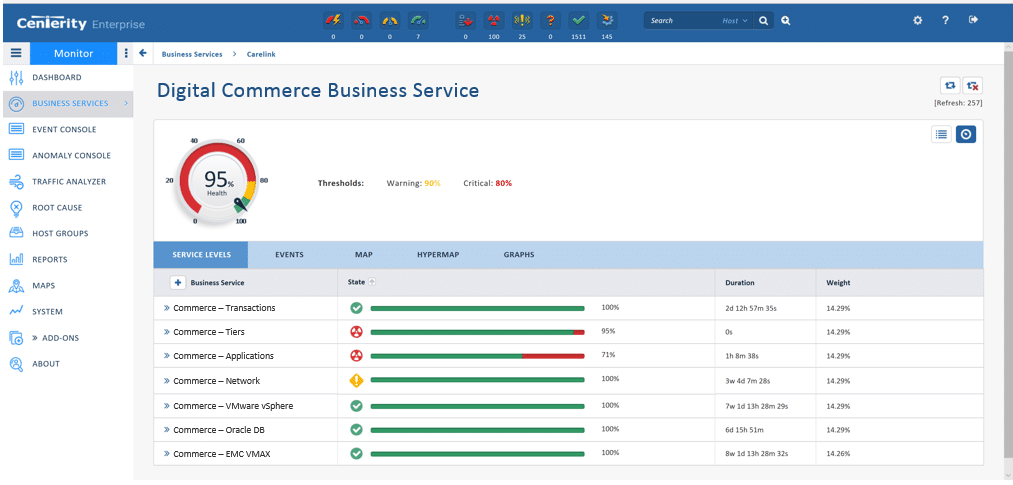 Learn More about Centerity
To learn more about the Centerity AIOps Platform please visit – https://performance.centerity.com/aiops-and-aiops-platforms
To learn more about Centerity and Digital Transformation, please visit – https://performance.centerity.com/digitization-digitalization-and-digital-transformation
Author
Stanislav (Stas) Siganevich
Retail Sector Manager, Centerity
StanislavS@centerity.com
Search
Everything you need to know about Digital Transformation
Subscribe
The best articles, news and events direct to your inbox
Read more articles tagged: Retail