In an ever-expanding landscape of digital experience technologies, how do you choose the right technologies to deliver your organization's best customer experience today and years into the future? It's an investment that Forrester analyst Ted Schadler says can take five years and cost between $20 million and $200 million for enterprises, so it's important to get it right.
In a recent Forrester playbook, Your Digital Experience Technology Strategy Starts with a Customer Journey Map (Forrester Research, Inc., Sept. 29, 2017), an update to a previously published report, Schadler recommends defining a digital strategy and technology acquisition plan by following the lead of customer experience teams:
Start with a customer journey map. "The top three actions that firms will take to improve the customer experience are digital. To get them right, start by understanding the digital interactions in your customer journey."
Apply cloud-hosted, mobile-first and insights-driven thinking. "In our research with 25 companies, we found four factors behind the technology strategy: 1) It's a three- to five-year program, not a project; 2) customer journey maps bring relevancy to your investments; 3) digital experience platforms direct your technology investments; and 4) cloud, mobile, insights, and loose coupling shape your vendor choices."
Implement a digital experience platform to serve customers along every step of their journey. "You will need technology to deliver quick wins and also to lay the foundation for future agility."
And so, Forrester continues to maintain that the customer journey should form the backbone of not only your digital experience (DX) strategy, but also your DX tech purchasing plan. In support of that, Forrester has evaluated a variety of DX platforms in reference to how well they serve customer journeys.
Behavioral Strategy Group visualization of omnichannel customer journey.
But it's not just about mapping journeys; it's about orchestration and delivery as well. You need to integrate your entire DX architecture for maximum effectiveness. In back-to-back Forrester Wave™ reports released in Q3 2017, analysts evaluated customer journey analytics platforms. The Forrester Wave™: Customer Journey Analytics Visioning Platforms, Q3 2017 (Forrester Research, Inc., Sept. 14, 2017), is focused on design and conceptualization of a company's customer journey. The Forrester Wave™: Customer Journey Analytics Orchestration Platforms (Forrester Research, Inc., Sept. 14, 2017) is about software that helps organizations orchestrate that customer journey. Our take is that you need both. More on that later.
If you look at both reports, you will see that some tools overlap each other in terms of purpose and/or functionality. In fact, vendors like NICE, Kitewheel, Thunderhead and Teradata are listed among the leaders in both pieces of research. That speaks well of these vendors' ability to approach customer problems more holistically than they have in the past. This is what companies want and need from DX vendors.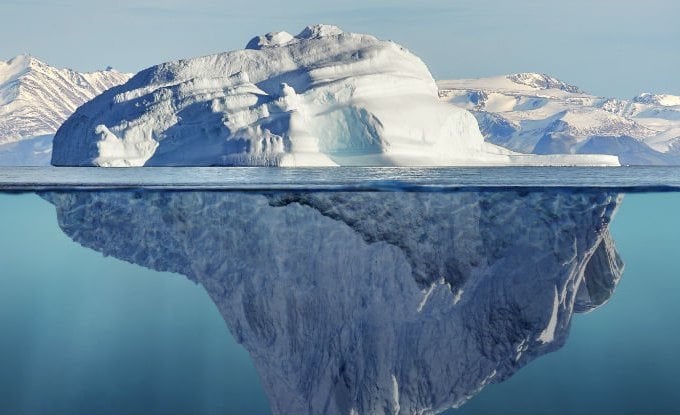 When Mapping Customer Journeys, Think of an Iceberg
When you're mapping customer journeys, you're mapping where the icebergs (touchpoints) are. Touchpoints and channels are what customers can see – the customer-facing delivery tiers above the waterline. But there's this massive infrastructure that's under the waterline, largely invisible to the customer if it's working correctly, and that's the integration of many applications, data, content, digital assets, styles, layouts, templates, records, and more – the systems of engagement and systems of record that the customers don't see.
Here's where big DX platforms tend to fall short. Few, if any, can effectively share data and content outside their own suites (and many struggle to share well among even their own acquired tools). That makes connecting siloed systems of engagement together more difficult, if not impossible.
You have to map how what's below the waterline affects customer journeys as much as what's above the waterline. In observing how well your current technologies are serving customers at each touchpoint and across touchpoints, you can make more strategic decisions about how and where to upgrade or replace pieces of your DX infrastructure for the future.
How to Pull Together Systems of Engagement and Systems of Record
And so, depending on how your most critical customer journeys play out, you will likely still encounter gaps in functionality in any off-the-shelf DX platform. For example, you might still need the ability to create content in one tool and deliver it via other tools to multiple touchpoints via multiple channels, or you might need monitoring and tracking capabilities that sufficiently satisfy compliance requirements in heavily regulated industries.
In such cases, we would recommend adopting one of these strong customer journey analytics platforms and then maximizing its ability to map and monitor customer journeys by hooking tools made to be integrated into that framework. One example is INTOUCH® , which could be just the best-in-breed addition you need to complete your DX delivery platform.
Interested in finding out how INTOUCH might help you more completely address and unify your customer journeys? Get in touch using the button below. We'd be happy to help you evaluate your existing and planned DX platforms in reference to your most critical customer journeys.
Search
Everything you need to know about Digital Transformation
Subscribe
The best articles, news and events direct to your inbox