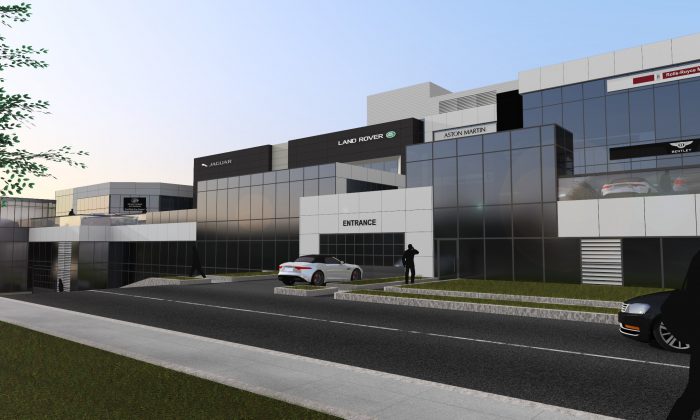 What has an overall footprint of just over 160,000 square feet of impressive high-end, custom built space, which will be considered unique to North America will, house many premium, luxury, often bespoke automotive brands under one roof-including Jaguar Land Rover, Rolls-Royce, Bentley, Bugatti, Lamborghini, and Aston Martin-plus a dedicated pre-owned showroom and can boast of being the absolute best as far as facilities, brands, and ultimately operations?
Ladies and gentlemen, may we introduce you to Grand Touring Automobiles Group of Companies, (GTA) very soon to be relocated in their new home just east of downtown Toronto at Dundas and the Don Valley Parkway.
Recently I sat down with Mark LeRoeye, the effusive, enthusiastic, and engaging chief operating officer of Grand Touring Automobiles about the extension of their upcoming bold and unique automotive retail experience and what makes a complex operation with so many moving parts maintain its position at the top of the premium luxury automotive food chain within a highly competitive marketplace. With many years in automotive retail and also on the OEM side of things, Mr. LeRoeye is every inch the quintessential, connected executive who knows what works and what doesn't. That's one of the reasons dealer principal and chief executive officer, Paul Cummings, brought him on board to lead the team in all their new endeavours.
A Proliferation of Premium Brands
Epoch Media Group: The geographic area east of downtown Toronto's core is becoming a magnet for high-end automobile dealerships. The new Grand Touring Automobiles dealership will be just steps away from the Mercedes-Benz and Lexus downtown showrooms-both also located on Dundas Street East-and a kilometre or so away from BMW Toronto.
Mark LeRoeye: Not quite an auto mall, but an area where luxury brands can thrive-much like the retail "miracle mile" in the Bloor-Yorkville part of the city of Toronto! Our new facility will be about four times bigger than our current location on Dupont Street, which will continue to operate until the new, state-of-the-art facility is ready in the late fall of 2017. This one-stop luxury automobile dealership will be able to showcase more than 50 new and pre-owned vehicles indoors.
Epoch Media Group: In addition to Jaguar and Land Rover, Grand Touring is also the exclusive Ontario dealer for Lamborghini, Aston Martin, Bentley, and Rolls-Royce Motor Cars. Quite the selection.
Mr. LeRoeye: Yes indeed- We're also the exclusive Bugatti dealer for Eastern Canada! Imagine this: the 1,500-horsepower Bugatti Chiron powered by an eight-litre W16 engine boosted by four turbochargers and is capable of accelerating faster than 400 km/h. Bugatti calls it the "quintessential ultimate super sports car"!
Epoch Media Group: There is a fair bit of automotive history in your present Dupont Street location.
Mr. LeRoeye: That's true. It's truly amazing what we continue to accomplish in these disparate yet connected buildings. Here, on Dupont Street we're practically shoe-horned into a busy neighbourhood, a combination of residential, commercial, and even still some industrial. Standing out from the crowd physically and being seen today is an issue-regardless of our unique product line and superior customer-centric service.
Why Grand Touring Automobiles?
Epoch Media Group: So what is it about this dealership? You have some almost exclusive brands, but with Jaguar Land Rover (JLR), you compete with several other dealerships in this "trading area".
Mr. LeRoeye: That we do. In 2016, we sold just under 1,000 units of JLR product. A very good year for everyone concerned. We like to think much of our success is due to our customer-first credo: What are we able to do to enrich a customer's experience when they step through our doors?
Epoch Media Group: In the present location, space is at a premium and yet things appear to function like a finely-tuned engine-almost like a ballet with multiple performances occurring simultaneously.
Mr. LeRoeye: The people who work for Grand Touring are fully aware that first impressions are important and lasting. Each individual is an important part of an exclusive team. When they connect with a client, their general attitude, how they present themselves is crucial. Even if it's for a regular service. We work with all our personnel to imbue empathy to the customer. We appreciate that any one of our clients could purchase or even service their vehicle of choice almost anywhere. It is part of our job to ensure that everything flows-logically and with a minimum of fuss. We learn to anticipate. At Grand Touring, while everyone has an area of expertise, do not be surprised by multitasking. Here we strive to provide total concierge service with a minor in logistics!
Epoch Media Group: Attention to detail seems to be very important here?
Mr. LeRoeye: Absolutely. As cramped as our present location is, we ensure that each showroom, regardless of the brand, has the correct corporate identity or image-CI we call it. When the new facility opens, this presentation will be magnified. Each brand will have its own lounge, its own service area, and its own personnel. What you see in a Bentley dealership in Abu Dhabi is identical to what can be experienced in this dealership. So the imported tile in the Lamborghini showroom is the same as you will see in Milan! These details are built into every area. Colour schemes. Materials. Each brand has their own identity.
Epoch Media Group: Is there such a thing as a "typical" client?
Mr. LeRoeye: These days? No, not really. We see people from all walks of life, people who can appreciate the finer things. Many customers are long-standing. Some of their grown children are now customers. We never assume anything about any person. To some, the selling prices of many of our brands may seem high, it comes down to an appreciation of quality. The desire to own something a little different. You see, with a brand such as JLR, this British originating brand can attract shoppers who might be attracted to Mercedes-Benz or even BMW. Our other brands? Well, perhaps you drive a Mercedes-Benz S class; maybe now you're ready for a Bentley?
Ultra-High Net Worth Individuals
Epoch Media Group: But there is another demographic which is drawn to Grand Touring?
Mr. LeRoeye: Yes-we also appeal to ultra-high net worth individuals. You see, it's not about spending $100K on a Mercedes or $300K on a Bentley. These customers can drive whatever they want. It's not just about prestige. It's about pride of ownership and of course, the driving experience. Many high net worth individuals can and will do pretty much whatever they want. When they drive to the grocery store, they want to be comfortable. Now, they may own several different vehicles and use the one best suited to their planned life experience. In so many ways, in their own fashion, they tend to be quite practical.
Epoch Media Group: How does the future look for Grand Touring?
Mr. LeRoeye: Given our present location, brands like Bentley and Aston Martin may be less well known to many possible clients. Come the fall, when our new destination outlet is opened, conspicuousness will likely have a huge impact on our business from the get go.
Canada continues to see steady growth from immigration. This means more high net worth individuals and families coming to Canada. They may have already experienced some of the brands we represent. We're here to assure them that continuity. We must not only meet any and all expectations, we must continue to exceed them.
Grand Touring has become synonymous with other luxury brands which enjoy cache-such as Tiffany. Remember, we are not an outlet selling priceless jewels. We are a place where mechanical devices are sold and fixed. Show up at the service counter and be acknowledged. "Good morning, Mr. Smith-we've been expecting you!" A simple philosophy continues to serve us well. Show courtesy and respect-and treat others as you would like to be treated.
Epoch Media Group: Thank you!
Mr. LeRoeye: I have the job of my dreams! We've made an incredible journey so far and we look forward to the future.
David Taylor is an independent automotive lifestyle writer, producer, and editor based in Barrie, Ontario who is fascinated by innovation and technology which enhance the overall driving experience. He's also a member of the Automobile Journalists Association of Canada (AJAC) and a Director of the Canadian Car of the Year. Follow him on Twitter @Omemeeozzie or on Instagram @hugoscaroftheweek.
Search
Everything you need to know about Digital Transformation
Subscribe
The best articles, news and events direct to your inbox