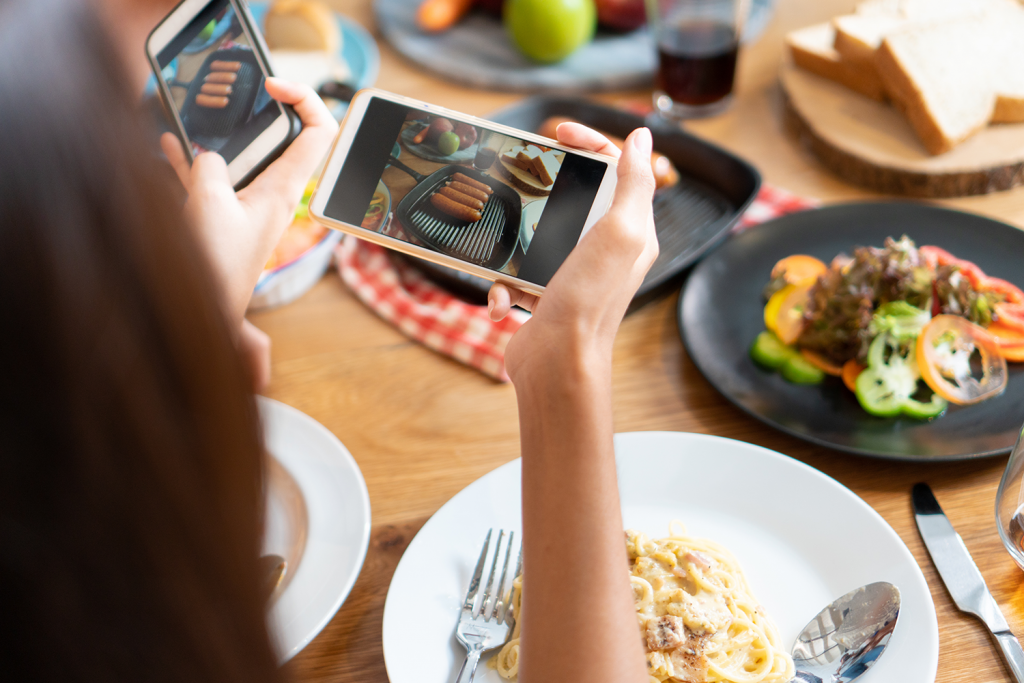 By Lorenzo Gutierrez, Digital Marketing Consultant
A study by "Ironroots " shows that with the right influencer, restaurants could generate an estimate of $17.50 with every $1 that is being spent on influencers.
Since the social media influencers have already built a higher degree of trust among their numerous fans & followers, they are an ideal platform for marketers, including those in the restaurant industry. With the right influencer, they can help promote your brand's awareness which can lead to increasing your amount of sales.
The good news is if you don't have to be proficient in content creation to leverage influencer marketing. The best influencers are extremely adept at content creation. They can create outstanding content that resonates with their follows and, if all goes well, will attract potential customers to your restaurant.
You don't even have to aim for the mega-influencers with millions of followers. Restaurants can get a lot of bang for their buck by using micro-influencers, especially those in their area of business. Micro-influencers are individuals with between 2,000-50,000 followers on a specific social media channel and creates content around specific markets – like the restaurant industry.
Below are some of the benefits that could be derived from hosting an influencer.
1. Boosts Your Restaurant's Social Credibility
In today's world, your social credibility really matters. Potential guests may decide to try your food and drinks simply as a result of what they perceive ( see or listen) about your brand on the social media. Or, they may decide to visit your competitors instead. Think of it as word-of-mouth spoken through a very large megaphone.
Your brand's awareness will be surely improved by employing the services of a food blogger or micro-influencer, but posting outstanding contents is what greatly counts to the amount of the conversions you get.
2. Cost Effective
Influencer marketing is also one of the cheapest forms of online advertisement when compared to the level of engagement, awareness, and conversions you'll earn.
Depending on the relevance and size of your restaurant, influencers can be a boon even when you are on tight budget. However, if you haven't attained a fruitful negotiation with a particular influencer, you may decide to look for the one with less followers that'll be more affordable.
3. Influencer-Generated Content
If the influencer's generated content is stellar enough, you may even want to re-share it or repost it on your social media pages. You'll want to get explicit permission from your influencer to re-use any content they've created. But posting their content onto your handle can be a great content strategy.
4. Precision
Micro-influencers can offer you more localised precision, too, as they'll connect you to the right audiences that can visit your business in real-time. You just have to locate an influencer within your area.
Bigger social media influencers may host a larger number of followers that may not necessarily be suitable if you own a local restaurant or bar. Micro-influencers with local influences best fit local bars or restaurants while the higher influencers best fits a broader spectrum of audiences and chain restaurants.
5. Boosts Your Restaurant's Online Experience & Exposure
As many businesses previously thought, you don't have to look for a highly-paid influencer with hundreds of thousands of followers. You can split your budget across micro-influencers that have 5,000+ loyal followers and expect their effects within a shorter period of time.
1. Burgers N' Fries Forever
"Burgers N' Fries Forever" (usually shortened into BFF) has a daring motto which can be found on their description within search engines. It simply says; "SHHH.. Don't click on this page unless you want to read all of our delicious secrets. We'll let you check out the BFF secret menu, but tell no one!"
Burgers N' Fries have made it to the top of the Canadian restaurant market. Influencer marketing is among the various strategies Burgers N' Fries Forever uses to drive additional customers to their Toronto and Ottawa restaurants locations.
Micro-influencer Theathleisureteacher (Instagram) has captured BFF's classic dishes and amalgamated her love for food and her best friends. As she implies in her posts, you can enjoy BFF (Burger n Fries Forever) burgers and fries with your BFF's (Best Friends Forever).
As the example shows, she does a great job at connecting friends & food while using stunning images of the restaurant's dishes, enough for her and five of her closest friends.
2. Cluck Clucks Chicken & Waffles
"I've waffled before, I will waffle again. But, this time I will waffle along with chicken!"
Cluck Clucks strives to give greater value for money as well as taste. Thanks to a whole lot of experience in digital marketing, they explored partnering with food bloggers and influencers to spread their name and promotions.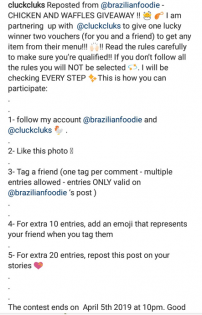 Cluck Clucks is working a mix of their social media pages as well as influencers. Not only is their social media page colorful and mouth-watering, they've been working with social media influencers @brazilianfoodie for a giveaway! This can generate traffic and user engagement.
This partnership and giveaway succeeds in getting both the influencer and Cluck Clucks more followers, boosts impressions with the photo being liked, and spreads brand awareness by tagging friends. It also lets followers gain extra entries by sharing the image or using emojis that describes their follower's relationship with the friend. Again, a great connection between food and friends.
About the Author
Lorenzo Gutierrez MBA is a digital marketing consultant from California. Lorenzo likes to write about inbound marketing topics and when not working enjoys trips to the Bay Area or LA. Connect with Lorenzo on his social media accounts LinkedIn, Twitter and Facebook.
Search
Everything you need to know about Digital Transformation
Subscribe
The best articles, news and events direct to your inbox