ChinaTravelNews, Jerry Tang – From 2010 to 2016, global airline ancillary revenue had continued to rise and contributed increasingly to total revenues.
The ancillary revenues of global airlines in 2010 were estimated at USD 22.6 billion, which accounted for 4.8% of total airline revenues. By 2016, the number climbed to an estimated USD 67.4 billion, or 9.1% of total airline revenues for the year, according to data compiled by IdeaWorksCompany, a consultancy specialized in airline ancillary revenue study.
For Finland's flag carrier Finnair, its annual report last year showed that ancillary and retail revenue rose 21.6% to 125.5 million euros, of which Asia generated 27.5 million euros, representing 21.9% of the airline's total ancillary revenue.
The Nordic airline has positioned itself as a bridge linking North Asia and Europe in recent years.
According to Anni Ahnger, Finnair's Head of Ancillary Sales, the Greater China market has also helped boost the company's ancillary incomes.
"Ancillary revenue has been increasing year by year in mainland China and Hong Kong," said Ms. Ahnger. "We can clearly see that the need for localized mobile services is very high and we want to meet that demand."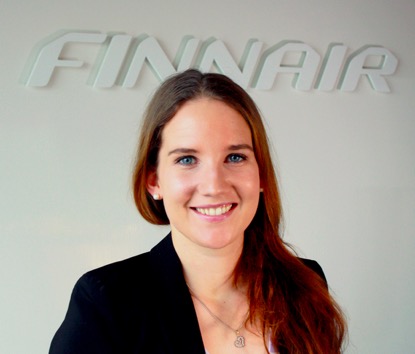 Anni Ahnger, Finnair's Head of Ancillary Sales
Multi-channel bookings for extra services
To maximize incomes from their value-added services, airlines have to expand to as many sales touchpoints as possible across all channels.
Finnair's ancillary booking channels include Finnair.com, the Finnair app, and its Nordic Sky Wi-Fi portal on long-haul flights. "For most airlines, website is still a dominating purchase channel for ancillary bookings. But we can see very strong growth rates in our mobile revenue figures," Ms. Ahnger said.
The airline has launched a beta version of its new mobile booking engine based on Amadeus DAPI (Digital API). The new engine gives customers a new level of flexibility and ease in accessing ancillary products.
Finnair has implemented an NDC connection with Skyscanner to enable travelers to reserve the carrier's flights on Skyscanner and complete purchase without leaving the metasearch platform, providing a seamless experience from search to booking payment.
Finnair's vice president of distribution Rogier van Enk commented that this new solution helps the carrier sell flights and ancillaries through intermediaries and opens up opportunities to work with startups.
In another move to diversify its booking channels, the airline has recently rolled out a Facebook chatbot named " Finn". The bot helps passengers book flights, check status and learn more. Finnair is initially offering English replies on the bot, but it plans to provide Finnish and Chinese responses later this year. The airline also looks to bring the Finn bot to China's WeChat platform.
AI, chatbot and machine learning are all buzzwords nowadays. Setting up new approaches to enhance digital sales is generally good for business, but human service agents are still indispensable in answering sophisticated or specific inquiries on unexpected occasions such as flight disruptions. Similar to the situation on its Facebook chatbot, Finnair's customer service on WeChat is also a combination of AI engine replies and human-aided service.
Predictive analytics for digital dialogues
The line between low-cost carriers and full-service airlines is blurring as all airline companies strive to expand their revenue sources beyond air tickets. Amadeus projected that an omni-channel ancillary strategy can generate an additional USD 55 billion revenue for global airlines by 2020, and new innovations in travel technology can bring a further USD 78.5 billion in the same time frame.
Finnair wants to tap into technological innovations on digital dialogues with its customers, instead of accessing what's already available. "We have been previously quite product-oriented, which seems to be very common amongst airlines, but we want to turn this around and design services based on customer needs, and not be limited by what is thought as feasible to do in the airline world," Ms. Ahnger said.
The company wants to introduce predictive analytics into its ancillary merchandising plan.
Predictive analytics, according to IBM, is using historical data to predict what will happen next. Such prediction can help businesses improve sales and profits. It brings together advanced analytics capabilities such as ad-hoc statistical analysis (i.e. answering a single, specific business question instead of static, regular reporting), predictive modeling, and text analytics.
Ms. Ahnger said that the aim is to "combine purchase history, past website behaviors, external data, and predictive algorithms" to find out what the customers actually want. "Predictive analytics is the next-step evolution of analytics. For airlines that are working in e-commerce, predictive analytics has been a popular tool," she said. "We want to cater to our customers in the best possible ways, and make the purchase experience easier."
Partnerships beyond the air
Finnair's ancillary offerings range from regular options like food and drinks, seats and upgrades, hotels and car rentals, to pre-trip orders, in-flight shopping, destination WiFi service and more.
To support its extra travel services for ground transport, the airline partners with Priceline's Rentalcars and Rideways for regular car rental and airport transfers. In addition, it has initiated a premium door-to-door transport service in a tie-up with German chauffeur provider Blacklane.
"I'm especially excited about the door-to-door transfer service where the customer can order all transfers for the trip at once and the booking is integrated to the PNR (passenger name record) so that the chauffeur is all the time up to date on any changes that might occur," said Ms. Ahnger.
For destination activities, Finnair works with TripAdvisor subsidiary Viator to recommend local experiences. The airline also offers its passengers destination mobile network packages through US-headquartered Voyager WiFi service using third-party networks provided by local operators worldwide.
Finnair also has partnerships with the Chinese travel companies. It became the first airline to team up with Alipay for in-flight shopping and payment in January this year. Finnair CEO Pekka Vauramo said this added "up to 200% sales increases on board".
"Currently Alipay payment is in use on all our flights to and from Greater China," Ms. Ahnger said. "The Alipay launch was very successful and that really showed us the need to do more market adaptation and remove all the hindrances for sales."
Other than the cooperation with Alibaba's travel unit Fliggy since last year, the airline is also working with China's state-controlled GDS TravelSky to develop GDS-enabled ancillary sales.
The upward target
Finnair plans to nearly double its 2016 ancillary revenues by 2020.
"We have a two-fold strategy – we want to expand the sales window for our customers and gain market share in our strategic markets. On the other hand, we will create localized, market-relevant products which our customers can purchase throughout the journey all the way from planning to arriving back home," Ms. Ahnger said.
Compared with the average 9.1% share of total revenues in ancillary incomes for airline companies worldwide last year, Finnair's ancillaries generated just 5.4% of its total revenues in the year. The Finnish flag carrier clearly has room for bigger ancillary revenue for the years to come, and its expanding sales channels and innovated approaches might help the airline reach the scaled-up target.
Ms. Ahnger is scheduled to deliver a speech on "Moving from Mass Customization to Predictive Analytics – Personalization of Digital Ancillary Sales Dialogue" at the upcoming 2017 China Airline Distribution Conference, which will take place on October 18-19 in Shanghai.
Search
Everything you need to know about Digital Transformation
Subscribe
The best articles, news and events direct to your inbox