Image credit:

tinydesignr.com
Nowadays, there is a huge list of powerful visualization tools to help you illustrate your ideas, visualize your data, make it talk, share your significant analytics with customers and the global community. In this article, we will compare the most commonly used platforms and analyze their main features to help you choose one or several platforms that will provide indispensable aid for your work communication.
It is often hard to separate the facts from fiction when evaluating various business intelligence (BI) tools, as every BI vendor markets their product as the only "best" solution, often flooding the Internet with biased reviews. If you want to understand the functional product value, avoid the hype and useless clicking through endless pages of partial reviews, you've come to the right place.
We will guide you through special features, pros, and cons of all the primary tools, such as QlikView, Klipfolio, Tableau, Geckoboard, Power BI and Google Data Studio. We will also compare their key parameters including usability, setup, price, support, maintenance, self-service features, support of different data types, and more. Let us look individually at each tool.
We are going to compare in this article six BI and data visualization tools, you can move through the article using the list below:
QlikView

QlikView is a solution that focuses on the user as the receiver of data. It allows users to explore and discover your data in a workflow similar to the way developers work when processing data. To sustain flexibility in its approach to data exploration and visualization, this software strives to maintain the association between data. This facilitates the discovery of your data by the end-user seeking a certain piece of data with awareness of retrieval of any relevant items, in spite of any circumstances, even if the origins of the items applicable to the search are incredibly disjoint.
QlikView is incredibly flexible. It allows to set and tweak every little aspect of each object and customize the look and feel of any visualizations and dashboards. With such great deal of flexibility, there also comes an incorporated ETL (Extract, Transform, Load) Engine that enables you to conduct the ordinary data cleansing operations. However, it may turn out to be costly.
Product differentiators
Many Qlikview's competitors in the BI field recognize the high value of differentiators and attempt to reproduce many of its features, unsuccessfully in most cases. The design of Qlikview was developed with the thought of avant-garde prebuilt dashboard applications and associative dashboards that are both innovative and intuitive to use. It also provides the ability to avoid using data warehouses and pull data in-memory with the use of associative dashboards, as described above, due to its advanced search capabilities.
Features
Qlikview's great combination of uniqueness and flexibility wins it a strong place among other BI vendors and has a vast variety of useful applications for any business dealing with drastically different scales across various industries.
QlikView possesses a myriad of features that make it extremely useful for creating advanced dashboards based on data from multiple sources.
One of such features is QlikView's ability to manipulate data associations automatically: it can recognize the relationships between various data items in a set without any explicit preconfiguration work by the user. The automation of this task greatly speeds up the process of dashboard development.
Another great feature is the way Qlikview handles data input – by keeping it in-memory for several users, i.e., in the RAM of the server. This allows faster queries and therefore quicker data exploration and amelioration of user experience with aggregations that are computed on the fly, rather than storage-based calculations. Since Qlikview preserves the data in-memory, it is much faster to compute an aggregation as needed, instead of querying precomputed aggregated values. Additionally, it is more memory-efficient.
Keeping your data in-memory is definitely a formidable advance, as it requires a huge volume of RAM to pertain all the data. QlikView resolves this issue through an incredible level of compression minifying the data to 10% of its original size. We believe it is one of the greatest Qlikview features obtained via heavy use of data dictionaries and utilizing only the most essential pieces of data necessary for analysis.
Usability
QlikView's dashboards and reports are easy to navigate even for ordinary users. However, it can be quite challenging to build the reports, as it requires a high level of developer skills, proficiency in default SQL, as well as training with Qlikview's proprietary query language to build the database interactions.
Pricing
QlikView is rated as one of the most expensive platforms in the BI field. The full pricing policy may be found following the link: www.qlik.com. The pricing scheme is quite complicated and may be confusing. Many new users fall into a costly trap through its "Document License" which expresses the work conditions in a somewhat vague manner. The initial pricing plan can actually cost you double, as the rate is valid only for one "document" (.tde file). Many customers discover this later as an unpleasant surprise, and it can also prod the per-user price almost twice. Other competitors have more straightforward pricing policies when compared to Qlikview.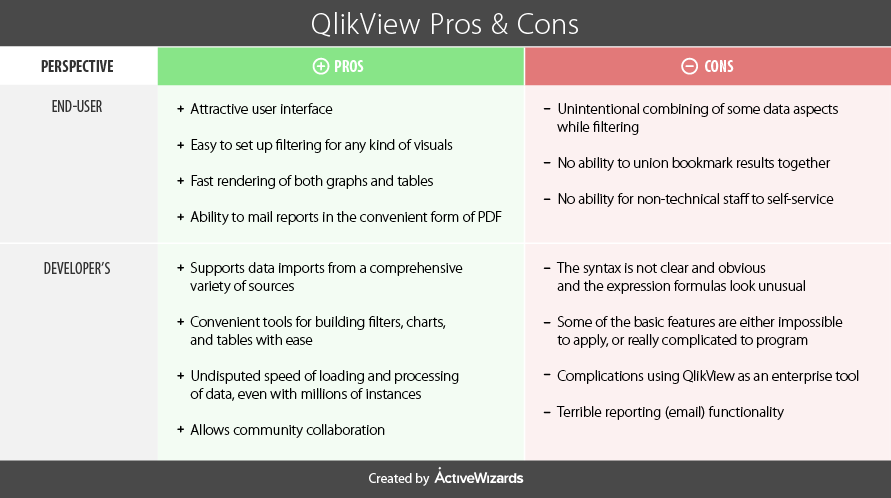 QlikView is all about the destination, so you need to know exactly where you are going. If some questions remain vague, a great deal of time can be spent on trying to put multiple sheets together which may then have to be discarded in the end, as any piece of misinterpreted data can compromise the final results. QlikView allows you to do wonderful things with your data as long as you don't change the original question.
To summarize, Qlikview may be an appropriate solution for you if you have the right mindset to apply a programmatic interface, as well as the ability to integrate the right questions from the very start in case your data is derived in different forms. You also need to be ready to invest in the extra efforts to maintain proper reporting.
Klipfolio is a BI solution that resides 100% in the cloud (no desktop application is required) providing a genuinely insightful tool for data visualization and dashboard composition. This enables it to process data most efficiently, boosts the real-time solutions and optimization, rather than relying on a periodical regression model.
Klipfolio supports connectivity to a variety of data sources, both online and offline. The online sources integrate a range of cloud-hosted storages including Google Sheets, Relational DBs, and other services that provide data in all kinds of forms. The possibilities of connection span from Google Analytics tools, Trello, and Twitter to differing marketing tools like Oracle Sales Cloud, Mixpanel, and Radian6 Sales Marketing. The full reference of connectivity services may be found here, under the Services sector. It is also possible to hook up to your own data source with the use of RESTful API.
Klipfolio supports a great variety of offline service types: MS Excel, CSV, XML, JSON, and others. The full reference list can be found via the same link as for online sources mentioned above but in the Data repositories section.
All of these data sources, either separately or in combination, can be effectively used for integrating various metrics in order to extract a vision of data, create, transform, and share custom visualizations that will unveil the practical meaning behind any insipid numbers.
Klipfolio applies the principle of responsiveness to facilitate the discovery of dashboards with the use of diverse technological platforms, from smartphones and tablets, to desktop computers and smart TVs surmounted on walls of conference rooms.
Product differentiators
Klipfolio represents a powerful data dashboard building platform that enables access to the real-world, ever-changing lively data sources. It is best used for live monitoring and control over continuous data flows when their dynamics are of great importance and may require urgent decisions. The live data connection is a way of data retrieval that maintains the time consistency required for data accuracy and reliability, while responsiveness deposits into the time factor of the fast decisions.
Features
Integration of multiple data sources in a single report
Unlimited connection for as many users as necessary
Management of access rights and restrictions for important information
Mobile accessibility (iOS, Android, BlackBerry, Windows)
Flexible REST connector for setting up custom data sources
Secure connection to SQL databases
Support for Excel, CSV, JSON, XML file formats
Handy annotations to reports that are seen by users with whom the report is shared
Self-service KPI editing platform
Easy to use threshold indicators.
Usability
Klipfolio includes plenty of visualization types, including plain tables, bar charts, pie charts, line and area charts, a combination of those charts, as well as scatter plots. Additionally, with the use of some HTML and CSS users can forge their own, unique visualizations. All of these components are laid out on the composite dashboards with the help of WYSIWYG editor. Some of the more sophisticated elements of the visualizations are added with various formulas and functions.
Klipfolio dashboards feature an extensive collaboration framework for sharing information with other users based on permissions, enabling notification and distribution via email. The significant difference when using Klipfolio appears in building graphs and plots. Instead of simply dragging and dropping the fields from a data table into a worksheet, the user has to implement all the computations using different functions and formulas. In this way, you can create sheets with any type of visualization, but you need to think about how you can combine and change the data first.
Pricing
Klipfolio is one of the oldest players in the BI industry with extensive experience and expertise that has paved its way to the top by developing viable solutions. Klipfolio mostly bets on its cloud offering today, while also providing a premise solution option. Klipfolio Dashboard (as SaaS) is distributed using a user per month pricing policy, with some small variations of total depending on the volume and time commitments. Pricing starts at $19/month, providing multiple options with customizable payment plans. Klipfolio also provides a free trial period of 14 days for testing and learning purposes.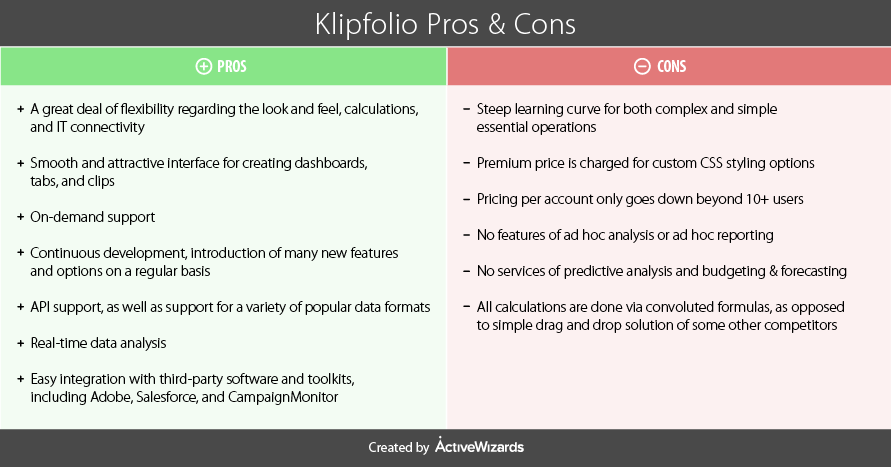 Tableau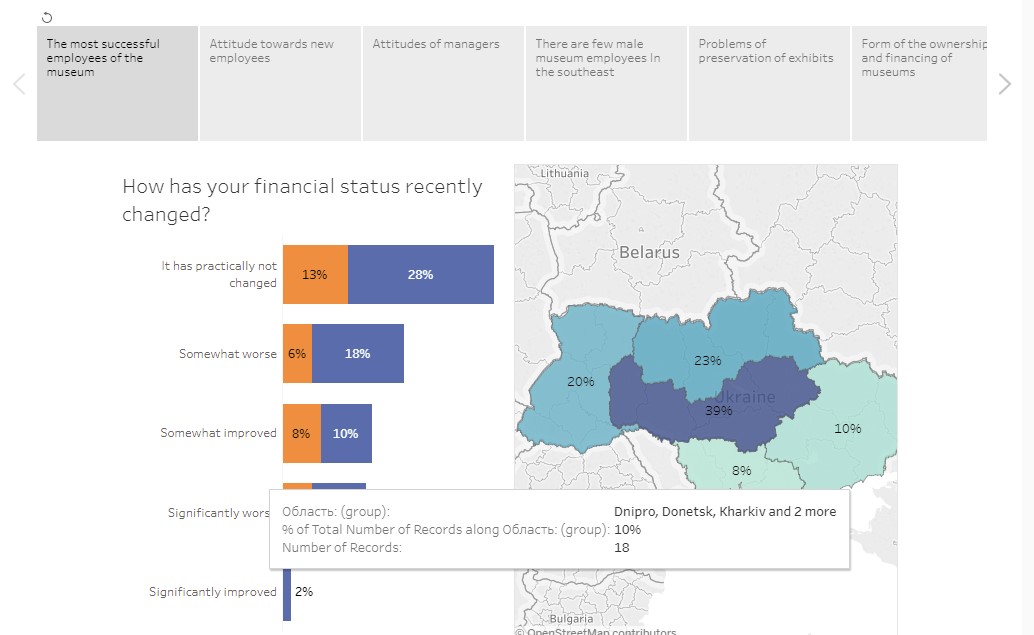 Another big player in our scope today is Tableau. Like most other BI tools, Tableau zeros in on data analytics via visualization means. It is intended for easy creation and distribution of interactive data dashboards that provide an insightful depiction of dynamics, trends of change, and data density distributions via the convenient medium of simple, yet effective visuals.
As many other services, Tableau provides facility to connect to a variety of data sources with many systematic types, such as data systems organized in file formats (CSV, JSON, XML, MS Excel, etc.), relational and nonrelational data systems (PostgreSQL, MySQL, SQL Server, MongoDB, etc.), cloud systems (AWS, Oracle Cloud, Google BigQuery, Microsoft Azure).
The core distinction from competitors is that Tableau has a special feature of Data Blending. Another unique feature is the ability for collaboration in real time that makes it a valuable investment for commercial and non-commercial organizations alike. There are several ways to share the reports in Tableau: by publishing them to a Tableau server; via email Tableau Reader capability; by publishing Tableau workbook openly and giving access to anyone who has a link. This magnitude of options enables great flexibility and removes many restrictions.
Product differentiators
Tableau offers a broad variety of visualization capabilities with distinct features, enabling smart ways of data discovery and deep insight. The rich library of visualizations types includes "word clouds" and "bubble charts" that provide high levels of comprehension unique to Tableau. Tree diagram and treemap provide contextual information to the visuals. The latter is usually utilized for the depiction of parts categorical data, focusing attention on the most relevant pieces of the information.
Tableau dashboards are amazingly flexible. Its central features allow the remarkable ability to layout the dashboard in the desired way with any "overlaps", which comes really handy in the screen space ergonomics.
Tableau is easy to apprehend as a working tool, its learning curve is pretty gentle, as it strives to provide all of its powers to any kind of users, even those who haven't been previously exposed to technical details of visualization workflows. This objective is accomplished by using intuitive interface: everything is always no more than two clicks away; robust filters and drill-downs are easy to find and use; operations are well documented and labeled.
Tableau is not only easy and pleasant to use from the developer's perspective, but also quite neat at its destination side, as it provides the ability to control the outcome through additional filtering with custom parameters. All data is communicated in a clear, attractive, and interactive manner. Tableau offers an insightful look at the data and allows to compress the complex decision-making process efficiently.
The sharing above system is notable for its great flexibility and variation with a myriad of choice for data sharing. Even the pickiest users are sure to find a proper solution that will satisfy their most capricious needs.
Features
Complimentary sharing ability (with certain limitations)
Support for connection to 30+ data source types
Mixing data sources
Support for cubes
Integration with R Excellent in mapping Ready-made drivers for many databases
Leadership in community building efforts (various training videos, blogs, forums, social network engagement).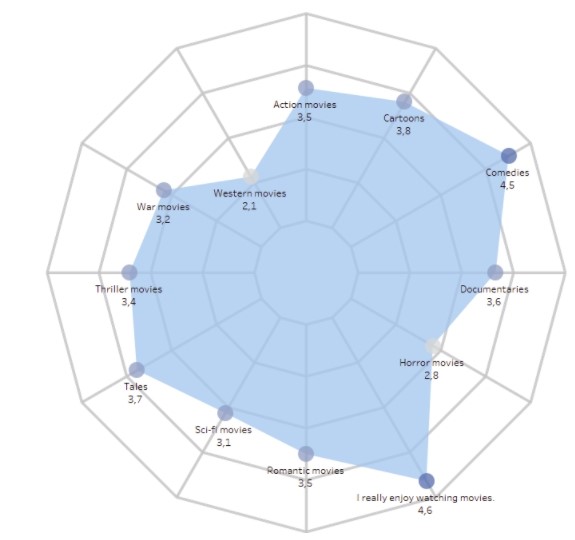 Usability
Extraordinary ease of use, it is considered as the best of easy-to-use tools from this list. Taking into account these extensive Tableau features, its most convenient use case is the discovery of structured data through charts, graphs, and other visualization types. No other BI solution can make it easier than Tableau, giving amazing power to its users. It is easy enough for a casual business user, yet as powerful as the developer tools. Import data, build attractive visualization, share and publish them in a simple and straightforward form. Besides, the large number of tutorial videos, how-tos, blogs, and forums will save time, avoiding the long struggle of looking for right solutions.
Pricing
Tableau has different licensing plans similar to other BI solutions. Tableau offers three distinct products with drastically different prices.
The three products are the Tableau desktop, Tableau online, and Tableau server that come at different price points.The detailed pricing information can be found on the official website.
The Tableau desktop is intended for any individual user and distributed at $999 for a user per year for personal use, and $1,999 for enterprise use, covering support. Personal use implies that it is meant for an individual developer and supports 6 data sources. Enterprise use means that it is intended for business needs and allows up to 44 data sources.
Tableau Online is a cloud-based BI platform with web interface hosted by the Tableau vendor. Tableau may be used for free with its Public option, but it is important to remember that this solution is hosted on the public server and all reports are shared publicly. The Private Online version comes at 500 user/year price.
Tableau Server is a full-fledged business tool for companies that operate their own servers and want to have complete control over data flows and full security of on-premise hosting. However, it comes at the price of $10, 000 per 10 users. Customer support is provided for additional 25% of the annual cost.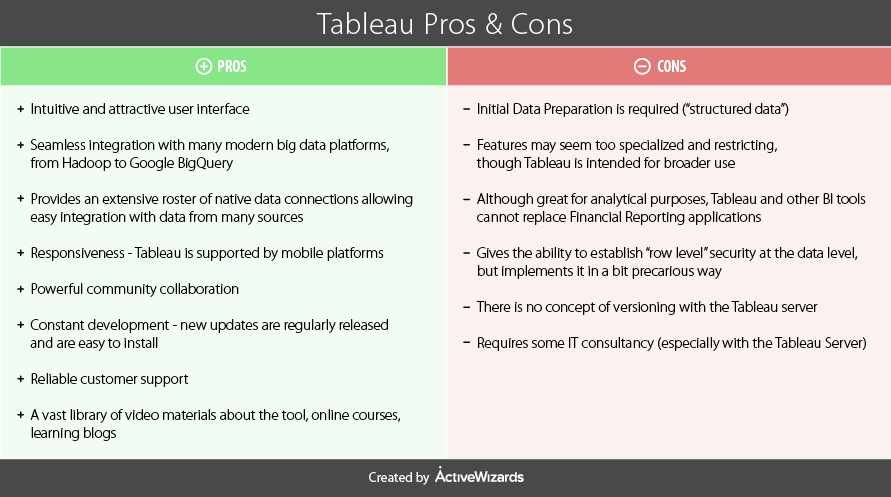 Search
Everything you need to know about Digital Transformation
Subscribe
The best articles, news and events direct to your inbox